R E C I P E S : Vegetarian
Takin' It Easy: Spinach Pie!
September 21, 2005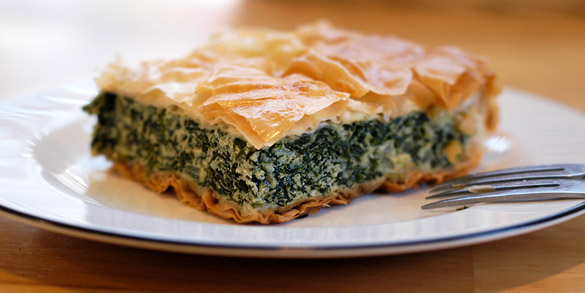 INT. MR. R.'S MANSION--KITCHEN--DAY
The afternoon light warms the kitchen to a comfortable and sleepy temperature. Caryn sits at her table trying to stay awake. A magazine slips from her grasp and hits the floor with a THUD.
Caryn bolts upright as Flora enters.
CARYN
His lunch is on the counter.
Flora looks at the carefully prepared tray: spinach pie with a delicate, flaky crust, steaming tomato soup and a chilled glass of water with a lime wedge. Even a flower in a small glass vase.
CARYN (CONT'D)
Any sign of life in there?
Flora shakes her head no and takes the tray.
FLORA
Thank you, Caryn.
CARYN
Yeah, send him my regards.
Flora exits. Without a moment's hesitation, Caryn returns to her nap.
Spinach-Ricotta Pie
Don't put yourself out. Phyllo (filo) dough is actually so easy to work with and turns out a great dish. Be sure to thaw the dough completely before unrolling it.
1 lb. bag of baby spinach (about 15 cups)
2 TB. olive oil
1 medium onion, diced
2 TB. fresh oregano, chopped
4 eggs
4 oz. low-fat ricotta cheese
2 oz. parmesan, freshly grated
1 tsp. salt, divided
1/2 tsp. black pepper
4 TB. butter, melted
12 sheets phyllo dough
1. Preheat oven to 375 degrees.
2. Bunch or roll a handful of spinach leaves together, cut into thin strips. Repeat until all spinach is chopped. Heat oil in large saucepan over medium-high heat. Add onion and saute until softened, about 5 minutes.
3. Add spinach, oregano, and 1/2 tsp. salt to the onion. Cook over high heat until nearly all the liquid has evaporated from the spinach, about five minutes. Remove from heat and cool.
4. Beat eggs in large bowl. Add ricottta, parmesan, pepper and remaining salt. Stir until smooth. Add spinach mixture.
5. Brush the bottom and sides of a 13x9 baking pan with butter. Arrange half of the phyllo sheets in the bottom of the dish to cover and extend 1 inch up the sides (trim excess if necessary). Brush with butter.
6. Spoon spinach mixture over phyllo dough. Cover with remaining dough and neatly tuck the edge under. Brush with butter and diagonally score the top with the tip of a sharp knife.
7. Bake until pastry is golden brown, about 30 minutes. Cut into 8 large squares and serve hot.
Serves 8.
Posted by Caryn at 11:00 AM | This Entry Only | Recipe Only | Comments (6) | TrackBack (0)
IMBB #18: Frying Up Green Tomatoes!
August 28, 2005
INT. TRAILER--DAY
The air conditioner of the trailer is going full blast, but it doesn't stand a chance against the hot oil that sputters in front of Caryn as she chats on her cell phone and pokes around in the oil with a pair of tongs. She flips over a battered slice of green tomato to reveal a blonde, crispy underside.
CARYN
Mm. These are perfect. They remind me of home.
INT. WINNIE'S APARTMENT--SAME
Winnie cradles the phone on her shoulder as she paints her toenails a blazing red.
WINNIE
Yeah, I'll have to pick up some of my own at the Farmer's Market today.
She shoots a look outside where the heat is rising off the pavement in daunting waves.
WINNIE (CONT'D)
It's so hot out there, you could fry 'em on my front porch. And speaking of home, when are you coming back?
INT. TRAILER
Caryn drains the tomatoes on some paper towels and starts another batch.
CARYN
I wish I knew. They really don't tell me anything.
The door of the trailer swings open and Amelia clambers in.
AMELIA
Caryn, you really should come to set. Your boss has been in a feverish fight with his co-star all morning. It's quite a scene.
CARYN
(in her cell phone)
I gotta go.
She flips the phone closed, turns off the stove and hotfoots it out the door with Amy.
EXT. MOVIE SET
Caryn and Amelia arrive just in time to see Mr. R. scamper onto the set, just ahead of an inflamed Miss A. It seems that more crew than usual are swarming around the fiery display.
DIRECTOR
Action!
Miss A. immediately transforms her searing look into a dazzling smile, but Mr. R. refuses to look at her as the scene plays out. Caryn and Amy draw blistering looks from the sound crew as they whisper to each other during the shot.
CARYN
What happened?
AMY
No idea. They've been at it all morning.
Mr. R. smashes a glass on a painting behind him just as the director yells...
DIRECTOR
Cut!
Miss A. takes a fervent step towards Mr. R., but the director interrupts.
DIRECTOR (CONT'D)
Perfect! And that, my friends, is a wrap for our gentleman star!
Mr. R. looks up in shock. He had no idea that was his last shot.
DIRECTOR (CONT'D)
Let's thank him for a truly radiant performance.
The cast and crew erupt in applause as Mr. R. steps off the set. Miss A.'s surprise is only slightly greater than Mr. R.'s but she wastes no time in chasing him after him.
Without looking back, Mr. R. quickens his pace. He grabs Caryn by the arm and yanks her with him.
MR. R.
Pack quick. Let's get out of here.
Caryn and Mr. R. bolt from the hot pursuit of the raging actress.
CARYN
Don't you want to eat first? I made--
MR. R.
Make it to go. We gotta burn some rubber, baby!
Caryn gasps to keep up with him. She doesn't care, though. She's going home.
I planned, fried and photographed these tomatoes for IMBB #18 before I saw that Nic from Bakingsheet had the same idea. Her oven-fried green tomatoes look wonderfully luscious (and probably lighter!), so try whichever recipe suits your fancy. The important thing to remember here is that tart green tomatoes are only around for a short time of the year, so get frying!

Fried Green Tomatoes
4 medium green tomatoes
1 cup flour
3/4 cup cornmeal
3 eggs, lightly beaten
1 tsp. salt
1/4 tsp. fresh ground black pepper
vegetable oil, for frying
1. Slice tomatoes into thick slices (about 1/3"). Stir salt and pepper into flour. Line a baking sheet with wax paper. Place flour, eggs and cornmeal in three separate, shallow bowls.
2. Working 1 slice at a time, dredge in flour, dip in eggs and dredge in cornmeal. To avoid fingerprints in the coating, hold tomato slice around the edges. Place on baking sheet and repeat with remainging slices.
3. Heat about 1/2" of oil in large, heavy skillet until hot enough for frying (350-375 degrees). Gently place one layer of slices in the oil (about 4-5 slices). Fry slices until golden brown, about 2 minutes per side. Drain on paper towels. Repeat with remaining slices. Serve hot with a sweet and spicy salsa.
Serves 4.
Posted by Caryn at 12:31 PM | This Entry Only | Recipe Only | Comments (14) | TrackBack (0)
High Drama: Eggplant Parmesan!
August 20, 2005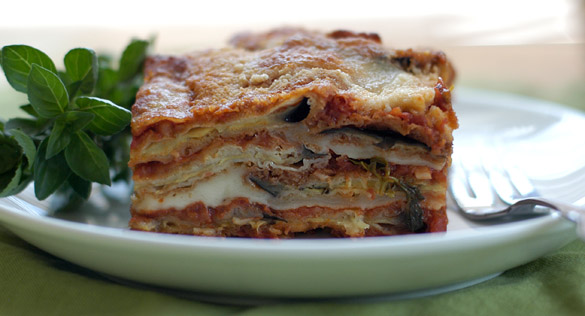 INT. TRAILER--SOMEWHERE IN OHIO--DAY
A now refreshed Caryn stirs a bright red tomato sauce simmering on the small stove in the kitchen. She tears leaves of basil into the sauce when the trailer door swings open.
Miss A stomps in with a tattered Confederate uniform sagging off her small frame and a fake rifle swinging at her back. She is surprised to see Caryn, but is less than cordial.
MISS A.
Oh, you're back already? Where is he?
Caryn shrugs her shoulders.
MISS A. (CONT'D)
Well, he's not on set, so he can't be far. Tell him I'm looking for him.
She leaves the door open as she traipses back out. Caryn tastes the sauce and adds more basil.
INT. TRAILER--LATER
A fully costumed Mr. R. scrambles in and swiftly closes the door behind him. Caryn is salting thick slices of deep purple eggplant piled in a collander.
MR. R.
What's that? Eggplant?
CARYN
Yes. From a local farm.
MR. R.
Great. I'm going to go read in my room. If anyone comes by, tell them I'm out.
He slips into the small bedroom portion of the trailer and slides the door closed. Caryn takes some mozzarella from the fridge.
INT. TRAILER--LATER
The breaded eggplant slices sizzle in hot oil as they fry to a golden brown. Caryn must leave them unattended to answer the pounding on the door.
An indignant Lauren is standing on the other side.
LAUREN
When did you get back? Where is he?
CARYN
I don't know, but I'm really busy here.
Lauren beams her gaze through Caryn to scan the trailer before she backs up.
LAUREN
Tell him I'm looking for him.
INT. TRAILER--LATER
The kitchenette is now clean from the debris of the simmering, salting and frying. Caryn removes a hot casserole dish from the oven, thick tomato sauce bubbling from underneath a layer of crisped mozzarella and parmesan.
The bedroom door slides open again and a sleepy-eyed Mr. R. emerges.
MR. R.
I assume you had to field a couple hotheads, eh?
CARYN
Yeah. Clearly I missed some stuff while I was away.
MR. R.
You didn't miss anything. I have to get back to set.
He spots the steaming dish of Caryn's labors.
MR. R. (CONT'D)
Bring me some of that?
Caryn nods as he returns to the set. She digs into the eggplant and scoops some onto a plate. The door violently opens again.
MISS A.
Where the heck is he?!
CARYN
You just missed him. He went back to set.
Miss A. lets out an ugly grunt and storms back out. Caryn follows with the plate of eggplant parmesan, eager to watch the show.
Eggplant Parmesan
I love Gourmet's Eggplant Parmesan recipe, but I substitute two large cans of peeled roma tomatoes for the fresh tomatoes, which helps to reduce some of the labor. I also sometimes use whole milk mozzarella instead of fresh mozzarella.
A very hearty, vegetarian dish, it tastes even better the next day. After it has been refrigerated, it easily cuts into the nice, neat squares pictured.
Posted by Caryn at 04:13 PM | This Entry Only | Recipe Only | Comments (9) | TrackBack (0)
Family Recipe: Garlic & Green Beans!
August 09, 2005
INT. MR. R.'S HOTEL SUITE--NIGHT
One fantastic dinner is spread out on the table before Mr. R., Miss A. and Lauren. Enough food for twice their number. But the trio doesn't even notice the extensive preparation as they are absorbed in the company of each other.
MISS A.
(laughing)
And if he didn't yell "Cut!" when he did, I thought I was going to die!
MR. R.
I'm fairly certain he did that on purpose.
Laughs all around.
MISS A.
This movie just gets more insane every day.
Lauren sits back and smiles contentedly.
LAUREN
Let's just hope it earns us all an insane amount of money.
The conversation continues, the food gets cold. But it doesn't matter to Caryn because unbeknownst to anyone in the room, she has snuck out.
INT. CARYN'S ROOM--SAME
Caryn stands before the mini-bar fridge in her room. She has emptied out the tiny bottles and chocolate bars and replaced it with some of her own groceries.
A bag of green beans ages gracefully on the middle rack, but Caryn selects it anyway. She snags a head of garlic that also looks like it has seen better days.
Hot oil heats in a wok, rigged up to a hot plate. Caryn sets about cleaning the green beans. She is hungry and tired. She has big plans for these beans.
INT. MR. R.'S HOTEL SUITE--LATER
Most of the cast and crew on this movie are asleep. Caryn, however, is cleaning up the vast mess that was left for her. She periodically grabs one of her green beans, now transformed into a salty, garlicy creation.
Mr. R. enters wearing a plush hotel bathrobe tied loosely at his waist and drying his wet hair with a small towel. A green bean hangs from Caryn's mouth when she spots him. She quickly munches it up.
CARYN
I thought you went to bed.
MR. R.
Nah, just in the shower. What are you doing here so late?
She pauses in her work and contemplates his question.
CARYN
Mr. R., I really think I need some time off. When we get to Ohio tomorrow, I'd like to take two days for myself.
The seasoned actor lowers the towel from his head with the precise amount of concern.
MR. R.
Um, sure. Take whatever you need.
CARYN
Great.
The pair stands in silence for a moment. Caryn considers the pile of dishes still on the table.
CARYN (CONT'D)
Okay, good night.
She grabs her green beans and answers his previous question by a quick exit to her room.
Uncle Barry's Garlic & Green Beans
My Uncle Barry, born and raised in China, is one of the best cooks I know. He has many perfected dishes in his repertoire, but he is always willing to experiment. This dish is one of the most requested at family dinners. Use a wok as a frying pan if you have it.
1-2 lbs. of green beans
3 tsp. finely chopped garlic
vegetable oil
salt
1. Remove the tips and strings of green beans.
2. Soak the green beans in water for about two minutes and drain off the water.
3. Heat enough oil to cover beans until very hot. Deep fry the green beans until there are wrinkles (about 3 to 5 minutes).
4. Remove the beans from frying pan and drain off oil from pan.
5. Add garlic to pan and roast for 30 seconds. Add green beans and salt.
6. Let garlic and green beans sit for about 2 minutes (over low heat, to get the garlic flavor). Serve.
Posted by Caryn at 07:35 AM | This Entry Only | Recipe Only | Comments (13) | TrackBack (0)
No Time to Cook: Hummus!
July 05, 2005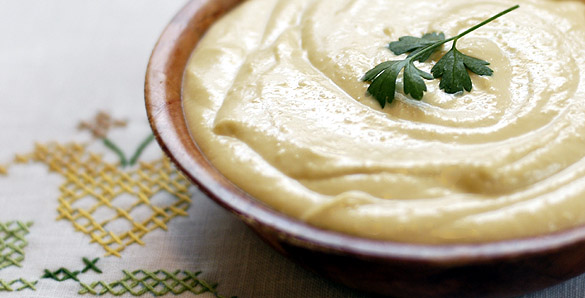 EXT. TRAILER--SOMEWHERE IN UTAH--EVENING
A truly gorgeous evening in the mountains. Caryn sits on the steps, thumbing through a local paper. Amelia strolls up from a trailer down the row.
AMELIA
I see you made it to Utah.
CARYN
Why is a Civil War movie shooting here anyway?
AMELIA
They needed to simulate the Smokies. When Hollywood thinks of mountains, they think of Sundance. It's the closest to nature they get.
Caryn laughs as the door opens and Mr. R. appears with a napkin tucked in his shirt collar.
MR. R.
Are we back from dinner?
Amelia gives him her most flirtatious smile.
AMELIA
Five more minutes.
Mr. R. nods and goes back inside. Amelia immediately returns to her normal professional self.
AMELIA (CONT'D)
After we wrap, some of the other assistants are coming to my room to hang out. Can you make it this time?
Caryn inadvertently checks the door behind her before responding.
CARYN
Um, I guess so. I mean, sure. Can I bring anything?
AMELIA
Maybe just some dip or something.
CARYN
I make a pretty good hummus.
AMELIA
Oh please, no. Just pick up something at the store. Who has time to cook?
She laughs at the thought and starts down the row again.
AMELIA (CONT'D)
See you later then.
Caryn waves goodbye before going in to assess the damage from dinner.
INT. HOTEL HALLWAY--EARLY MORNING
Caryn tiptoes down the hall carrying a large bowl that has been practically licked clean of the hummus that was in it. When she gets to her door, she unsticks a note taped to it.
NOTE: "Looked for you all night. In the future, please let me know if you are going out. --R"
She carefully replaces the note back on the door and slips inside without a sound.
Hummus
This recipe from my mother makes a delightfully creamy hummus. And it's so simple...
Mix in Blender:
1 16oz. can chick peas
3-5 garlic cloves
3/4 cup water.
Blend well.
Add:
1 cup sesame paste (tahini)
1 cup olive oil
1/4 cup lemon juice
2 tsp. salt
Blend well and chill.
Posted by Caryn at 06:56 AM | This Entry Only | Recipe Only | Comments (4) | TrackBack (0)
Spicy Vegetarian Chili!
June 15, 2005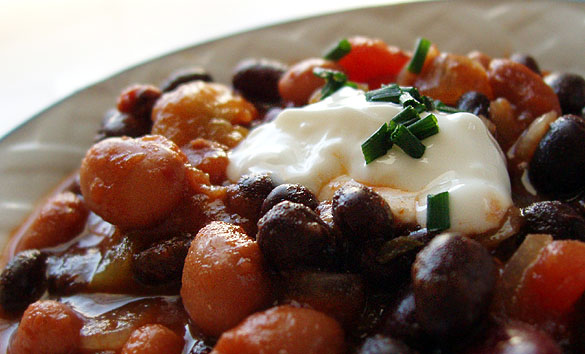 EXT. SOMEWHERE IN MISSISSIPPI--MOVIE SET--DAY
Rain pours down in thick sheets over the expanse of the set now covered in blue tarp. Straggling crew members scramble to get the last pieces of equipment under cover.
LIGHTNING FLASH
Caryn jumps, knocking an empty can to the floor with a loud clang.
INT. TRAILER
Caryn chases the can over to the couch where Mr. R. sits like a sopping wet puppy with a towel draped over his shoulders.
MR. R.
They think they're going to resume shooting today? Ha!
Caryn tosses the can in the trash. She stirs a spoon through a simmering pot of spicy chili. The multi-colored beans seem to be the only color in the trailer turned monochromatic from the pelting rain.
CARYN
This is ready. It'll warm you up.
MR. R.
They should send us home.
Caryn prepares a bowl of chili, complete with a dollop of sour cream and snipped fresh chives. Mr. R. wraps his hands around the warm bowl.
POUNDING THUNDER shakes the trailer. Caryn backs against the wall. Mr. R. seems undisturbed, concentrating on the hot chili.
She quickly regains composure and collects the other cans from the counter. Mr. R. takes a break from his lunch to look out the window.
MR. R.
The storm is just getting started.
He looks over to his chef who is trying to remain cheerful amidst the gloom of the afternoon.
MR. R. (CONT'D)
Caryn, you should take the limo back to your room.
She looks up from her work.
CARYN
That's very kind, but I'm okay.
He holds her gaze, not accepting her answer.
CARYN (CONT'D)
I have to clean up and--
MR. R.
Leave it! Just go. There's no reason for both of us to be miserable here.
She pauses to examine her unfinished work. Slowly, she collects her things and heads to the door.
CARYN
Call me if you need anything?
He nods and returns to his chili. Caryn slips out, leaving her boss to brood alone in the mess she left behind.
Chipotle-Infused Vegetarian Chili
The chipotle peppers lend so much of their flavor to this quick chili, you'll think it simmered all day long.
1 TB. olive oil
2 medium onions, chopped
1 green pepper, diced
2 cloves garlic, minced
1 tsp. cumin
1 tsp. oregano
2-3 canned chipotle peppers, chopped
2 15-oz. cans black beans, drained
1 15-oz. can kidney beans, drained
1 15-oz. can pinto beans, drained
1 15-oz. can diced tomatoes
1 can tomato paste
3 cans water
1. Heat oil in large, heavy dutch oven over medium-high heat. Add onions and green pepper and saute until transulent and tender.
2. Add garlic and saute for one minute. Add cumin, oregano and chipotle peppers and saute 1-2 minutes, stirring constantly.
3. Add beans, tomatoes, paste and water. Bring to boil. Reduce heat and simmer 30-45 minutes, or until thickened.
Serves 8.
Posted by Caryn at 12:00 PM | This Entry Only | Recipe Only | Comments (14) | TrackBack (1)
California's Finest: Guac!
June 01, 2005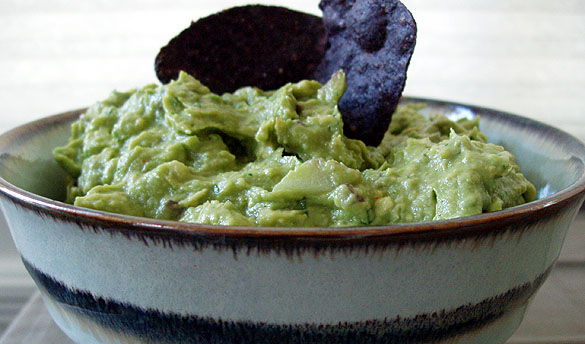 EXT. SOMEWHERE IN MISSISSIPPI--MOVIE SET--DAY
Under one of the large, white tents, enough tables are set up for a few hundred people. CATERERS are busy setting up for lunch.
Caryn wanders around base camp, stretching her legs and looking around. She strolls up to the craft services table to investigate. A smorgasboard of snacks is spread out for all to partake. She grabs a little piece of chocolate.
WOMAN (O.S.)
Are you Mr. R.'s assistant?
Caryn turns around to be greeted by a prim, YOUNG WOMAN with a tight ponytail and stylish glasses.
CARYN
Um, yeah. I'm Caryn.
WOMAN
I'm Amelia. I'm the director's assistant.
CARYN
Oh wow. That sounds like fun.
Amelia picks up a tortilla chip and cracks it into two pieces.
AMELIA
It's okay. Your job sounds like more fun. How is it to work for him? He seems soooo cool.
Amelia dips the chip particle into a bowl of brownish guacamole and eats it.
CARYN
Yeah, it's okay, I guess.
AMELIA
You're so lucky. He's even hotter in person than on screen. And he's so charming.
She stirs the water back into the guacamole and scoops another helping onto the other half of her chip. The CRAFT SERVICES MAN comes up and places another bowl of chips on the table.
CRAFTY MAN
How do you like the guacamole? I just made it fresh.
Caryn takes another glance at the gloppy mess.
AMELIA
It's really good. Thanks.
Amelia's cell phone starts buzzing away at the clip on her belt.
AMELIA (CONT'D)
Oh! I gotta go. Caryn, come over to our trailer later. Some other assistants are gonna watch a movie.
Caryn smiles and nods enthusiastically. Amelia grabs another chip on her way, but Caryn opts for an apple.
EXT. TRAILER--LATER
A FedEx box with Caryn's name on it leans against the trailer door. Caryn rips it open to find a box full of fresh California avocados.
She peeks inside the box looking for an explanation and finds a brief note scrawled on paper.
NOTE: "Thought you might miss California by now. Punky is happy but shedding orange fur all over my couch. Call us sometime. --Matt"
She flips over the note to discover a recipe in the same handwriting.
Matt's Guacamole
in my opinion, the key is absolutely fresh ingredients and nothing
extraneous. the simpler the better. also i personally hate tomatoes in guacamole.
3 medium California Haas avocados
1/2 cup red onion
1 tbsp minced cilantro
1/2 tsp minced garlic
1 tbsp lime juice
1 tsp cayenne pepper or to taste
salt & pepper to taste
1. peel & pit avocados. mash the pulp in a bowl.
2. combine with remaining ingredients and adjust salt, pepper, and
cayenne to taste.
serve immediately with Frito's(r) brand corn chips or cover & refrigerate.
(mark bittman claims that including the avocado pits in the dip helps prevent the guacamole from turning brown if it is prepared up to 4 hours in advance. i don't know if this is actually true, but it is definitely true that leaving it out for awhile will allow the guacamole to turn a really disgusting shade).
- M
p.s. just kidding about the fritos.

Posted by Caryn at 06:15 PM | This Entry Only | Recipe Only | Comments (4) | TrackBack (0)
IMBB #15: Riesling Fruit Salad!
May 22, 2005
EXT. VALLEY HOUSE--LARGE BACKYARD--LATE AFTERNOON
Matt is hosting a rousing barbecue of LA's young and swanky crowd. PARTY GUESTS mingle by the barbecue pit that has been dug in one corner of the yard. Caryn and Winnie hang out near a table of salads, taking in the scene. Given the recent heat wave, they are appropriately dressed in cool linen.
Matt leads a tall, gorgeous BLOND WOMAN over to Caryn and Winnie. Her sparkling blouse and high heels might be better suited for cocktail hour, but she wears it well.
MATT
Caryn, Winnie. This is Lisa.
The ladies exchange greetings as Lisa scoots other plates aside to put down her colorful pasta salad.
CARYN
That looks very tasty, Lisa.
LISA
Thanks. I actually can't eat it, though. I'm a carb-free vegan.
Caryn and Winnie share a look.
MATT
Caryn, what did you bring?
She points to her molded fruit salad, where peaches and pears glisten under a pale gold gelatin.
CARYN
It has a late-harvest riesling in it.
LISA
Ohhh, a jello salad. I liked those when I was a kid. How cute.
Caryn's eyes narrow as she opens her mouth to respond, but Matt jumps in.
MATT
You must be thirsty, Lisa. Let's go get a drink.
Lisa nods and heads towards the beverage table. Matt whispers back toward Caryn and Winnie.
MATT (CONT'D)
Hot day, huh?
He winks just as he is enveloped in a small crowd.
WINNIE
A carb-free vegan? What the heck does she eat?
Vic sneaks up behind Winnie.
VIC
Who are you two critiquing now?
Winnie links her arm into her fiance's.
WINNIE
Are y'all ready to go? I'm tired already.
CARYN
Yeah, I have an early flight tomorrow.
Winnie pretends to pout at the thought. By the drinks, Matt leans in to whisper something into Lisa's ear, causing her to break out in a high-pitched squeal of a laugh.
CARYN (CONT'D)
I don't think we need to say goodbye. Let's go.
EXT. FREEWAY--NEXT MORNING
A stretch limosine idles in the left lane of a jam-packed freeway that simply does not move.
INT. LIMO
Caryn and Mr. R. sit quietly on opposite ends of the plush car. She hugs her bag to her chest and watches traffic creep by as Mr. R. reads a book. After a moment, he sighs and snaps the book closed to examine the traffic situation.
MR. R.
I won't miss this.
CARYN
I think we all need a little break from this city.
The traffic starts to pick up for no apparent reason and in little time they are breezing down the freeway, finally on their way...
This entry was posted as a part of IMBB #15: Has My Blog Jelled?. Check out the many other creative entries!
Riesling Fruit Salad
2 small peaches, peeled and sliced
1 pear, peeled and sliced
2 apricots, sliced
1/2 pint raspberries
1/2 pint blueberries
3 envelopes unflavored gelatin
2 TB. sugar
3 cups white grape juice
2 cups riesling, preferrably late harvest**
1. In small saucepan, sprinkle gealtin over 1 cup grape juice. Let stand 2-3 minutes. Stir in sugar. Bring to a simmer over medium heat, stirring often until granules are completely dissolved. Remove from heat. Pour into a large bowl. Add remaining grape juice and wine.
2. Place bowl over a larger bowl half-filled with ice water. Let stand about 20 minutes or until gelatin starts to thicken, stirring occasionally. Whisk gelatin to form bubbles throughout. Stir in fruit. Remove from ice bath and pour into 8-10 cup mold. Refrigerate at least 8 hours until firm.
3. Place a plate upside down on top of mold. Invert onto plate. If gelatin does not release, dip mold up to rim in warm water for 5 seconds before inverting.
Serves 12.
**Sparkling grape juice can be substituted for a non-alcoholic version.

Posted by Caryn at 06:15 AM | This Entry Only | Recipe Only | Comments (9) | TrackBack (0)
Guilty: Gorgonzola Grit Cakes!
May 05, 2005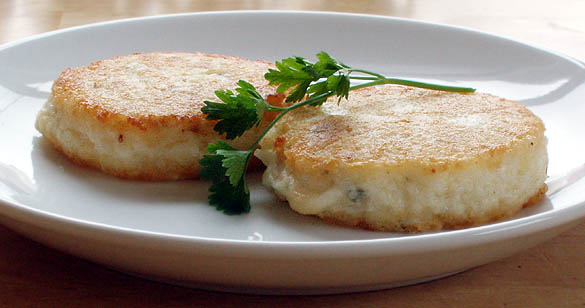 INT. MR.R.'S MANSION--KITCHEN--EVENING
Fresh steaks marinate on the counter and a large skillet is coated with oil. But the kitchen is devoid of its cook.
INT. MR. R.'S MANSION--HALLWAY--SAME
Caryn meanders through the passageway, looking at the bizarre art on the walls. She stops at the bottom of a flight of stairs. She looks over her shoulder, but there is no one around. Caryn creeps up the stairs and peers around the corner.
INT. UPSTAIRS
Another hallway lined with doors. Haphazardly she chooses one.
INT. BEDROOM
Caryn finds herself in an elaborately decorated suite with a window that seems to hover above all of Los Angeles. By the teeny-sized and elegant clothing strewn about the room, it is clear that this is Miss A.'s room.
Caryn holds one of the dresses up to her body. She grunts at how much it doesn't cover and tosses it aside. Backing up, she nearly trips over a pair of glittering silver stilettos.
To her credit, there is a brief moment of hesitation before Caryn kicks off her own boring shoes and slips into the Blahniks. She tiptoes across the room to a full-length mirror. She pulls up her pant leg to consider the new calf line.
MR. R.
Caryn.
Caryn cringes, afraid to turn around. Mr. R. stands behind her, his raincoat dripping on the floor.
CARYN
Yes....sir.
MR. R.
Dinner?
Her face crumples like a ball of aluminum foil.
CARYN
Yes, sir. Fifteen minutes.
INT. DINING ROOM--LATER
Mr. R. has changed into his jeans and t-shirt and he sits alone, reading. Caryn serves him the grilled steak, accompanied by a still sizzling grit cake that is starting to seep gorgonzola from the side. Mr. R. slices it in two with his fork and takes a bite as Caryn tries to exit.
MR. R.
Caryn.
She stops, head hung low.
MR. R. (CONT'D)
I don't think there's any reason to mention--
She musters a look over her shoulder at him.
MR. R. (CONT'D)
--your exploits...to A., do you?
CARYN
Um, no. Sir.
He resumes eating, but as Caryn escapes, a sly smile cracks on his lips.
Gorgonzola Grit Cakes
3 cups water
1 cup water ground grits (not instant!)
1 tsp. salt
3 oz. gorgonzola, crumbled
1 egg, beaten
flour for dredging
2-3 TB. vegetable oil
1. Bring water to a boil. Add salt and grits and lower heat. Cook until thick, stirring constantly, about 15 minutes. Remove from heat and stir in egg and gorgonzola, stirring until cheese is melted and well combined.
2. Pour grits into 8" cake pan (round is better). Cool in pan and then refrigerate uncovered until completely set, at least an hour after cool.
3. With a 2-1/2" round cutter, carefully cut grits into 6 rounds and remove from pan. Dredge rounds in flour.
4. Heat oil in large skillet until hot. Pan-fry grit cakes until golden, about 2 minutes each side. Serve immediately.
**Make sure that the oil is hot enough before frying or the grits will begin to fall apart before browning.
Makes 6 grit cakes.
Posted by Caryn at 06:00 AM | This Entry Only | Recipe Only | Comments (9) | TrackBack (0)
Chop, Chop: Chopped Salad!
April 25, 2005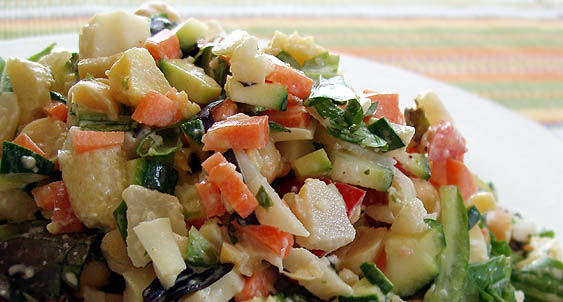 INT. MR. R.'S MANSION--KITCHEN--EARLY AFTERNOON
Caryn digs deep into the fridge and pulls out several tupperware containers from the back. She examines the contents skeptically. Lauren enters and tosses some papers on the counter.
LAUREN
Here. I need you to fill these out so we can add you to the movie's payroll.
Caryn grabs a few more items from the fridge. She closes the door with her foot.
CARYN
Is production starting soon?
LAUREN
Well, yes. But he won't be needed for a couple more weeks.
Caryn unloads her arms by a cutting board.
CARYN
So I won't be needed for a couple more weeks either?
Lauren licks her teeth under her lips as she eyes Caryn.
LAUREN
Right. Something like that.
Caryn empties the contents of the tupperware on the cutting board. She begins chopping a pile of vegetables with her chef's knife.
LAUREN (CONT'D)
You know, there's not much to do on a movie set. You'll probably get bored after the first week.
Caryn shrugs her shoulders as her knife settles into a steady rhythm.
LAUREN (CONT'D)
I feel badly that he's dragging you into this. Someone with your talents probably has much bigger aspirations than cooking from the kitchen of a trailer.
CARYN
I'm sure I'll be okay.
Caryn starts hacking away at a carrot. Lauren looks down the bridge of her nose at the bits of vegetables.
LAUREN
Suit yourself. But you better hurry up with that. He's been asking for his lunch for half an hour.
The sound of the knife stops abruptly as Lauren walks out. Caryn pops a piece of carrot in her mouth and resumes chopping.
CARYN
Always nice chatting with you.
Chopped Salad
Vary this salad by including or substituting any number of ingredients: corn, blanched green beans, sweet peas, grilled chicken, avocado, fresh basil, fresh dill, green onion, fresh spinach, iceberg lettuce, red or yellow peppers. It's also nice with a seasoned vinaigrette.
2 medium zucchini, finely chopped
2 medium carrots, finely chopped
2 roma tomatoes, seeded and finely chopped
1/2 cup hearts of palm, finely chopped
1/2 cup garbanzo beans, finely chopped
1/2 cup water chestnuts, finely chopped
1/2 cup baby corn, finely chopped
4 cups baby greens, finely chopped
Salt and pepper, to taste
Toss all ingredients in large bowl with enough dressing to lightly coat vegetables.
Serves 2 large salads or 4 side salads.
Buttermilk Dressing
1/4 cup mayonnaise
2 TB. sour cream
1-1/2 tsp. onion powder
1-1/2 tsp. garlic salt
1/4 tsp. black pepper
1/2 tsp. parsley flakes
1/4 cup buttermilk
Stir together mayonnaise, sour cream and spices until smooth. Stir in buttermilk until desired consistency is reached.
Posted by Caryn at 05:21 PM | This Entry Only | Recipe Only | Comments (6) | TrackBack (0)
Springtime Afternoon: Risotto!
March 17, 2005
EXT. MR. R'S MANSION--SUNDECK--DAY
The massive sundeck stretches the full length of the house and opens out to the expansive view of the buzzing city. Just steps below the deck, a glorious pool shimmers in the California sun.
Mr. R. and Miss A. relax at a large, round table that is dressed in the requisite white linen and crystal. Lauren reads a script in a sunchair next to them.
Miss A. stretches her bare, pedicured feet into the sun.
MISS A.
Is it finally Spring?
MR. R.
I guess any day here feels like Spring when you're from Manhattan.
MISS A.
I may never go back.
MR. R. smiles at the thought as Caryn enters with plates piled high with hot, green-speckled risotto.
MISS A.
Lunch!
Lauren comes over to the table as Caryn pours sparkling water into the glasses. Miss A. wastes no time before digging her fork into the steaming mound.
LAUREN
What's in this?
CARYN
Oh, it's sort of a light risotto. Arugala, leeks, parmesan.
MISS A.
Mmmmm. Perfect dish for a beautiful day!
Lauren resumes reading her script without touching her lunch. Mr. R. eats in silence. Caryn takes the opportunity to sneak away.
MISS A.
You're right. Your chef is really good.
Lauren looks up from her script to Mr. R. who continues to eat.
LAUREN
She's alright. Not the best you've ever had.
Mr. R. dismisses Lauren's comment with a laugh. The table falls silent as the trio drifts off into their thoughts of the afternoon.
Around the corner, Caryn sits on the back steps, disappointed with the previous conversation from the deck. She stretches out her home-pedicured feet into the sun and tries to disappear into her own plate of risotto.
Spring Green Risotto
3 Tablespoons olive oil
2 large leeks, cleaned and chopped
2 cloves garlic, minced
1-1/2 cups Arborio rice
5 cups chicken stock
1/2 cup dry white wine
3 cups chopped baby arugala
1/4 cup snipped fresh chives
2 Tablespoons fresh thyme leaves
3/4 cup grated Parmesan cheese
salt and pepper, to taste
1. Bring stock to a gentle simmer.
2. Heat oil over medium-high heat in heavy-bottomed pan. Add leeks and garlic. Saute until soft, about 5 minutes. Add rice and stir until rice is nearly translucent, about 3 minutes.
3. Add the wine and stir until it is completely absorbed.
4. Slowly add 1 cup of the stock to the rice, stirring constantly.
5. When the stock has been nearly absorbed, add the arugala, chives and thyme.
6. Continue to add the stock a ladleful at a time, stirring the rice constantly, until the rice is just tender and looks creamy, about 20-25 minutes.
7. Stir in the parmesan and salt and pepper. Serve at once.
3 lunch-sized portions, and a little leftover.
Posted by Caryn at 06:32 AM | This Entry Only | Recipe Only | Comments (6) | TrackBack (0)
Sweet Sesame: Asian Vinaigrette!
March 14, 2005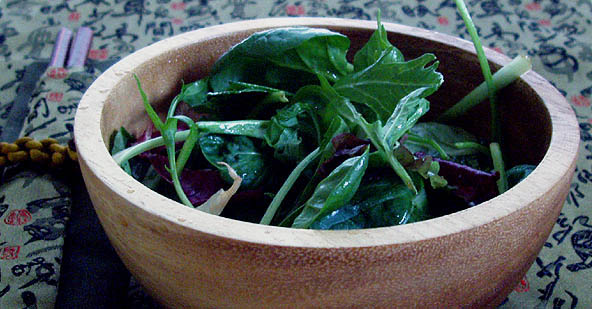 INT. MR. R'S MANSION--KITCHEN--DAY
Caryn and Flora are trimming and washing a bed of fresh, spring greens over the sink when the door swings open and MISS A., a stunningly beautiful actress in a white, flowing sundress, prances in.
MISS A.
Oh, fabulous! I'm famished.
Flora can't help staring.
CARYN
Um, can I help you?
MISS A.
He said I'd find you here. What are you making?
CARYN
He's here? He's back from--
She is cut off by the door swinging open again. Mr. R enters, visibly tired from his travel, but smiling warmly at Miss A. He nods to Caryn without taking his eyes off of Miss A.
MR. R.
Caryn, I see you've met my houseguest.
MISS A.
She was just helping me find lunch.
Caryn puts down the greens and wipes her hands dry.
CARYN
Would you like a salad?
MISS A.
Brilliant. Just some lettuce.
CARYN
Just greens?
MISS A.
Perhaps a light dressing. That's all.
Mr. R. gently puts his hand on Miss A.'s sleek, exposed back and leads her to the door.
MR. R.
She doesn't eat much.
They are almost through the door as Miss A. calls back.
MISS A.
Thank you!
Her giggle is muffled when the door swings closed again. Flora can't help giggling herself.
FLORA
Do you know who that is?
CARYN
Yes, Flora.
Caryn takes some bottles with Chinese writing out of the cabinet.
FLORA
My daughter has seen all her movies.
CARYN
I might have seen one on an airplane or something.
She drizzles a little from each bottle into a small bowl. Flora resumes cleaning the greens.
FLORA
So pretty.
Caryn whisks the vinaigrette with a vengeance.
CARYN
Too thin.
Asian Vinaigrette
2 Tablespoons peanut or olive oil
2 Tablespoons rice vinegar
1 teaspoon soy sauce
1/4 teaspoon sesame oil
1 teaspoon sugar (or to taste)
Whisk all ingredients together.
A small amount of sesame oil adds tremendous depth to this vinaigrette. It needs nothing more than an assortment of baby greens to accompany it.

Posted by Caryn at 06:55 AM | This Entry Only | Recipe Only | Comments (2) | TrackBack (0)
The Pepper Chef!
March 07, 2005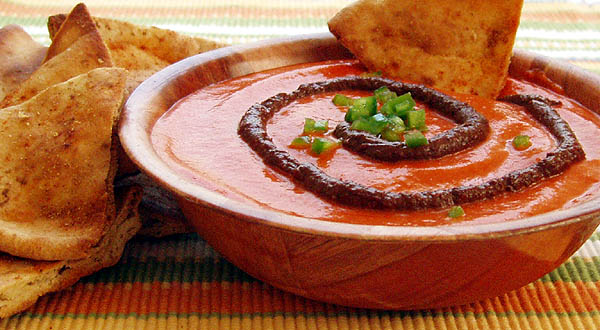 INT. CARYN'S APARTMENT--KITCHEN--LATE AFTERNOON
The sink is overflowing with dirty dishes and bowls. Bright orange spots are spattered around the stove. The trash can is long overdue for a changing.
Caryn stands over a colorful bowl on the table, digital camera poised at her eye. There is a quick knock at the door, but it opens nearly at the same time and Matt waltzes in.
MATT
Smells like peppers in here!
CARYN
Roasted red peppers.
Matt leans over the table to look at the bowl.
MATT
What's that?
CARYN
Dip. Didn't know you were coming over.
Matt picks a pita chip off the counter and starts to munch on it.
MATT
Wasting some time before my date.
Caryn repositions the food and snaps another picture.
CARYN
It'd kill you to show up on time?
Matt grabs another chip.
MATT
Who's this for?
CARYN
No one. Just an experiment.
MATT
Perfect. Then I'm your guinea pig.
He grabs the chip that sticks out of the bowl and scoops a generous portion of the silky dip before popping it in his mouth.
CARYN
Good thing I'm done taking pictures.
MATT
Wow. Smoky.
He walks over to the fridge and grabs a half-full bottle of pomegranate juice.
MATT (CONT'D)
And hot!
CARYN
I know. I might have added more jalapenos than it called for.
MATT
I think it chapped my lips.
This flavorful dip was designed as an entry for the Paper Chef #4 using the following ingredients: eggplant, stale bread, chocolate and pomegranate. The use of three different kinds of peppers somehow brought those flavors together.
Roasted Red Pepper and Eggplant Dip
Chipotle Mole Garnish
1/2 cup sundried tomatoes
1 cup boiling water
2 Tablespoons pumpkin seeds (pepitas)
2 Tablespoons blanched almonds
2 Tablespoons sesame seeds
1/2 of a 7-oz. can of chipotle peppers in adobo sauce
1/2 cup of pomegranate juice
1 Tablespoon olive oil
2 cloves of garlic
2 oz. bittersweet chocolate
1. Rehydrate tomatoes in boiling water. Drain and reserve liquid.
2. Toast pepitas, almonds and sesame seeds in a dry skillet until lightly browned. Cool.
3. Grind seeds and almonds in food processor until fine. Add tomatoes, chipotles and pomegranate juice. Puree until smooth.
4. Heat oil in a skillet over medium heat. Add garlic and saute until soft. Add the pureed mixture and saute until thickened (about 15-20 minutes).
5. Melt the chocolate into the mixture. Thin sauce with reserved tomato liquid until desired consistency (I used 1/2 cup). Simmer for a minute to blend flavors.
Makes about two cups. Refrigerate until ready to use.
To use as a sauce for meats or vegetables, use only one or two of the chipotles and thin the finished sauce with chicken broth. Vary the chocolate to taste.
Pita Chips
5 loaves of stale pita
olive oil
cumin
paprika
1. Preheat oven to 350 degrees.
2. Brush the pita with olive oil and cut into halves and then thirds to form wedges.
3. Dust with cumin and paprika.
4. Bake on a cookie sheet until golden and crispy (about 20 minutes).
Posted by Caryn at 06:17 AM | This Entry Only | Recipe Only | Comments (5) | TrackBack (0)
Oh, Baby: Baby Artichokes!
February 03, 2005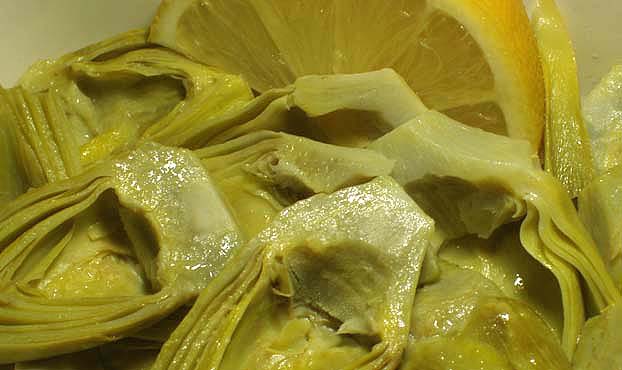 EXT. CALIFORNIA COUNTRYSIDE--DAWN
Waves of a dark ocean crash onto the rocks of a deserted beach, protected by the sandy hills lumbering high overhead. At the top of those hills, fields of green crops stretch out to meet the early morning sun.
The crops, though, are not alone. Eager CROP WORKERS are lingering between the aisles, ready to get to work. One FARMER walks with his BROTHER.
FARMER
February's a little early.
The two men stop to examine the crop. The farmer bends down and gently cups the pointed leaves of a fresh, round artichoke. He slowly pulls it aside to reveal smaller, seemingly fragile baby artichokes hiding from the light beneath their mother.
He looks up at his brother, a broad smile creeping across his face.
FARMER
Yeah, okay.
A sharp, machete-like knife hacks at the base of the baby chokes and they fall softly to the ground.
CUT TO:
A sharp kitchen knife slices right through the heart of a baby artichoke, the halves instantly starting to brown.
INT. CARYN'S APARTMENT--KITCHEN--EARLY EVENING
Caryn sings along to the pop song blaring from the stereo as she methodically cleans the artichokes, dowsing them with lemon juice every few seconds. Water simmers in a pot on the stove. Soft butter waits in a small saute pan.
The unusually warm breezes blow through the screen door. It is February in other parts of the country, but not here.
A stem rolls off the counter and Punky chases it under a desk full of cookbooks and papers scattered about. She is planning something.
But for now, Caryn is content with the workings of her baby artichokes. The petite greens positively sparkle...
Baby Artichokes Sauteed in Lemon Butter
2 lbs. baby artichokes (12-15 artichokes)
2 large lemons
2 tablespoons butter
salt
pepper
1. Juice half of a lemon into a bowl of cold water. Cut the other half into wedges for the cleaning of the artichokes.
2. Clean the artichokes by peeling off the leaves until the yellow, tender leaves are revealed. Cut a 1/2" off the tops (the green part) and cut off the stem to 1/2". Peel the remains of the leaves off the stem with a knife. Slice the artichokes in half and rub them with lemon to keep from browning. If necessary, use the pointed tip of a vegetable peeler to scoop out the fuzzy centers. Drop the halves into the bowl of water.
3. Bring a medium-sized pot of water to boil.
4. Drain the artichokes and drop in boiling water. Boil until tender, about 5 minutes. Drain.
5. Melt butter in small saute pan. Add drained artichokes and season with salt and pepper. Saute for 3-5 minutes.
6. Squeeze juice of remaining lemon half (or whole) over the artichokes and saute for 1 minute more. Serve with lemon wedges.
(Serves 2)

Posted by Caryn at 07:30 AM | This Entry Only | Recipe Only | Comments (1)
Bruschetta!
February 01, 2005
EXT. LOS ANGELES CITY STREETS--DAY
Caryn weaves the old Honda through the ever-present traffic of the city. It was a nice car in its day, but that day has long passed. She turns the radio up to drown out the noise of her brakes as she squawks to a halt at a red light.
The MAN in the polished Mercedes next to her scowls at the Honda, baffled that any car can make the exact noise of an ailing heifer. Caryn turns away to avoid eye contact when she spots a sign on her left that reads "La Brea Bakery." She sits up in her seat.
The light changes, but Caryn whips her car between oncoming traffic and into the valet parking lot of the bakery. She hops out and dashes to the store, calling back to the valet ATTENDANTS.
CARYN
I'll only be a minute!
The attendants shake their heads in wonder, but before they can gripe, she returns and is squawking the car back into traffic.
She can't wait. She opens the bag from the bakery to reveal a loaf of bread that looks like any country loaf. But when she tears off an end, soft, perfumed cloves of garlic appear from their hidden caverns inside.
Caryn nibbles on her bread as if it was her only ration for the week.
INT. CARYN'S DUPLEX APARTMENT--KITCHEN--NIGHT
A pile of tomatoes drains on the counter while Caryn minces fresh garlic. A buzzer on the fridge goes off and she dashes to the oven to remove a cookie sheet of small bread slices. Olive oil has painted the surfaces of the toasted slices a tender green.
Punky paces the area around his food bowls, occasionally letting out a piercing MEOW to let Caryn (and the neighborhood) know that he is hungry.
Caryn puts the bread slices piled high with cheese and a tomato mixture in the oven. It is no time before she pulls the cookie sheet out again, the bruschetta now glistening with the tomatoes and the cheese lovingly melted over the sides.
She tosses some fresh, torn basil over the bruschetta and sits down to escape the headache of the city. As she sinks her teeth into the first, crusty slice, the phone rings, pulling her back to reality. She reaches for the phone and Punky seizes the opportunity to steal his own slice of bliss from Caryn's plate...
Bruschetta
3-4 medium tomatoes
1 fresh country loaf of bread (or other rustic loaf)
4-6 oz. whole-milk mozzarella**
2 garlic cloves, minced
6-10 basil leaves
olive oil
salt
1. Preheat oven to 350.
2. Peel, core and chop the tomatoes. Lightly salt the chopped tomatoes and place in a colander. Set colander over a bowl to catch juice. Let sit for 30 minutes.
3. Slice loaf into 4 thick slices and then cut slices in half. Depending on the size of the loaf, slices should be a little larger than bite-size. Brush olive oil on both sides of the bread and place the slices on a cookie sheet. Bake until lightly toasted, about 5-10 minutes.
4. Cut mozzarella into slices to fit each bread slice, up to 1/4" thick.
5. Mix tomatoes and garlic together and drizzle with a little olive oil.
6. Top each toasted bread slice with mozzarella and a generous spoonful of the tomato mixture.
7. Bake until cheese melts and begins to brown, about 10-15 minutes. It's okay to boost the oven temperature a bit to decrease cooking time—just make sure the bread doesn't burn on the bottom.
8. Tear basil leaves over the tops of the bruschetta and serve
**Whole-milk mozzarella melts faster and more evenly than part-skim, which means it starts to get that brown, bubbly crust before the rest of the food becomes overcooked.
Posted by Caryn at 09:00 AM | This Entry Only | Recipe Only | Comments (4)