« Hot Coffee and a Turkey Baster! | Main | Market Street's Shrimp & Grits! »
Spicy Vegetarian Chili!
June 15, 2005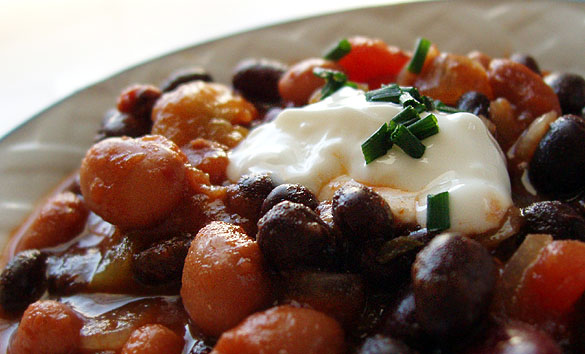 EXT. SOMEWHERE IN MISSISSIPPI--MOVIE SET--DAY
Rain pours down in thick sheets over the expanse of the set now covered in blue tarp. Straggling crew members scramble to get the last pieces of equipment under cover.
LIGHTNING FLASH
Caryn jumps, knocking an empty can to the floor with a loud clang.
INT. TRAILER
Caryn chases the can over to the couch where Mr. R. sits like a sopping wet puppy with a towel draped over his shoulders.
MR. R.
They think they're going to resume shooting today? Ha!
Caryn tosses the can in the trash. She stirs a spoon through a simmering pot of spicy chili. The multi-colored beans seem to be the only color in the trailer turned monochromatic from the pelting rain.
CARYN
This is ready. It'll warm you up.
MR. R.
They should send us home.
Caryn prepares a bowl of chili, complete with a dollop of sour cream and snipped fresh chives. Mr. R. wraps his hands around the warm bowl.
POUNDING THUNDER shakes the trailer. Caryn backs against the wall. Mr. R. seems undisturbed, concentrating on the hot chili.
She quickly regains composure and collects the other cans from the counter. Mr. R. takes a break from his lunch to look out the window.
MR. R.
The storm is just getting started.
He looks over to his chef who is trying to remain cheerful amidst the gloom of the afternoon.
MR. R. (CONT'D)
Caryn, you should take the limo back to your room.
She looks up from her work.
CARYN
That's very kind, but I'm okay.
He holds her gaze, not accepting her answer.
CARYN (CONT'D)
I have to clean up and--
MR. R.
Leave it! Just go. There's no reason for both of us to be miserable here.
She pauses to examine her unfinished work. Slowly, she collects her things and heads to the door.
CARYN
Call me if you need anything?
He nods and returns to his chili. Caryn slips out, leaving her boss to brood alone in the mess she left behind.
Chipotle-Infused Vegetarian Chili
The chipotle peppers lend so much of their flavor to this quick chili, you'll think it simmered all day long.
1 TB. olive oil
2 medium onions, chopped
1 green pepper, diced
2 cloves garlic, minced
1 tsp. cumin
1 tsp. oregano
2-3 canned chipotle peppers, chopped
2 15-oz. cans black beans, drained
1 15-oz. can kidney beans, drained
1 15-oz. can pinto beans, drained
1 15-oz. can diced tomatoes
1 can tomato paste
3 cans water
1. Heat oil in large, heavy dutch oven over medium-high heat. Add onions and green pepper and saute until transulent and tender.
2. Add garlic and saute for one minute. Add cumin, oregano and chipotle peppers and saute 1-2 minutes, stirring constantly.
3. Add beans, tomatoes, paste and water. Bring to boil. Reduce heat and simmer 30-45 minutes, or until thickened.
Serves 8.
Posted by Caryn at June 15, 2005 12:00 PM | Printable Version | Recipe Only
Trackback Pings
TrackBack URL for this entry:
http://www.deliciousdelicious.com/mt/dd-tb.cgi/35
Listed below are links to weblogs that reference Spicy Vegetarian Chili!:
» If the tex-mex won't come to you, you'll just have to make it from seprah.com
Perhaps it was my lack of patience that did me it. However, ladies and gentlemen of the Blogosphere, I think I am almost at the point of making the perfect chili. I took the Vegetarian Chili recipe from deliciousdelicious.com and adapted it to fit the ... [Read More]
Tracked on July 16, 2005 02:17 PM
Comments
This looks absolutely mouthwatering. Thanks for the recipe and the story. I love reading this!
Posted by: Leannwoo at June 15, 2005 11:08 AM
My stomach has hit the mid-afternoon gumblings, and this post didn't help! How lovely and comforting that bowl looks, add some cornbread and I'm in heaven.
Posted by: tara at June 15, 2005 12:14 PM
Great new recipe! I'm hoping those peppers will help spice up my new crush at a party I'm heading to this weekend - woo! Maybe he'll think I'm hot stuff too;) We'll see! Hellooo to Mr. R holding Caryn's gaze...!
Posted by: Modern Gal at June 15, 2005 08:02 PM
I love chili, and this one sounds great. The more beans the better as far as I'm concerned. Sounds so easy too!
Posted by: Cathy at June 15, 2005 08:16 PM
It is excruciating to wait between your entries! What will happen? What will you make next? Will Lauren slip on her stilettos and land in the mud? Will Mr. R dump Miss A. and sweep his chef to his next premiere? Oh.... the anticipation!
Posted by: AKMartin at June 16, 2005 08:47 AM
AKMartin, sorry about the delay between entries. Computer access has been limited lately, but I should get back on track this week. Don't want you to suffer... :)
All, I'm glad the recipe sounds interesting. I was so happy with the results from so little effort. Those chipotles pack a punch!
Posted by: caryn at June 18, 2005 07:32 AM
Caryn, another yummy looking chilli! I missed lunch today and am so hungry after looking this...
Posted by: keiko at June 20, 2005 07:54 AM
Hi Caryn...ooooh, I love chipotles in my chili, as well. Of course, it also looks fantastic, as usual!
Posted by: Moira at June 21, 2005 12:16 AM
As my meat-eating boyfriend and my vegetarian-self said when we saw that picture: Mmmm! We shall be making that soon I believe.
Posted by: gemma at June 21, 2005 07:43 AM
Thanks Nordljus and Who Wants Seconds! ;)
Gemma, the chipotles add enough heart to satisfy us meat-eaters too. Let me know if you make it!
Posted by: caryn at June 21, 2005 08:19 AM
Caryn, I'm going to make this for dinner tomorrow night. My only problem is that I can't find any chipotle peppers. Well, maybe this is more my husband's problem, as I am a spice wuss and am frightened by the word "spicy" in any recipe.
This looks too delicious to pass up, though, and I'm going to also make cornbread in a cast iron skillet I bought based on your 5/28 recommendation. Can you give me an idea about what to substitute for the peppers? I have chili powder or red pepper flakes or I could get chiles or jalapeno peppers. Anything that I could use that could be adjusted to our very different tastes would be good.
Sorry this is so long. You are so wise in the ways of food, and I would love any help that you could give, though!
Posted by: laura floyd at June 29, 2005 06:17 PM
Laura, you can always substitute 2-3 TB. of chili powder, but it may not be as smoky as the chipotles make it. The chiptoles that I used were canned in adobo sauce. They are usually with the "ethnic" foods in the grocery store...with the other Mexican items. If you can find them, but don't want it too spicy, you can always add the adobo sauce and leave out the chipotles.
As with any chili, you can garnish with sour cream, cheddar cheese, or onions if you want. I hope you like it!
And let me know how that cornbread turns out. Yum!
Posted by: caryn at June 30, 2005 05:48 AM
Did you see Laura's

variation of this chili? Clever girl.
Posted by: caryn at August 8, 2005 09:22 PM
Posted by: Vegetarian cuisine at January 9, 2006 12:06 PM
Post a comment