R E C I P E S : Meats
Warming Up: Chicken & Artichokes!
January 31, 2006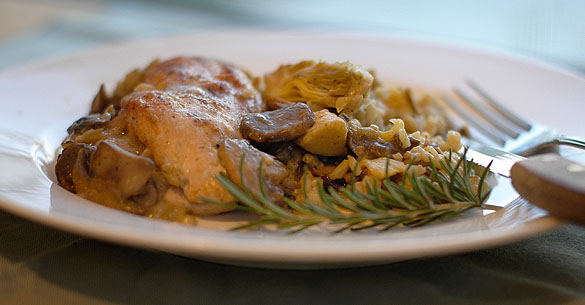 INT. MR. R.'S KITCHEN--AFTERNOON
The cast iron skillet is back in use as chicken breasts sizzle and pop to a golden brown in olive oil. Caryn is half engulfed in a low cabinet, rooting for something that doesn't seem to be there.
With all her CLANGING, she doesn't see Hank enter, dressed in swim trunks. He swings a towel over his bare shoulder.
HANK
Looking for something?
Caryn bolts up to a standing position, her head colliding violently with an open cabinet door.
HANK (CONT'D)
Oooo. Are you okay?
He reaches out to her but she brushes off the pain with a smile, the model of professionalism.
CARYN
Yeah. What can I do for you?
She opens a can of artichoke hearts. Hank looks in the fridge.
HANK
I'm just getting a soda.
CARYN
Isn't it a little chilly for sun bathing?
She pulls her wool cardigan closed as she drains the artichokes in the sink.
CARYN (CONT'D)
You boys seemed to get plenty of sun while sailing around the world for a month.
Hank examines the tan line around his waist.
HANK
Nah. I could use a little more.
Caryn focuses on a pot of wild rice simmering on the stove. Hank sneaks a peak.
HANK (CONT'D)
I'm starved. Can I taste?
He tries to take the spoon from her, but she playfully smacks his hand away.
CARYN
I'm trying to work here.
Hank laughs and rests against the counter to watch her stir the rice.
HANK
Twenty Hollywood types cruising around on that boat and not one of them could cook. We sure missed you.
CARYN
Well, I can't say I missed you poking around the kitchen all the time.
She returns to her search in the cabinet. Hank steals a sliced mushroom from a bowl and heads to the door.
HANK
Alright, kiddo. Call me when lunch is ready.
Caryn watches him leave. As the door swings closed, she can't help snickering to herself...just a little.
Chicken & Artichoke Casserole
This is an old recipe from Cooking Light that I've adapted over the years. Satisfying on a chilly day.
1 box of wild rice (6 oz.), preferrably seasoned like the Near East brand products
salt, pepper, paprika
4 medium-sized chicken breasts
1 TB. olive oil
1 TB. butter
1 14-oz. can artichoke hearts, drained and quartered
16 oz. fresh mushrooms, sliced
1/4 cup flour
1 TB. fresh rosemary, chopped
2-1/4 cups chicken broth
1/2 cup dry sherry
1. Preheat oven to 375 degrees. Prepare rice according to package directions. Spoon into 13x9-inch baking pan.
2. Dusk chicken breasts with salt, pepper and paprika. Heat butter and olive oil in large non-stick skillet over medium-high heat until butter is melted. Add chicken and cook unti lightly browned, about 3 minutes each side. Remove from skillet.
3. Add mushrooms to skillet and saute until mushrooms release their moisture and moisture mostly evaporates, about 5 minutes. Whisk together flour, broth and sherry until combined. Add liquid and rosemary to mushrooms in skillet. Stirring constantly, cook until sauce is thickened, about 3 minutes.
4. Arrange chicken over rice and top with artichokes. Spoon sauce and mushrooms over the chicken and artichokes. Cover with aluminum foil and bake until thoroughly heated, about 50 minutes. Let stand for 5 minutes before serving.
Serves 4.
Posted by Caryn at 01:20 PM | This Entry Only | Recipe Only | Comments (17)
Lovin' Lamb & Eggplant Casserole!
November 30, 2005
INT. MR. R.'S MANSION--KITCHEN--AFTERNOON
Caryn slices through eggplant as a skillet sizzles nearby. The swinging door creaks open and Mr. R.'s head pokes through.
MR. R.
Going to the gym. Be back in a couple hours.
She nods and stirs the browning meat in the skillet.
MR. R. (CONT'D)
Is that lamb? Looks good.
He withdraws his head from the kitchen. Caryn chops fresh mint.
The door swings open again and she rolls her eyes.
CARYN
Change your mind already?
MAN'S VOICE (O.S.)
What?
Caryn looks up to identify the unfamiliar voice. She immediately straightens her hair at the vision of Abercrombie & Fitch standing before her. The SANDY-HAIRED MAN extends his hand.
MAN
Hi, I'm Hank. You must be Caryn.
She nods and shyly shakes his hand. The meat hisses from the stove.
CARYN (CONT'D)
Are you, um, a friend of--
HANK
Yeah, we're buddies from high school. Just visiting for a while.
Caryn pulls her gaze away from his bright blue eyes and turns her attention to the skillet.
CARYN
He could use a friend around here.
Hank leans casually against the counter.
HANK
I hear you're a great cook.
He peeks over her shoulder to see what she's stirring.
HANK (CONT'D)
Is that lamb? Since when does he eat lamb?
Caryn turns her head at the accusation and they are nose to nose.
CARYN
He's eaten it before.
They both look back down at the meat.
HANK
Huh. Interesting.
After a beat, he smiles at her with a sugary grin.
HANK (CONT'D)
I, however, love lamb.
Lamb & Eggplant Casserole with Lemon Yogurt Sauce
I adapted this dish from a recipe published in the November 2004 Woman's Day. It's a pretty lean dish if you're looking for a satisfying, but healthier meal between the Holiday festivities.
3 eggplants, about 1 lb. each, cut into 1/2 inch slices
2 TB. olive oil, divided
1 lb. lean ground lamb
2 cups chopped onion
3 large garlic cloves, minced
1 TB. cumin
1 tsp. cinnamon
1 cup finely chopped fresh mint leaves, loosely packed
salt & pepper
1-1/2 pounds tomatoes, thinly sliced
1/2 cup grated Parmesan cheese
SAUCE:
1 cup plain lowfat yogurt
1 TB. finely grated lemon zest
juice from one medium lemon
salt & pepper
1. Sprinkle 1 TB. salt over eggplant slices and set in colander over bowl to drain. Preheat oven to 450 degrees. After 30 minutes, dry eggplant with paper towels and place slices on cookie sheet. Brush both sides of slices with olive oil. Bake until eggplant is tender and slightly brown, about 30 minutes.
2. Meanwhile, saute onion and garlic in 1 TB. olive oil until tender. Add lamb and saute until meat is no longer pink. Remove from heat and stir in cumin, cinnamon, mint and salt and pepper to taste.
3. Reduce oven to 375 degrees. Line baking sheet with half the eggplant and then half the tomatoes. Sprinkle with 1/4 cup of parmesan cheese. Top with meat mixture, then layer with remaining eggplant, tomatoes and cheese.
4. Bake uncovered until hot, about 30 minutes.
5. To make sauce, mix ingredients together until smooth. Serve with casserole.
Serves 6.

Posted by Caryn at 09:00 AM | This Entry Only | Recipe Only | Comments (20) | TrackBack (0)
Photo Finish: Pork Tenderloin!
October 31, 2005
INT. MR. R.'S MANSION--BEDROOM--EVENING
The massive king bed nearly disappears beneath the volumes upon volumes of books and newspapers. The curtains are drawn and the light is so dim that a lone figure laying on the only open space on the bed is barely visible. He faintly resembles Mr. R. under the scruffy beard, only this man seems more portly and full than the fit, handsome actor.
The door to the bedroom creaks open, letting in a blinding stream of light. The man shifts to one side and turns the page of the book he is reading. The deep, baritone voice confirms his identity.
MR. R.
Thanks, Flora.
The woman puts the tray down on top of the books and he hungrily takes a look. A healthy green salad, some red potatoes dressed in rosemary and olive oil, and just pink slices of tender pork dabbed with a creamy mustard sauce. His mouth waters and he reaches for the fork tucked under the plate.
But he freezes before taking a bite. Poking out from under the linen napkin is a picture of Miss A.'s smiling face. Mr. R. slides the dinner items aside to reveal the full cover of the tabloid magazine currently sold on every grocery store shelf across the country.
He inhales deeply at the incriminating photo of the exuberant actress linked tightly to his own arm. The slow exhale is an extended effort to release wrath before speaking again.
MR. R.
Tell Caryn I don't think this is humorous.
CARYN
Why don't you tell her yourself?
Mr. R. guility looks up just in time to see his chef offer him a wicked smirk before slamming the door behind her.
Pork Tenderloin with Mustard Sauce
This is another of my mother's recipes that my sister and I love. Pork tenderloin is one of the simplest dishes to make, and yet it turns out a very elegant, tender meat. If there are leftovers the next day, the pork slices nicely for sandwiches or to top a salad. The mustard sauce grows more intense the longer it sits.
2 pork tenderloins (about 1-1/4 lb each)
1/4 cup soy sauce
1/4 cup bourbon or tequila
2 TB. brown sugar
Sauce:
1/3 cup sour cream
1/3 cup mayonnaise
1 TB. chopped scallions
1 TB. dry mustard
1-1/2 TB. vinegar
1. Combine soy, bourbon (or tequila) and sugar. Mix well. Marinate pork in mixture for 2-3 hours, basting occasionally.
2. Preheat oven to 325 degrees.
3. Remove pork from marinade and bake for 1 hour, basting occasionally with reserve marinade. When internal temperature of 150 degrees is reached, remove from oven and set aside for five minutes (temperature will continue to climb slightly).
4. Combine all sauce ingredients and mix well.
5. Carve pork into thin, diagonal slices and serve with sauce.
Serves 4-6.
Posted by Caryn at 07:36 PM | This Entry Only | Recipe Only | Comments (11) | TrackBack (0)
No Kidding: Pot Roast!
May 19, 2005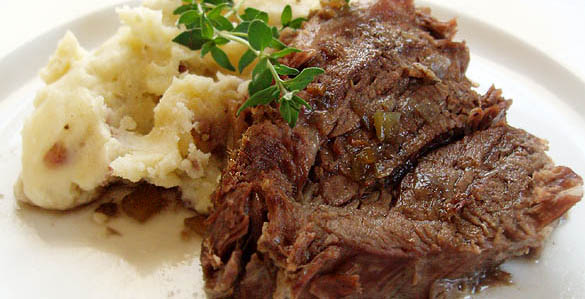 INT. MR. R.'S DINING ROOM--EARLY EVENING
Mr. R. sits at the table with a thick book open before him. He is dressed in his usual Hollywood attire again and looking much refreshed. Caryn brings in the sliced roast on a large serving platter and a bowl of hot, buttery smashed potatoes.
Mr. R. looks up from his book and examines his dinner.
MR. R.
Is this what I've been smelling all day?
CARYN
Yes, sir. It cooked for almost four hours. Makes it soft.
MR. R.
Well, I'm finally hungry again. Looks great.
He spears a couple pieces of beef with his fork and drags them to his plate. Caryn pushes a bowl of sauce closer to him and he spoons it over the meat.
MR. R. (CONT'D)
Well, Caryn, are you ready to cook out of a trailer?
Caryn laughs.
CARYN
I've been packed for days!
MR. R. piles potatoes next to his entree.
MR. R.
Great, then you can help me pack.
Caryn backs up to the door.
CARYN
I think I better leave the packing to you and Flora. I've seen your shoe collection.
Mr. R. laughs as the beef seemingly melts in his mouth.
MR. R.
That's funny, but I really wasn't kidding.
Caryn slumps in the door.
CARYN
I know. I'll get the suitcases out.
Blue Ribbon Pot Roast with Smashed Potatoes
After reading the fabulous article about pot roasts in Cook's Illustrated, I couldn't wait to try my hand at it again! The meat is fall-apart tender and incredibly tasty. Slice leftovers for hot, open-faced sandwiches the next day.
1 boneless, chuck eye roast (3-4 lbs.)
2 TB. vegetable oil
1 cup onion, chopped
1/2 cup carrot, chopped
1/2 cup celery, chopped
2 garlic cloves, minced
2 tsp. sugar
1 can low-sodium chicken broth
1 can low-sodium beef broth
1 tsp. fresh thyme leaves
water
1/4 cup red wine
salt and pepper
2 lbs. small red potatoes
2/3 cup butter
1/2 cup half-and-half
1. Preheat oven to 300 degrees. Season roast with salt and pepper.
2. Heat oil in large Dutch oven. Brown roast until golden on all sides, about 10 minutes. Remove from pan and set aside. Add onion, carrot and celery. Cook over medium heat until starting to brown, about 6 minutes. Add garlic and sugar and cook for 30 seconds. Add chicken and beef broth and thyme. Return roast to pan and add enough water until liquid is half-way up the sides of the roast. Bring to a simmer.
3. Cover with a layer of foil and then the lid (foil makes seal tighter). Transfer pot to oven. Turn roast every 30 minutes and cook until very tender, about 3 1/2 hours.
4. Add potatoes to Dutch oven and continue to cook until potatoes are tender, about 20 minutes. Remove potatoes from pan and set aside. Transfer roast to carving board and cover with foil.
5. When liquid is slightly cool, ladle into a large, heavy-duty plastic bag. Allow fat to rise to surface. Snip off corner of bag and drain liquid back into pot, stopping before fat layer is reached. Boil over high heat until reduced by half, about 8 minutes. Add red wine and boil 2 minutes longer. Season with salt and pepper.
6. To make potatoes: Smash potatoes with fork or potato masher. Add butter and cream and stir with a spoon. Season with salt and pepper and garnish with a pad of butter.
7. Meat can either be sliced or pulled into large pieces. Spoon sauce over meat. Serve with potatoes and remaining sauce on side. Garnish with thyme sprig, if desired.
Serves 6.
Posted by Caryn at 05:14 PM | This Entry Only | Recipe Only | Comments (4) | TrackBack (0)
Cause for Celebration: Roulades!
April 04, 2005
INT. MR. R'S MANSION--KITCHEN--NIGHT
Caryn carefully cuts through a golden chicken breast rolled with basil and goat cheese peeking out the seam. She neatly plates each spiral slice atop a silky, light-brown cream sauce and steps back to examine the dish.
INT. DINING ROOM--CONTINUOUS
Mr. R., Lauren and Miss A. are assembled again around the long table dressed for an elegant dinner. They are joined by Miss A.'s friends. Caryn serves the plates as Lauren finishes pouring the wine.
Lauren holds up a glass.
LAUREN
Well, here's to a fantastic new endeavor!
Miss A. enthusiastically lifts her glass.
MISS A.
To our best movie yet!
Caryn looks up from serving, unable to hide her surprise at the news, but no one seems to notice. Mr. R. lifts his glass to the others, forcing an almost believable smile.
MR. R.
Cheers!
The dinner guests sip the wine and take their forks to the roulades. Caryn refreshes water glasses.
MISS A.
I think it's going to be a long shoot. Too bad you won't be able to take your chef with you.
Mr. R. swirls some wine in his mouth, watching Caryn leave the room.
MR. R.
We'll see.
This entry was designed for the Paper Chef #5 using the following ingredients: goat cheese, sherry vinegar, prosciutto and green garlic. This sauce is nicely tart and would work well with a variety of roasted meats. Inspirations: a cider cream sauce in The Gourmet Cookbook and Emeril's skillet-to-oven technique.
Chicken Roulades with Sherry-Vinegar Cream Sauce
4 chicken breasts, 4 oz. each
4 oz. prosciutto
4 oz. herbed goat cheese (try Cypress Grove!)
16-20 large basil leaves
salt and pepper
2 TB. vegetable oil
1 TB. butter
Sauce
2 TB. butter
1 TB. green garlic, minced
1/2 cup sherry vinegar
1 1/2 cups chicken stock
1 cup heavy cream
1. For the sauce, melt butter in heavy saucepan over medium-low heat. Add garlic and cook until tender, about 2 minutes. Add sherry vinegar, bring to a boil and boil until reduced by half, 5-7 minutes. Add chicken broth and boil until mixture is reduced by half, about 12-15 minutes. Add cream and boil until thickened slightly, about 10 minutes. Set aside to thicken.
2. Preheat oven to 325 degrees.
3. Place chicken breasts between two sheets of plastic wrap and pound to a 1/4" thickness. Turn breast to smooth side down. Season top with salt and pepper. Cover breasts with a single layer of prosciutto. Crumble goat cheese evenly over prosciutto. Top with a single layer of basil leaves. Tightly roll up chicken breasts to pointed edge. Secure with toothpicks.
4. Heat oil and butter in large, ovenproof skillet. Add chicken and lightly brown on all sides, 3 minutes total. Place skillet in oven until cooked through, 15 minutes.
5. Remove chicken from oven and remove toothpicks. Let stand 5 minutes. Slice into 4 equal slices. Serve slices on top of sauce on individual plates.
Serves 4.
Posted by Caryn at 02:02 PM | This Entry Only | Recipe Only | Comments (13) | TrackBack (0)
Just a Sandwich!
February 26, 2005
INT. MR. R'S MANSION--KITCHEN--AFTERNOON
In one corner of the massive kitchen, a small kitchen table stands with two chairs. It is an old wooden table that could be found in any normal-sized home, but looks distinctly out of place in this house.
Caryn sits at the table that is now covered with food magazines and the same weathered cookbooks previously seen on her own desk. She is intoxicated with her reading when she is startled by Mr. R. coming in through the back door.
She looks up, unable to transition from her dreamworld into reality so quickly. Mr. R. passes through the kitchen without speaking to her.
When the door closes, she exhales.
The door to the dining room swings open again and Mr. R pokes his head in.
MR. R
I'm not in the mood for much dinner. Maybe just a sandwich.
He leaves as quickly as he appeared. Caryn reluctantly starts cleaning up the table, disappointed.
CARYN
Just a sandwich.
She stacks the coobooks and magazines together.
CARYN
There's no such thing as just a sandwich.
Chicken-Asiago Sandwich on Focaccia
6 oz. chicken breast
2 oz. Asiago cheese, sliced thinly
2 squares of focaccia (about 4"), halved
1/2 cup baby greens, such as arugala, spinach, or mixed
1 Tablespoon butter
1 Tablespoon olive oil
salt
pepper
1. Place the chicken breast between two sheets of heavy-duty plastic wrap and pound to 1/4 inch thickness. Season with salt and pepper.
2. Melt butter in heavy skillet over medium-high heat. Add chicken and cook until lightly browned on one side (1-2 minutes). Turn chicken over and top with Asiago cheese. Cook until browned and cheese melts (another 1-2 minutes).
3. Toast focaccia halves in toaster. Brush olive oil on top halves.
4. Cut the chicken into two pieces and divide between the two bottom slices of focaccia. Top with the greens and remaining focaccia.
Serves 1 grumpy employer.

Posted by Caryn at 02:34 PM | This Entry Only | Recipe Only | Comments (4)
Chicken Piccata!
February 09, 2005
INT. CARYN'S APARTMENT--NIGHT
WINNIE, bubbling with Vietnamese enthusiasm, and her boyfriend, VIC, a burly softy, lounge on the floor around a coffee table that once was covered with a delicious spread. Caryn removes the plate that holds the remnants of tender chicken breasts, still dripping with golden sauce.
VIC
What are you gonna make him first?
She stops and looks at Vic. Winnie looks too.
WINNIE
Honey, she's serving what you just ate!
VIC
Chicken piccata? You're going to make chicken piccata on your first day?
CARYN
What's wrong with chicken piccata?
Vic squirms.
VIC
Nothing, except, probably not the best thing to serve to one of Hollywood's hottest actors!
Caryn sits back down and leans forward towards Vic.
CARYN
Look, I'm not even remotely qualified for this job. And--
VIC
They don't know that. I told them you have lots of experience. No one asked any questions.
CARYN
Don't worry. They'll figure it out on the first day that I've never even worked in a restaurant, let alone been someone's personal chef.
Winnie laughs and starts clearing the rest of the dishes from the table.
WINNIE
I think you're gonna be great!
CARYN
I think it's gonna be a disaster.
She fiddles with her fork.
CARYN (CONT'D)
This is the last time I ask you to help me get a job.
Vic grins at her, a big toothy one.
WINNIE
Where's the chocolate cake?
Posted by Caryn at 05:24 AM | This Entry Only | Recipe Only | Comments (0)