R E C I P E S : Sides
IMBB #18: Frying Up Green Tomatoes!
August 28, 2005
INT. TRAILER--DAY
The air conditioner of the trailer is going full blast, but it doesn't stand a chance against the hot oil that sputters in front of Caryn as she chats on her cell phone and pokes around in the oil with a pair of tongs. She flips over a battered slice of green tomato to reveal a blonde, crispy underside.
CARYN
Mm. These are perfect. They remind me of home.
INT. WINNIE'S APARTMENT--SAME
Winnie cradles the phone on her shoulder as she paints her toenails a blazing red.
WINNIE
Yeah, I'll have to pick up some of my own at the Farmer's Market today.
She shoots a look outside where the heat is rising off the pavement in daunting waves.
WINNIE (CONT'D)
It's so hot out there, you could fry 'em on my front porch. And speaking of home, when are you coming back?
INT. TRAILER
Caryn drains the tomatoes on some paper towels and starts another batch.
CARYN
I wish I knew. They really don't tell me anything.
The door of the trailer swings open and Amelia clambers in.
AMELIA
Caryn, you really should come to set. Your boss has been in a feverish fight with his co-star all morning. It's quite a scene.
CARYN
(in her cell phone)
I gotta go.
She flips the phone closed, turns off the stove and hotfoots it out the door with Amy.
EXT. MOVIE SET
Caryn and Amelia arrive just in time to see Mr. R. scamper onto the set, just ahead of an inflamed Miss A. It seems that more crew than usual are swarming around the fiery display.
DIRECTOR
Action!
Miss A. immediately transforms her searing look into a dazzling smile, but Mr. R. refuses to look at her as the scene plays out. Caryn and Amy draw blistering looks from the sound crew as they whisper to each other during the shot.
CARYN
What happened?
AMY
No idea. They've been at it all morning.
Mr. R. smashes a glass on a painting behind him just as the director yells...
DIRECTOR
Cut!
Miss A. takes a fervent step towards Mr. R., but the director interrupts.
DIRECTOR (CONT'D)
Perfect! And that, my friends, is a wrap for our gentleman star!
Mr. R. looks up in shock. He had no idea that was his last shot.
DIRECTOR (CONT'D)
Let's thank him for a truly radiant performance.
The cast and crew erupt in applause as Mr. R. steps off the set. Miss A.'s surprise is only slightly greater than Mr. R.'s but she wastes no time in chasing him after him.
Without looking back, Mr. R. quickens his pace. He grabs Caryn by the arm and yanks her with him.
MR. R.
Pack quick. Let's get out of here.
Caryn and Mr. R. bolt from the hot pursuit of the raging actress.
CARYN
Don't you want to eat first? I made--
MR. R.
Make it to go. We gotta burn some rubber, baby!
Caryn gasps to keep up with him. She doesn't care, though. She's going home.
I planned, fried and photographed these tomatoes for IMBB #18 before I saw that Nic from Bakingsheet had the same idea. Her oven-fried green tomatoes look wonderfully luscious (and probably lighter!), so try whichever recipe suits your fancy. The important thing to remember here is that tart green tomatoes are only around for a short time of the year, so get frying!

Fried Green Tomatoes
4 medium green tomatoes
1 cup flour
3/4 cup cornmeal
3 eggs, lightly beaten
1 tsp. salt
1/4 tsp. fresh ground black pepper
vegetable oil, for frying
1. Slice tomatoes into thick slices (about 1/3"). Stir salt and pepper into flour. Line a baking sheet with wax paper. Place flour, eggs and cornmeal in three separate, shallow bowls.
2. Working 1 slice at a time, dredge in flour, dip in eggs and dredge in cornmeal. To avoid fingerprints in the coating, hold tomato slice around the edges. Place on baking sheet and repeat with remainging slices.
3. Heat about 1/2" of oil in large, heavy skillet until hot enough for frying (350-375 degrees). Gently place one layer of slices in the oil (about 4-5 slices). Fry slices until golden brown, about 2 minutes per side. Drain on paper towels. Repeat with remaining slices. Serve hot with a sweet and spicy salsa.
Serves 4.
Posted by Caryn at 12:31 PM | This Entry Only | Recipe Only | Comments (14) | TrackBack (0)
Family Recipe: Garlic & Green Beans!
August 09, 2005
INT. MR. R.'S HOTEL SUITE--NIGHT
One fantastic dinner is spread out on the table before Mr. R., Miss A. and Lauren. Enough food for twice their number. But the trio doesn't even notice the extensive preparation as they are absorbed in the company of each other.
MISS A.
(laughing)
And if he didn't yell "Cut!" when he did, I thought I was going to die!
MR. R.
I'm fairly certain he did that on purpose.
Laughs all around.
MISS A.
This movie just gets more insane every day.
Lauren sits back and smiles contentedly.
LAUREN
Let's just hope it earns us all an insane amount of money.
The conversation continues, the food gets cold. But it doesn't matter to Caryn because unbeknownst to anyone in the room, she has snuck out.
INT. CARYN'S ROOM--SAME
Caryn stands before the mini-bar fridge in her room. She has emptied out the tiny bottles and chocolate bars and replaced it with some of her own groceries.
A bag of green beans ages gracefully on the middle rack, but Caryn selects it anyway. She snags a head of garlic that also looks like it has seen better days.
Hot oil heats in a wok, rigged up to a hot plate. Caryn sets about cleaning the green beans. She is hungry and tired. She has big plans for these beans.
INT. MR. R.'S HOTEL SUITE--LATER
Most of the cast and crew on this movie are asleep. Caryn, however, is cleaning up the vast mess that was left for her. She periodically grabs one of her green beans, now transformed into a salty, garlicy creation.
Mr. R. enters wearing a plush hotel bathrobe tied loosely at his waist and drying his wet hair with a small towel. A green bean hangs from Caryn's mouth when she spots him. She quickly munches it up.
CARYN
I thought you went to bed.
MR. R.
Nah, just in the shower. What are you doing here so late?
She pauses in her work and contemplates his question.
CARYN
Mr. R., I really think I need some time off. When we get to Ohio tomorrow, I'd like to take two days for myself.
The seasoned actor lowers the towel from his head with the precise amount of concern.
MR. R.
Um, sure. Take whatever you need.
CARYN
Great.
The pair stands in silence for a moment. Caryn considers the pile of dishes still on the table.
CARYN (CONT'D)
Okay, good night.
She grabs her green beans and answers his previous question by a quick exit to her room.
Uncle Barry's Garlic & Green Beans
My Uncle Barry, born and raised in China, is one of the best cooks I know. He has many perfected dishes in his repertoire, but he is always willing to experiment. This dish is one of the most requested at family dinners. Use a wok as a frying pan if you have it.
1-2 lbs. of green beans
3 tsp. finely chopped garlic
vegetable oil
salt
1. Remove the tips and strings of green beans.
2. Soak the green beans in water for about two minutes and drain off the water.
3. Heat enough oil to cover beans until very hot. Deep fry the green beans until there are wrinkles (about 3 to 5 minutes).
4. Remove the beans from frying pan and drain off oil from pan.
5. Add garlic to pan and roast for 30 seconds. Add green beans and salt.
6. Let garlic and green beans sit for about 2 minutes (over low heat, to get the garlic flavor). Serve.
Posted by Caryn at 07:35 AM | This Entry Only | Recipe Only | Comments (13) | TrackBack (0)
Guilty: Gorgonzola Grit Cakes!
May 05, 2005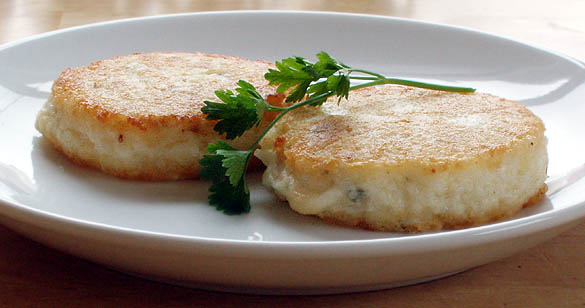 INT. MR.R.'S MANSION--KITCHEN--EVENING
Fresh steaks marinate on the counter and a large skillet is coated with oil. But the kitchen is devoid of its cook.
INT. MR. R.'S MANSION--HALLWAY--SAME
Caryn meanders through the passageway, looking at the bizarre art on the walls. She stops at the bottom of a flight of stairs. She looks over her shoulder, but there is no one around. Caryn creeps up the stairs and peers around the corner.
INT. UPSTAIRS
Another hallway lined with doors. Haphazardly she chooses one.
INT. BEDROOM
Caryn finds herself in an elaborately decorated suite with a window that seems to hover above all of Los Angeles. By the teeny-sized and elegant clothing strewn about the room, it is clear that this is Miss A.'s room.
Caryn holds one of the dresses up to her body. She grunts at how much it doesn't cover and tosses it aside. Backing up, she nearly trips over a pair of glittering silver stilettos.
To her credit, there is a brief moment of hesitation before Caryn kicks off her own boring shoes and slips into the Blahniks. She tiptoes across the room to a full-length mirror. She pulls up her pant leg to consider the new calf line.
MR. R.
Caryn.
Caryn cringes, afraid to turn around. Mr. R. stands behind her, his raincoat dripping on the floor.
CARYN
Yes....sir.
MR. R.
Dinner?
Her face crumples like a ball of aluminum foil.
CARYN
Yes, sir. Fifteen minutes.
INT. DINING ROOM--LATER
Mr. R. has changed into his jeans and t-shirt and he sits alone, reading. Caryn serves him the grilled steak, accompanied by a still sizzling grit cake that is starting to seep gorgonzola from the side. Mr. R. slices it in two with his fork and takes a bite as Caryn tries to exit.
MR. R.
Caryn.
She stops, head hung low.
MR. R. (CONT'D)
I don't think there's any reason to mention--
She musters a look over her shoulder at him.
MR. R. (CONT'D)
--your exploits...to A., do you?
CARYN
Um, no. Sir.
He resumes eating, but as Caryn escapes, a sly smile cracks on his lips.
Gorgonzola Grit Cakes
3 cups water
1 cup water ground grits (not instant!)
1 tsp. salt
3 oz. gorgonzola, crumbled
1 egg, beaten
flour for dredging
2-3 TB. vegetable oil
1. Bring water to a boil. Add salt and grits and lower heat. Cook until thick, stirring constantly, about 15 minutes. Remove from heat and stir in egg and gorgonzola, stirring until cheese is melted and well combined.
2. Pour grits into 8" cake pan (round is better). Cool in pan and then refrigerate uncovered until completely set, at least an hour after cool.
3. With a 2-1/2" round cutter, carefully cut grits into 6 rounds and remove from pan. Dredge rounds in flour.
4. Heat oil in large skillet until hot. Pan-fry grit cakes until golden, about 2 minutes each side. Serve immediately.
**Make sure that the oil is hot enough before frying or the grits will begin to fall apart before browning.
Makes 6 grit cakes.
Posted by Caryn at 06:00 AM | This Entry Only | Recipe Only | Comments (9) | TrackBack (0)
Oh, Baby: Baby Artichokes!
February 03, 2005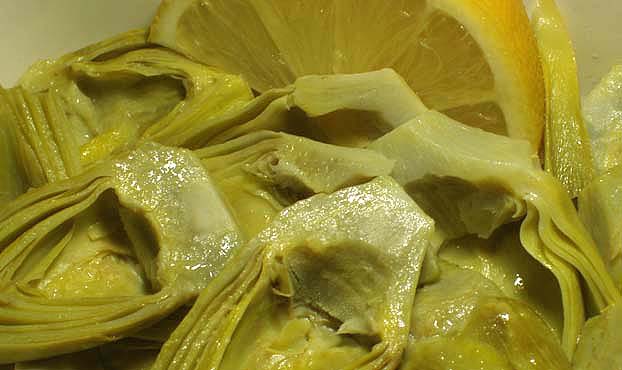 EXT. CALIFORNIA COUNTRYSIDE--DAWN
Waves of a dark ocean crash onto the rocks of a deserted beach, protected by the sandy hills lumbering high overhead. At the top of those hills, fields of green crops stretch out to meet the early morning sun.
The crops, though, are not alone. Eager CROP WORKERS are lingering between the aisles, ready to get to work. One FARMER walks with his BROTHER.
FARMER
February's a little early.
The two men stop to examine the crop. The farmer bends down and gently cups the pointed leaves of a fresh, round artichoke. He slowly pulls it aside to reveal smaller, seemingly fragile baby artichokes hiding from the light beneath their mother.
He looks up at his brother, a broad smile creeping across his face.
FARMER
Yeah, okay.
A sharp, machete-like knife hacks at the base of the baby chokes and they fall softly to the ground.
CUT TO:
A sharp kitchen knife slices right through the heart of a baby artichoke, the halves instantly starting to brown.
INT. CARYN'S APARTMENT--KITCHEN--EARLY EVENING
Caryn sings along to the pop song blaring from the stereo as she methodically cleans the artichokes, dowsing them with lemon juice every few seconds. Water simmers in a pot on the stove. Soft butter waits in a small saute pan.
The unusually warm breezes blow through the screen door. It is February in other parts of the country, but not here.
A stem rolls off the counter and Punky chases it under a desk full of cookbooks and papers scattered about. She is planning something.
But for now, Caryn is content with the workings of her baby artichokes. The petite greens positively sparkle...
Baby Artichokes Sauteed in Lemon Butter
2 lbs. baby artichokes (12-15 artichokes)
2 large lemons
2 tablespoons butter
salt
pepper
1. Juice half of a lemon into a bowl of cold water. Cut the other half into wedges for the cleaning of the artichokes.
2. Clean the artichokes by peeling off the leaves until the yellow, tender leaves are revealed. Cut a 1/2" off the tops (the green part) and cut off the stem to 1/2". Peel the remains of the leaves off the stem with a knife. Slice the artichokes in half and rub them with lemon to keep from browning. If necessary, use the pointed tip of a vegetable peeler to scoop out the fuzzy centers. Drop the halves into the bowl of water.
3. Bring a medium-sized pot of water to boil.
4. Drain the artichokes and drop in boiling water. Boil until tender, about 5 minutes. Drain.
5. Melt butter in small saute pan. Add drained artichokes and season with salt and pepper. Saute for 3-5 minutes.
6. Squeeze juice of remaining lemon half (or whole) over the artichokes and saute for 1 minute more. Serve with lemon wedges.
(Serves 2)

Posted by Caryn at 07:30 AM | This Entry Only | Recipe Only | Comments (1)