R E C I P E S : Soups
Spicy Vegetarian Chili!
June 15, 2005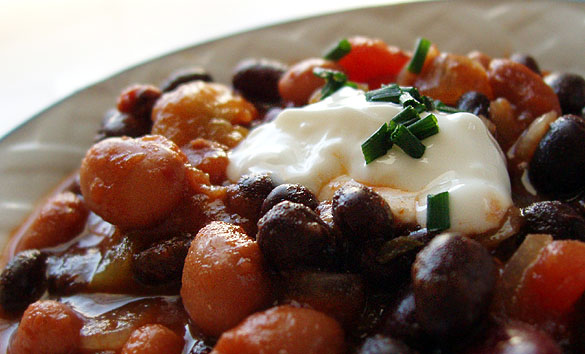 EXT. SOMEWHERE IN MISSISSIPPI--MOVIE SET--DAY
Rain pours down in thick sheets over the expanse of the set now covered in blue tarp. Straggling crew members scramble to get the last pieces of equipment under cover.
LIGHTNING FLASH
Caryn jumps, knocking an empty can to the floor with a loud clang.
INT. TRAILER
Caryn chases the can over to the couch where Mr. R. sits like a sopping wet puppy with a towel draped over his shoulders.
MR. R.
They think they're going to resume shooting today? Ha!
Caryn tosses the can in the trash. She stirs a spoon through a simmering pot of spicy chili. The multi-colored beans seem to be the only color in the trailer turned monochromatic from the pelting rain.
CARYN
This is ready. It'll warm you up.
MR. R.
They should send us home.
Caryn prepares a bowl of chili, complete with a dollop of sour cream and snipped fresh chives. Mr. R. wraps his hands around the warm bowl.
POUNDING THUNDER shakes the trailer. Caryn backs against the wall. Mr. R. seems undisturbed, concentrating on the hot chili.
She quickly regains composure and collects the other cans from the counter. Mr. R. takes a break from his lunch to look out the window.
MR. R.
The storm is just getting started.
He looks over to his chef who is trying to remain cheerful amidst the gloom of the afternoon.
MR. R. (CONT'D)
Caryn, you should take the limo back to your room.
She looks up from her work.
CARYN
That's very kind, but I'm okay.
He holds her gaze, not accepting her answer.
CARYN (CONT'D)
I have to clean up and--
MR. R.
Leave it! Just go. There's no reason for both of us to be miserable here.
She pauses to examine her unfinished work. Slowly, she collects her things and heads to the door.
CARYN
Call me if you need anything?
He nods and returns to his chili. Caryn slips out, leaving her boss to brood alone in the mess she left behind.
Chipotle-Infused Vegetarian Chili
The chipotle peppers lend so much of their flavor to this quick chili, you'll think it simmered all day long.
1 TB. olive oil
2 medium onions, chopped
1 green pepper, diced
2 cloves garlic, minced
1 tsp. cumin
1 tsp. oregano
2-3 canned chipotle peppers, chopped
2 15-oz. cans black beans, drained
1 15-oz. can kidney beans, drained
1 15-oz. can pinto beans, drained
1 15-oz. can diced tomatoes
1 can tomato paste
3 cans water
1. Heat oil in large, heavy dutch oven over medium-high heat. Add onions and green pepper and saute until transulent and tender.
2. Add garlic and saute for one minute. Add cumin, oregano and chipotle peppers and saute 1-2 minutes, stirring constantly.
3. Add beans, tomatoes, paste and water. Bring to boil. Reduce heat and simmer 30-45 minutes, or until thickened.
Serves 8.
Posted by Caryn at 12:00 PM | This Entry Only | Recipe Only | Comments (14) | TrackBack (1)
Remedy: Lemony Chicken Soup!
May 13, 2005
INT. MR. R.'S KITCHEN--DAY
The contents of the kitchen seem to be emptied onto the counters. Caryn is sorting through cookware and utensils, trying to decide what to bring with her on the upcoming trip.
Mr. R. enters, wearing sweats and a t-shirt. His hair is rumpled and there are dark circles under his eyes.
CARYN
What happened to you?
MR. R.
I don't feel well. I think I'm getting the flu.
CARYN
The flu? In May?
MR. R.
My head feels like a balloon filled with cement.
He rubs his eyes with the palms of his hands.
CARYN
But you're shooting next week. You can't be sick!
He stumbles back towards the door.
MR. R.
Yeah, well, I am. Call Lauren and tell her.
INT. MR. R.'S BEDROOM--LATER
Mr. R. is curled up in a ball on his bed, sleeping peacefully. Caryn enters with a tray, steam rising from a bowl in the center. He rolls over at the sound of her.
CARYN
I made some soup.
MR. R.
(face in pillow)
I'm not hungry.
CARYN
Yeah, well, eat it anyway.
He groans and sits up. Caryn places the tray on his lap. He picks up the spoon and stirs the rice and tender chicken into the broth. Reluctantly, he takes a sip. The tart lemon cuts through the deadened taste buds. Caryn waits. He takes another sip.
MR. R.
Okay, okay. I'll eat. Go away now.
She leaves the room, a bit of smugness in her gait.
Lemon Chicken-Rice Soup
The tang of lemon juice adds a new dimension to classic chicken soup. Adjust the amount of juice according to taste. The soup will thicken slightly the next day and the rice will soften, but it still tastes great. Really, I love this soup.
1 onion, whole and peeled
3 celery stalks, whole
3 carrots, sliced
1 3-4 lb. chicken
10-12 cups of water
2 tsp. salt, divided
1 cup rice, raw
1 cup fresh lemon juice
1. Place chicken in large stock pot. Add onion, celery, carrots, water and 1 tsp. of salt. Bring to a boil. Reduce heat, cover and simmer until chicken falls off bone, 45 minutes to an hour.
2. Remove chicken and cool in a colander. When cool enough to handle, shred meat and set aside. Discard celery and onion. Strain carrots and set aside.
3. To defat broth: pour broth into a large ziploc bag. Hold upright for a couple minutes to let fat rise to the top. Snip off one end of bag and pour broth into a bowl, stopping just before fat level is poured out. Repeat with fresh bag and remaining broth.
4. Return broth to stock pot. Bring to simmer. Add rice and cook until tender, about 15 minutes. Return chicken and carrots to pot. Add lemon juice and remaining salt. Simmer for 5 minutes to blend flavors. Garnish with fresh lemon and serve.
Serves: I don't know...a lot.
Posted by Caryn at 01:30 PM | This Entry Only | Recipe Only | Comments (6) | TrackBack (0)