R E C I P E S : Appetizers
Goodness Gracious: Gyoza!
September 30, 2005
INT. CARYN'S APARTMENT--EVENING
Caryn and Winnie sit on pillows on the floor around the coffee table. Armed with a fancy set of chopsticks, each girl is devouring her own plate of tender dumplings stuffed as full as they can get.
CARYN
I never understand why people take the time to make perfect pleats on these things. Who looks at the pleats?
WINNIE
No time to examine them on the way to my mouth.
Caryn dips the last dumpling in the dark sauce and finishes it off. Winnie sets down her chopsticks.
WINNIE (CONT'D)
Still no sign of him?
CARYN
No. I'm getting bored. Maybe it's time to look for another job.
Winnie laughs.
WINNIE
There's no pleasing you, is there? Either you're overworked and wanting to quit, or you're bored...and wanting to quit. I can't keep up.
Caryn starts to clear the table.
CARYN
All I know is that celebrities are weird. Who can keep up with them?
She plops her hands on her hips.
CARYN (CONT'D)
Maybe I'll go to law school and become a lawyer like you. That seems interesting.
Winnie snickers at the thought.
WINNIE
Enough shop talk.
She gets up and follows Caryn into the kitchen.
WINNIE (CONT'D)
Got any mochi?
Gyoza (Pot Stickers)
This is a fairly traditional recipe for gyoza. You can substitute half the pork with an equal amount of minced, raw shrimp. Or chicken. Or use all vegetables. The mix is easy. The folding and pleating is the labor-intensive part.
5 oz. Napa cabbage, finely shredded
1/2 tsp. salt
1/2 lb. ground pork
2 cloves garlic, minced
2 tsp. fresh ginger, minced
2 green onions, green and white parts, chopped
2 tsp. cornstarch
1 TB. soy sauce
2 tsp. rice wine
1 TB. sesame oil
40 round gyoza skins
4 TB. vegetable oil, divided
1 cup chicken stock, divided

Dipping sauce:
1/4 cup soy sauce
1/4 cup rice vinegar
splash of sesame oil
1. Salt cabbage in a collander over a large bowl. Toss to combine. Set aside for 20 minutes.
2. Combine pork through sesame oil with hands in a large bowl. Squeeze excess water from cabbage. Add cabbage to pork mixture and stir until well-combined.
3. Place a rounded teaspoon of pork mixture in the center of the gyoza skin. Wet the edges of the skin with water on your fingertip. Fold in half to form a semi-circle. Make pleats along the edges, squeezing tight to seal and tapping the bottom on the work surface to flatten. Set aside and repeat with remaining skins.
4. Heat 1 TB. of oil in wok or large, non-stick skillet over medium-high heat. Place about ten gyozas in wok and pan fry until bottoms are golden brown, about 2 minutes.
5. Pour 1/4 cup stock into wok and cover with lid to steam gyozas until cooked through, about 4 minutes. Remove from wok and set aside.
6. Heat another TB. of oil in wok. Repeat process with another ten dumplings until all are cooked. Serve hot with dipping sauce.
Posted by Caryn at 09:46 AM | This Entry Only | Recipe Only | Comments (16) | TrackBack (1)
No Time to Cook: Hummus!
July 05, 2005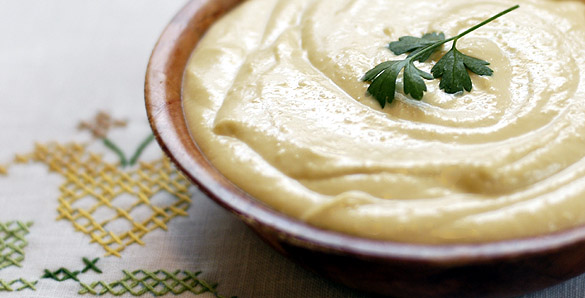 EXT. TRAILER--SOMEWHERE IN UTAH--EVENING
A truly gorgeous evening in the mountains. Caryn sits on the steps, thumbing through a local paper. Amelia strolls up from a trailer down the row.
AMELIA
I see you made it to Utah.
CARYN
Why is a Civil War movie shooting here anyway?
AMELIA
They needed to simulate the Smokies. When Hollywood thinks of mountains, they think of Sundance. It's the closest to nature they get.
Caryn laughs as the door opens and Mr. R. appears with a napkin tucked in his shirt collar.
MR. R.
Are we back from dinner?
Amelia gives him her most flirtatious smile.
AMELIA
Five more minutes.
Mr. R. nods and goes back inside. Amelia immediately returns to her normal professional self.
AMELIA (CONT'D)
After we wrap, some of the other assistants are coming to my room to hang out. Can you make it this time?
Caryn inadvertently checks the door behind her before responding.
CARYN
Um, I guess so. I mean, sure. Can I bring anything?
AMELIA
Maybe just some dip or something.
CARYN
I make a pretty good hummus.
AMELIA
Oh please, no. Just pick up something at the store. Who has time to cook?
She laughs at the thought and starts down the row again.
AMELIA (CONT'D)
See you later then.
Caryn waves goodbye before going in to assess the damage from dinner.
INT. HOTEL HALLWAY--EARLY MORNING
Caryn tiptoes down the hall carrying a large bowl that has been practically licked clean of the hummus that was in it. When she gets to her door, she unsticks a note taped to it.
NOTE: "Looked for you all night. In the future, please let me know if you are going out. --R"
She carefully replaces the note back on the door and slips inside without a sound.
Hummus
This recipe from my mother makes a delightfully creamy hummus. And it's so simple...
Mix in Blender:
1 16oz. can chick peas
3-5 garlic cloves
3/4 cup water.
Blend well.
Add:
1 cup sesame paste (tahini)
1 cup olive oil
1/4 cup lemon juice
2 tsp. salt
Blend well and chill.
Posted by Caryn at 06:56 AM | This Entry Only | Recipe Only | Comments (4) | TrackBack (0)
California's Finest: Guac!
June 01, 2005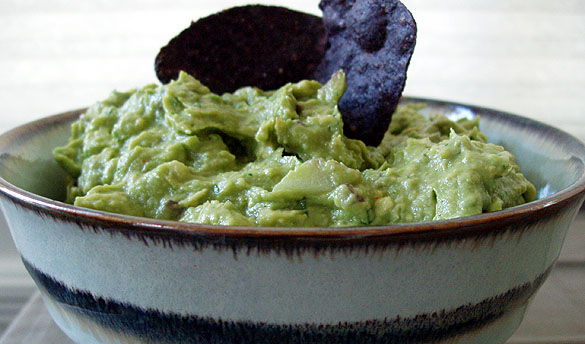 EXT. SOMEWHERE IN MISSISSIPPI--MOVIE SET--DAY
Under one of the large, white tents, enough tables are set up for a few hundred people. CATERERS are busy setting up for lunch.
Caryn wanders around base camp, stretching her legs and looking around. She strolls up to the craft services table to investigate. A smorgasboard of snacks is spread out for all to partake. She grabs a little piece of chocolate.
WOMAN (O.S.)
Are you Mr. R.'s assistant?
Caryn turns around to be greeted by a prim, YOUNG WOMAN with a tight ponytail and stylish glasses.
CARYN
Um, yeah. I'm Caryn.
WOMAN
I'm Amelia. I'm the director's assistant.
CARYN
Oh wow. That sounds like fun.
Amelia picks up a tortilla chip and cracks it into two pieces.
AMELIA
It's okay. Your job sounds like more fun. How is it to work for him? He seems soooo cool.
Amelia dips the chip particle into a bowl of brownish guacamole and eats it.
CARYN
Yeah, it's okay, I guess.
AMELIA
You're so lucky. He's even hotter in person than on screen. And he's so charming.
She stirs the water back into the guacamole and scoops another helping onto the other half of her chip. The CRAFT SERVICES MAN comes up and places another bowl of chips on the table.
CRAFTY MAN
How do you like the guacamole? I just made it fresh.
Caryn takes another glance at the gloppy mess.
AMELIA
It's really good. Thanks.
Amelia's cell phone starts buzzing away at the clip on her belt.
AMELIA (CONT'D)
Oh! I gotta go. Caryn, come over to our trailer later. Some other assistants are gonna watch a movie.
Caryn smiles and nods enthusiastically. Amelia grabs another chip on her way, but Caryn opts for an apple.
EXT. TRAILER--LATER
A FedEx box with Caryn's name on it leans against the trailer door. Caryn rips it open to find a box full of fresh California avocados.
She peeks inside the box looking for an explanation and finds a brief note scrawled on paper.
NOTE: "Thought you might miss California by now. Punky is happy but shedding orange fur all over my couch. Call us sometime. --Matt"
She flips over the note to discover a recipe in the same handwriting.
Matt's Guacamole
in my opinion, the key is absolutely fresh ingredients and nothing
extraneous. the simpler the better. also i personally hate tomatoes in guacamole.
3 medium California Haas avocados
1/2 cup red onion
1 tbsp minced cilantro
1/2 tsp minced garlic
1 tbsp lime juice
1 tsp cayenne pepper or to taste
salt & pepper to taste
1. peel & pit avocados. mash the pulp in a bowl.
2. combine with remaining ingredients and adjust salt, pepper, and
cayenne to taste.
serve immediately with Frito's(r) brand corn chips or cover & refrigerate.
(mark bittman claims that including the avocado pits in the dip helps prevent the guacamole from turning brown if it is prepared up to 4 hours in advance. i don't know if this is actually true, but it is definitely true that leaving it out for awhile will allow the guacamole to turn a really disgusting shade).
- M
p.s. just kidding about the fritos.

Posted by Caryn at 06:15 PM | This Entry Only | Recipe Only | Comments (4) | TrackBack (0)
Cha Gio: Cha Gio!
May 02, 2005
INT. CHA GIO RESTAURANT--DAY--FLASHBACK
A much-younger Winnie rushes into the small and colorful restaurant, passing bamboo plants and walls lined with local art. She heads to the back where she deposits her backpack and kisses her petite and kind-faced mother, MRS. LE. Winnie straps on her red apron.
Mrs. Le hands her a plate of golden cha gio and says something in Vietnamese to her daughter. Winnie stacks the plate on her arm with another plate of vegetables and herbs and heads out into the restaurant again.
She sets the plates down on a table where a younger, then-unknown TY PENNINGTON sits alone. He smiles like a gentleman.
WINNIE
Anything else?
TY
Not yet, thanks.
Winnie returns the smile.
WINNIE
Good to see you again.
She heads off into the back of the restaurant to help her mother, leaving Ty alone to enjoy Mrs. Le's famous cha gio.
INT. WINNIE'S APARTMENT--KITCHEN--PRESENT DAY
Winnie dips rice paper in a bowl of hot water and lays it on a towel. Caryn spoons filling on a sheet and precariously rolls it up. Vic stands over the stove, frying the fresh cha gio.
CARYN
Do you think if I wrote him a fan letter and mentioned that I can make cha gio, he'd respond?
WINNIE
Isn't that why I'm teaching you?
Winnie watches Caryn over her shoulder.
WINNIE (CONT'D)
Roll them tight.
CARYN
I am. Can we try one now?
Vic strains the rolls and puts them in a colander lined with paper towels.
VIC
Yeah, let's try em!
Winnie adds some red leaf lettuce to the garnish plate and hands it over to Vic. They each take a hot spring roll and wrap it in the lettuce with some fresh herbs.
WINNIE
Here.
She holds the little plate of dipping sauce out. Caryn and Vic dip their rolls in the sauce and devour the cha gio. Vic adds more rolls to the oil and they all reach for another cooked one to eat.
WINNIE (CONT'D)
My mom will be so proud of you!
Caryn accepts the praise like a little child. The clock behind Winnie catches her eye.
CARYN
Oh! It's eight o'clock! Ty's on!
Cha Gio Restaurant has recently merged with Wild Curry Thai, but Mrs. Le still cooks the traditional Vietnamese fare that has made the restaurant an Atlanta favorite for nearly thirty years.
Cha Gio Restaurant
132 10th Street
Atlanta, GA 30309
(404) 885-9387 ph.

Mrs. Le's Cha Gio (Spring Rolls)
Filling:
1/2 cup finely chopped fresh chicken
1/2 cup rehydrated dried black fungus
1/2 cup cooked bean threads
1/2 cup chopped white onion
1/2 cup fresh crab meat
1/2 cup raw chopped shrimp meat
1/2 cup shredded carrots
1/2 cup bean sprouts
1 egg
fish sauce, to taste
1/4 teaspoon white pepper
8 round sheets of rice paper (or more, as needed)
vegetable oil for frying
Fresh vegetable and herb platter to eat with spring rolls (red leaf lettuce, mint, cilantro, basil.)
Nwoc Cham (Dipping Sauce):
1/4 cup shredded carrots
Tuong Ot Toi (crushed red pepper sauce), to taste
1 TB. lemon juice
1 tsp. granulated sugar
1/2 cup boiling water
fish sauce, to taste
For filling: In a bowl, mix together the chicken, black fungus, bean threads, white onion, green onion, crab meat, shrimp, carrots, bean sprouts, egg, fish sauce and white pepper. Set aside.
Dip each sheet of rice paper in warm water and place on a clean towel, just as you are ready to fill and roll. Put sheet on a flat surface. Put about 1/4 cup filling across bottom 1/3 of rice sheet. Fold 1/3 of sheet on left side over mixture and repeat with the right side. Starting at the bottom, carefully roll up as tightly as possible. Place spring rolls on platter.
When all spring rolls are completed, heat 1 to 2 inches of vegetable oil in a wok or deep skillet to 350 degrees. Place spring rolls in the hot oil folded side down to keep them from breaking. Cook 2 to 4 minutes per side or until they are a golden brown and ends are brown indicating that the ingredients are done. Drain and serve immediately.
For dipping sauce: Put carrots, crushed red pepper sauce, lemon juice and sugar in a small serving bowl. Pour the boiling water over the ingredients. Add the fish sauce to taste. Stir to mix. Serve.
Makes about 8 spring rolls.
Posted by Caryn at 04:15 PM | This Entry Only | Recipe Only | Comments (7) | TrackBack (0)
Oops, Deviled Eggs!
March 30, 2005
INT. MR. R'S MANSION--KITCHEN--MORNING
Caryn comes in with a dozen plastic grocery bags cutting into her arms, only to find Miss A. picking at a bowl of grapes.
MISS A.
Hey! I've been waiting for you.
Caryn takes the refrigerated items out of the bags first.
CARYN
Am I late?
MISS A.
No, I just wanted to ask you if you could make some hors d'oeuvres for me and my girlfriends this afternoon. They're visiting from New York and we're gonna hang by the pool.
Caryn takes in this ball of energy before her.
CARYN
Sure. No problem.
Miss A. beams.
MISS A.
Thanks so much. We really appreciate it.
Caryn opens the fridge to find a giant bowl of badly decorated Easter eggs filling the top shelf.
MISS A. (CONT'D)
We dyed eggs this weekend! Aren't they cute?
She doesn't wait for an answer as she heads out the door with the grapes. Caryn tries to maneuver her groceries around the ridiculously large bowl of eggs.
EXT. MR. R'S MANSION--SUNDECK--LATER
Miss A. chatters away in the warmth of the sun, barely covered by her tiny, string bikini. Her GIRLFRIENDS also wear bikinis of equal size, but by contrast, look a little cold. Caryn steps out onto the deck with trays of hors d'oeuvres and a pitcher of orange-cucumber water.
MISS A
He really wants to take another movie right away. And we're both up for this one comedy where we would play opposite each other.
FRIEND
Fabulous! You two would make such a fun couple.
Caryn rolls her eyes as she arranges a table behind the girls. Miss A. basks in the attention of her friends.
MISS A.
We do have a lot of fun together. Oh! Caryn, where are those Easter eggs we dyed? I want to show my girlfriends.
Caryn looks at the table in horror. Before her, a tray of fresh, deviled eggs stare back. Miss A. hops up from her chair.
MISS A. (CONT'D)
Nevermind, I'm famished. I'll show them later. Let's eat!
Deviled Eggs
12 hard-boiled eggs
1/3 cup sour cream
1/4 cup mayonnaise
2 TBS. snipped fresh chives
1 tsp. dijon mustard
1 tsp. lemon juice
salt and pepper, to taste
1. Peel eggs and cut in half lengthwise. Scoop out egg yolks from 11 eggs into bowl. Scoop out remaining egg yolk and set aside. Chop four egg-white halves and add to bowl. Mash yolks and whites with fork.
2. Add remaining ingredients to bowl and stir until smooth. Pipe or spoon filling into egg-white halves.
3. Put remaining egg yolk in a fine, mesh strainer. Mash yolk with fork, holding strainer over the eggs to sprinkle as a garnish. Serve cold.
Makes 20 halves.

Posted by Caryn at 06:45 AM | This Entry Only | Recipe Only | Comments (5) | TrackBack (0)
The Pepper Chef!
March 07, 2005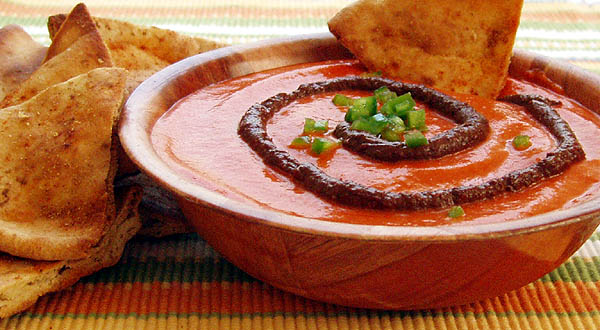 INT. CARYN'S APARTMENT--KITCHEN--LATE AFTERNOON
The sink is overflowing with dirty dishes and bowls. Bright orange spots are spattered around the stove. The trash can is long overdue for a changing.
Caryn stands over a colorful bowl on the table, digital camera poised at her eye. There is a quick knock at the door, but it opens nearly at the same time and Matt waltzes in.
MATT
Smells like peppers in here!
CARYN
Roasted red peppers.
Matt leans over the table to look at the bowl.
MATT
What's that?
CARYN
Dip. Didn't know you were coming over.
Matt picks a pita chip off the counter and starts to munch on it.
MATT
Wasting some time before my date.
Caryn repositions the food and snaps another picture.
CARYN
It'd kill you to show up on time?
Matt grabs another chip.
MATT
Who's this for?
CARYN
No one. Just an experiment.
MATT
Perfect. Then I'm your guinea pig.
He grabs the chip that sticks out of the bowl and scoops a generous portion of the silky dip before popping it in his mouth.
CARYN
Good thing I'm done taking pictures.
MATT
Wow. Smoky.
He walks over to the fridge and grabs a half-full bottle of pomegranate juice.
MATT (CONT'D)
And hot!
CARYN
I know. I might have added more jalapenos than it called for.
MATT
I think it chapped my lips.
This flavorful dip was designed as an entry for the Paper Chef #4 using the following ingredients: eggplant, stale bread, chocolate and pomegranate. The use of three different kinds of peppers somehow brought those flavors together.
Roasted Red Pepper and Eggplant Dip
Chipotle Mole Garnish
1/2 cup sundried tomatoes
1 cup boiling water
2 Tablespoons pumpkin seeds (pepitas)
2 Tablespoons blanched almonds
2 Tablespoons sesame seeds
1/2 of a 7-oz. can of chipotle peppers in adobo sauce
1/2 cup of pomegranate juice
1 Tablespoon olive oil
2 cloves of garlic
2 oz. bittersweet chocolate
1. Rehydrate tomatoes in boiling water. Drain and reserve liquid.
2. Toast pepitas, almonds and sesame seeds in a dry skillet until lightly browned. Cool.
3. Grind seeds and almonds in food processor until fine. Add tomatoes, chipotles and pomegranate juice. Puree until smooth.
4. Heat oil in a skillet over medium heat. Add garlic and saute until soft. Add the pureed mixture and saute until thickened (about 15-20 minutes).
5. Melt the chocolate into the mixture. Thin sauce with reserved tomato liquid until desired consistency (I used 1/2 cup). Simmer for a minute to blend flavors.
Makes about two cups. Refrigerate until ready to use.
To use as a sauce for meats or vegetables, use only one or two of the chipotles and thin the finished sauce with chicken broth. Vary the chocolate to taste.
Pita Chips
5 loaves of stale pita
olive oil
cumin
paprika
1. Preheat oven to 350 degrees.
2. Brush the pita with olive oil and cut into halves and then thirds to form wedges.
3. Dust with cumin and paprika.
4. Bake on a cookie sheet until golden and crispy (about 20 minutes).
Posted by Caryn at 06:17 AM | This Entry Only | Recipe Only | Comments (5) | TrackBack (0)
Bruschetta!
February 01, 2005
EXT. LOS ANGELES CITY STREETS--DAY
Caryn weaves the old Honda through the ever-present traffic of the city. It was a nice car in its day, but that day has long passed. She turns the radio up to drown out the noise of her brakes as she squawks to a halt at a red light.
The MAN in the polished Mercedes next to her scowls at the Honda, baffled that any car can make the exact noise of an ailing heifer. Caryn turns away to avoid eye contact when she spots a sign on her left that reads "La Brea Bakery." She sits up in her seat.
The light changes, but Caryn whips her car between oncoming traffic and into the valet parking lot of the bakery. She hops out and dashes to the store, calling back to the valet ATTENDANTS.
CARYN
I'll only be a minute!
The attendants shake their heads in wonder, but before they can gripe, she returns and is squawking the car back into traffic.
She can't wait. She opens the bag from the bakery to reveal a loaf of bread that looks like any country loaf. But when she tears off an end, soft, perfumed cloves of garlic appear from their hidden caverns inside.
Caryn nibbles on her bread as if it was her only ration for the week.
INT. CARYN'S DUPLEX APARTMENT--KITCHEN--NIGHT
A pile of tomatoes drains on the counter while Caryn minces fresh garlic. A buzzer on the fridge goes off and she dashes to the oven to remove a cookie sheet of small bread slices. Olive oil has painted the surfaces of the toasted slices a tender green.
Punky paces the area around his food bowls, occasionally letting out a piercing MEOW to let Caryn (and the neighborhood) know that he is hungry.
Caryn puts the bread slices piled high with cheese and a tomato mixture in the oven. It is no time before she pulls the cookie sheet out again, the bruschetta now glistening with the tomatoes and the cheese lovingly melted over the sides.
She tosses some fresh, torn basil over the bruschetta and sits down to escape the headache of the city. As she sinks her teeth into the first, crusty slice, the phone rings, pulling her back to reality. She reaches for the phone and Punky seizes the opportunity to steal his own slice of bliss from Caryn's plate...
Bruschetta
3-4 medium tomatoes
1 fresh country loaf of bread (or other rustic loaf)
4-6 oz. whole-milk mozzarella**
2 garlic cloves, minced
6-10 basil leaves
olive oil
salt
1. Preheat oven to 350.
2. Peel, core and chop the tomatoes. Lightly salt the chopped tomatoes and place in a colander. Set colander over a bowl to catch juice. Let sit for 30 minutes.
3. Slice loaf into 4 thick slices and then cut slices in half. Depending on the size of the loaf, slices should be a little larger than bite-size. Brush olive oil on both sides of the bread and place the slices on a cookie sheet. Bake until lightly toasted, about 5-10 minutes.
4. Cut mozzarella into slices to fit each bread slice, up to 1/4" thick.
5. Mix tomatoes and garlic together and drizzle with a little olive oil.
6. Top each toasted bread slice with mozzarella and a generous spoonful of the tomato mixture.
7. Bake until cheese melts and begins to brown, about 10-15 minutes. It's okay to boost the oven temperature a bit to decrease cooking time—just make sure the bread doesn't burn on the bottom.
8. Tear basil leaves over the tops of the bruschetta and serve
**Whole-milk mozzarella melts faster and more evenly than part-skim, which means it starts to get that brown, bubbly crust before the rest of the food becomes overcooked.
Posted by Caryn at 09:00 AM | This Entry Only | Recipe Only | Comments (4)