R E C I P E S : Breakfast
Skip the Donut, Fry an Apple!
May 28, 2005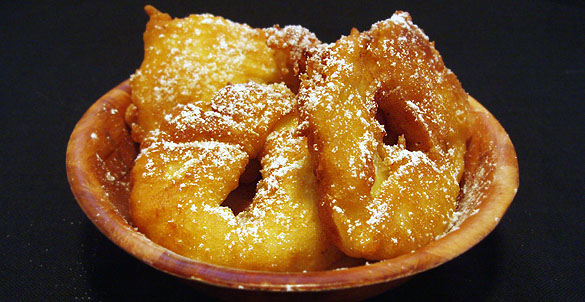 EXT. SOMEWHERE IN RURAL MISSISSIPPI--EARLY MORNING
Giant tents can be seen from quite a distance on the flat, Southern landscape. Dozens of WORKERS unload heavy, shiny lights from their big-rig trucks. Other FOLKS mill about a couple of steamy, catering trucks, discussing the day's workload over their cups of coffee and donuts.
Row after row of trailers are lined up, indistinguishable from one another as PEOPLE pass in and out with clipboards and headset walkies. One trailer, however, wafts with the smell of frying dough and apples...
INT. TRAILER
Caryn has already made the new kitchen her home. She stands comfortably over the small stove, dropping rings into oil bubbling madly in her cast iron skillet.
Mr. R. lounges on the couch, script in hand and a napkin tucked into his shirt collar.
MR. R.
I can't believe you brought an iron skillet all the way across the country.
CARYN
I would've shipped it, but I didn't know where we were going.
(she pauses)
I'm still not quite sure where we are.
MR. R.
Me neither. All I know is that there isn't a Starbucks in sight and Lauren has been on a latte-deprived rampage all week.
Caryn winces at the thought as she drains the rings. A timid knock sounds at the door before it is cracked open. The very young, shy SECOND SECOND ASSISTANT DIRECTOR peeks her head in.
2ND 2ND AD
Mr. R.? I think they're ready for you in make-up.
Mr. R. rolls the script up under his arm and walks over to the girl in the door. She is clearly enamored with the star.
Caryn piles some crisp, doughy apple rings onto a napkin.
CARYN
Wait. Take these with you!
MR. R.
Ah! Perfect. Beats the heck out of craft services.
The 2nd 2nd looks at Caryn in wonder, but is afraid to speak. The pair heads off down the row to find another trailer. A couple CREW MEMBERS wander by nonchalantly, but as Mr. R. passes, they can't help a quick glance back.
BATTER-FRIED APPLE RINGS
The tartness of a Granny Smith apple will cut through the cakey dough. The batter isn't sweet, so you might want to add sugar. Or use a sweeter apple, like a Golden Delicious.
1 cup flour
1 1/2 tsp. baking powder
1/2 tsp. salt
1 TB. shortening
1 egg
1/2 cup milk
4 medium apples, pared and cored
vegetable oil, for frying
confectioner's sugar
1. Combine flour, baking powder and salt. Cut in shortening with a fork or two knives until crumbly. Add egg and milk. Whisk until batter is smooth.
2. Heat 1/2" of oil in large, heavy-duty skillet until hot enough to fry. Test by dropping a tiny dab of batter into oil. If too hot, batter will burn before apples are cooked, so adjust temperature accordingly while frying.
3. Cut apples into 1/4" slices. Dip apples into batter until well coated. Drop into hot oil. Fry until golden and apples are cooked through, about 2 minutes each side.
4. Drain on paper towels. Sprinkle with sugar just before serving.
Yield: About 2 dozen rings.
Posted by Caryn at 06:50 AM | This Entry Only | Recipe Only | Comments (11) | TrackBack (0)
Exchange Over Eggs!
April 14, 2005
INT. MR. R'S MANSION--DINING ROOM--MORNING
Mr. R. reclines with his coffee and newspaper. Lauren is occupied with a very large stack of papers. A yawning Miss A. comes in just as Caryn is serving individual ramekins of creamy eggs to each place setting. She plops her actress body in a chair and helps herself to the fresh fruit salad in the center of the table.
Caryn turns to leave just as the air is broken with the bass of Mr. R.'s voice.
MR. R.
Caryn?
Caryn stops. Mr. R. continues without looking up from the paper.
MR. R. (CONT'D)
Would you be interested in traveling with us on this upcoming movie?
Lauren and Miss A. simultaneously inhale. Caryn casually shrugs her shoulders.
CARYN
Sure.
MR. R.
Good. Lauren will hide you in the budget as my assistant.
Lauren whips her head toward Mr. R., her jaw hanging loosely on its hinge. Mr. R. turns the page of his paper.
Caryn spins around on her heels and exits, but not before shooting an ever-so-slight smirk in the direction of the ladies.
Creamy Baked Eggs
4 eggs
2 TB. butter
1 large leek (or 2 small), sliced thinly
1 TB. fresh rosemary, chopped
1/4 cup + 4 tsp. heavy cream
salt and cracked pepper
1. Preheat oven to 375 degrees.
2. Melt butter in small skillet over medium heat. Lightly butter 4 small ramekins (about 4 oz. each) with some of the melted butter from the skillet.
3. Add the leeks and rosemary to the skillet and cook until leeks are soft, stirring frequently. Add 1/4 cup of cream and simmer until the cream is slightly thickened. Season with salt and pepper to taste.
4. Divide the leek mixture into the four ramekins. Carefully break an egg in each ramekin. Drizzle 1 tsp. of cream over each egg to cover. Lightly season.
5. Place ramekins in a hot water bath and bake for 12-18 minutes, depending on desired firmness of yolk. Be careful not to overcook; when whites are just set, yolks will be soft. Remove ramekins from bath and serve.
Serves 4.
Posted by Caryn at 07:15 AM | This Entry Only | Recipe Only | Comments (12) | TrackBack (0)
Breakfast for Dinner: French Toast!
February 20, 2005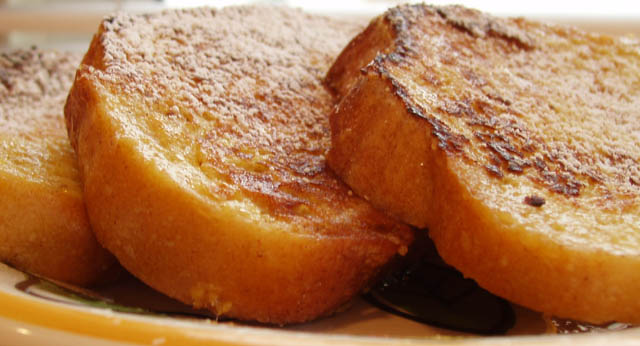 INT. HOLLYWOOD MANSION--KITCHEN--EVENING
A sprawling kitchen of marble and stone nearly swallows Caryn as she bends intently over the stove. She hardly seems to notice that this kitchen might better fit in a story-book palace. Her forehead is curled into an odd shape of worry over a plate of the same chicken we've seen before.
LAUREN, a petite woman with chestnut hair cut crisply at her chin, enters from one of the many rooms. The heels of her Manolo Blahniks click pristinely on the tiled floors.
LAUREN
He's been waiting for his dinner for ten minutes.
Caryn garnishes the plate with a bright sprig of fresh parsley and whips it off the counter.
CARYN
It's right here!
INT. DINING ROOM
Caryn's hand trembles as she places the plate onto a setting at the end of a very long mahogany table. She waits patiently by the chair, swallowed again by the expansive view of Los Angeles at her back.
MR. R, every bit of his brooding and handsome screen persona, strolls in, dressed comfortably in standard Hollywood black. He stops abruptly before reaching the table.
MR. R
What's that?
CARYN
Um, well, it's a variation of chicken piccata with nicoise olives and--
MR. R
I don't eat olives. Make something else.
She stares at the plate, unable to move.
MR. R
What are you waiting for? I'm starving!
She immediately snaps the plate back to the kitchen again.
INT. KITCHEN
Lauren is reviewing some papers at a counter when Caryn tosses the plate into the sink with a loud clang. Lauren looks up with a smirk and begins to gather her things.
LAUREN
There's some leftover bread in the cabinet. Maybe you should start with something easy...like a sandwich.
She laughs to herself and clicks out the door again. Caryn opens the cabinet to find the remnants of a hearty country loaf of bread. She gently squeezes it and then shrugs her shoulders.
INT. DINING ROOM--LATER
Mr. R lounges at the table, absorbed in a dense book when Caryn enters again with a fresh plate and a small pitcher, still steaming. She places the plate in front of him, even more tentative than before, and waits.
Mr. R leisurely puts his book down and examines his dinner.
CARYN
I know it's usually for breakfast, but--
He looks at her for the first time.
MR. R
Do you plan to ramble on while I eat?
She backs up immediately to the kitchen.
CARYN
Sorry....sir.
INT. KITCHEN--MOMENTS LATER
Caryn finishes cleaning the marble counters, shaking her head and mumbling to herself. She lovingly removes her cast-iron skillet from the hot water in the sink and dries it with a towel.
CARYN
Guess I'll take you home again.
She stops and looks toward the door that leads to the dining room.
INT. DINING ROOM
Caryn quietly peaks her head through the door to survey the damage of her first, and probably last, day.
Mr. R's seat is empty and the plate is wiped clean.
Country French Toast
4 thick slices of a rustic, country loaf of bread
3 eggs
3 Tablespoons milk
3 teaspoons sugar
Cinnamon
Butter for cooking
Confectioners sugar (for decoration)
1. Whisk the eggs, milk, and sugar in a bowl large enough to dip the bread slices. Sprinkle the top with cinnamon.
2. Melt butter in a wide, heavy skillet over medium-high heat.
3. Dip one slice of bread in the egg mixture and coat evenly. Place in hot skillet.
4. Sprinkle the egg mixture with cinnamon again and repeat #3 with another slice of bread until skillet is full.
5. Flip each piece when nicely browned on the bottom (about 2 minutes).
6. When all slices are browned and cooked through, transfer to a plate and sift confectioners sugar lightly over the top.
7. Serve with butter and hot maple syrup.
Serves 2.
Tips:
-Use a hearty loaf of bread with a thick crust. Slightly stale bread works nicely as it absorbs the batter.
-A cast iron skillet will ensure a nicely browned toast that doesn't stick to the pan.
-Flip each slice only once to avoid toughness.
Posted by Caryn at 08:22 AM | This Entry Only | Recipe Only | Comments (0)