« Cha Gio: Cha Gio! | Main | News, News: Cherries! »
Guilty: Gorgonzola Grit Cakes!
May 05, 2005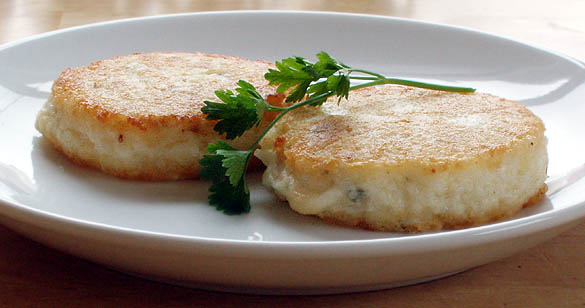 INT. MR.R.'S MANSION--KITCHEN--EVENING
Fresh steaks marinate on the counter and a large skillet is coated with oil. But the kitchen is devoid of its cook.
INT. MR. R.'S MANSION--HALLWAY--SAME
Caryn meanders through the passageway, looking at the bizarre art on the walls. She stops at the bottom of a flight of stairs. She looks over her shoulder, but there is no one around. Caryn creeps up the stairs and peers around the corner.
INT. UPSTAIRS
Another hallway lined with doors. Haphazardly she chooses one.
INT. BEDROOM
Caryn finds herself in an elaborately decorated suite with a window that seems to hover above all of Los Angeles. By the teeny-sized and elegant clothing strewn about the room, it is clear that this is Miss A.'s room.
Caryn holds one of the dresses up to her body. She grunts at how much it doesn't cover and tosses it aside. Backing up, she nearly trips over a pair of glittering silver stilettos.
To her credit, there is a brief moment of hesitation before Caryn kicks off her own boring shoes and slips into the Blahniks. She tiptoes across the room to a full-length mirror. She pulls up her pant leg to consider the new calf line.
MR. R.
Caryn.
Caryn cringes, afraid to turn around. Mr. R. stands behind her, his raincoat dripping on the floor.
CARYN
Yes....sir.
MR. R.
Dinner?
Her face crumples like a ball of aluminum foil.
CARYN
Yes, sir. Fifteen minutes.
INT. DINING ROOM--LATER
Mr. R. has changed into his jeans and t-shirt and he sits alone, reading. Caryn serves him the grilled steak, accompanied by a still sizzling grit cake that is starting to seep gorgonzola from the side. Mr. R. slices it in two with his fork and takes a bite as Caryn tries to exit.
MR. R.
Caryn.
She stops, head hung low.
MR. R. (CONT'D)
I don't think there's any reason to mention--
She musters a look over her shoulder at him.
MR. R. (CONT'D)
--your exploits...to A., do you?
CARYN
Um, no. Sir.
He resumes eating, but as Caryn escapes, a sly smile cracks on his lips.
Gorgonzola Grit Cakes
3 cups water
1 cup water ground grits (not instant!)
1 tsp. salt
3 oz. gorgonzola, crumbled
1 egg, beaten
flour for dredging
2-3 TB. vegetable oil
1. Bring water to a boil. Add salt and grits and lower heat. Cook until thick, stirring constantly, about 15 minutes. Remove from heat and stir in egg and gorgonzola, stirring until cheese is melted and well combined.
2. Pour grits into 8" cake pan (round is better). Cool in pan and then refrigerate uncovered until completely set, at least an hour after cool.
3. With a 2-1/2" round cutter, carefully cut grits into 6 rounds and remove from pan. Dredge rounds in flour.
4. Heat oil in large skillet until hot. Pan-fry grit cakes until golden, about 2 minutes each side. Serve immediately.
**Make sure that the oil is hot enough before frying or the grits will begin to fall apart before browning.
Makes 6 grit cakes.
Posted by Caryn at May 5, 2005 06:00 AM | Printable Version | Recipe Only
Trackback Pings
TrackBack URL for this entry:
http://www.deliciousdelicious.com/mt/dd-tb.cgi/25
Comments
pardon my ignorance; what's grits and gorgonzola? what you have there looks like English muffin. does it taste like one (texture as well)?
Posted by: Mike at May 5, 2005 09:42 AM
glorious recipe ... fabulous writing ... what a combo.
Posted by: Becca at May 5, 2005 04:20 PM
I thought this sounded great, so I made it for dinner tonight. My bag of corn grits is from Bob's Red Mill and there is a recipe on the back for polenta using the same proportions of water to corn grits, as your recipe. I tried very hard to follow the directions to the T, but mine did not turn out like yours. The chilled, cooked gritz did not have a thick enough consistency. I stirred it, on low heat, with a slow bubble for 15 minutes and it seemed very thick. Then I added my 3 oz. of Black River Gorgonzola Crumbles and the egg and put it in the fridge for 6 hours. It was very difficult to try to get the spoon full of this soft cereal like consistency dredged and into the hot frying pan. But I managed in a mangled fashion and it DID TASTE delicious, even tho they didn't look nice like yours. When I read the package recipe for polenta, it said to cook it for 30 minutes. Should I have cooked mine for more than the 15 minutes that you suggested? I only fried two and then I put the cake pan of the rest in the freezer. Not sure if that will help, but I don't intend to left it totally freeze, just thicken up. Any advice?
Posted by: bluepoppy at May 5, 2005 08:22 PM
Mike, Grits are a corn product prepared like a hot cereal like cream of wheat...but with more substance. Gorgonzola is an Italian blue cheese.
Thanks, Becca!
Bluepoppy, I'm so sorry to hear about your difficulties! I'm not really sure what happened but I can surmise a couple of problems. One is that grits and polenta are actually different and I think that Bob's Red Mill "grits" are closer to polenta. Grits are made from a dried corn product that is usually dried on the hull and then soaked in a lye solution before redrying and grinding. The result is that grits seem to hold their water a little better without turning to mush. Polenta always seems smoother to me...closer to cornmeal. Yeah, if the bag says to cook them for 30 minutes, then let them cook that long. It might also help with this recipe to cut back on the water, but it might be better to just use a different kind of grits.
Stone ground grits are usually pretty coarse and really get thick before they get mushy, if that makes any sense. I admit that it may be a tricky recipe if you can't get good grits. Once refrigerated, my grits actually pulled away from the sides of the pan and were fairly dense. If all else fails and they simply won't shape up, throw the whole pan in a 350-degree oven and bake until hot and bubbly. Grits casserole. Mmmmm.
Posted by: caryn at May 5, 2005 10:57 PM
Very Nice! I love Grits and what a cool combination of flavors! Here in Michigan, I think Yankeeland in general, Grits get no respect, they're The Rodney Dangerfield of milled corn. The funny thing is everyone seems to love Polenta, which, when you get right down to it, is basically just a yellow version of the white Grits. It must be the name, Would a Grit by any other name taste as sweet? Great recipe!
Posted by: Danno at May 6, 2005 10:52 AM
Hi Caryn, this is another thing I didn't know... is it made from corn? Does that taste like polenta?? It looks yummy whatever it is!
Posted by: keiko at May 7, 2005 07:56 AM
Caryn, I've been wanting to try grits for quite some time now - and you've just given me the excuse! My boyfriend always raises an eyebrow when I come home with another occupant for our pantry ... but by the looks of these, I don't think he will be complaining. Well done!
Posted by: tara at May 9, 2005 07:53 AM
Keiko, grits are indeed made from corn. It tastes similar to polenta, I guess, but I really think the texture is different (see above comments).
Tara, buy a good kind of grits...I've always noticed a difference in instant grits and the real thing. I'll eat grits any day, but for the pickier eater, these are nicely dressed up. :)
I made grits again yesterday (for a different recipe altogether) and I took a picture of what my grits looked like when they were finished cooking, before refrigeration. I thought it might help provide a visual for y'all who are unfamiliar with grits. Here's the picture!
Posted by: caryn at May 14, 2005 07:32 AM
I'm from a yankee background but was raised in New Orleans. I was raised on fried "mush" for breakfast. Basically yellow corn meal (polenta)allowed to set overnight. dredged in flower, sliced and fried. Served hot with butter and syrup. Muummm. Good. I'm getting lazy in my old age so now I just make extra grits in the morning and put in the fridge over night, and fry the grits the same way. For a vein clogger, I like to fry it in bacon grease. Make sure the skillet is almost smoking and keep an eye on the heat so they don't burn. I like mine very crispy.
Posted by: Mouse at December 16, 2008 08:58 AM
Post a comment