R E C I P E S : Breads
Back to Buttermilk Country Bread!
January 26, 2006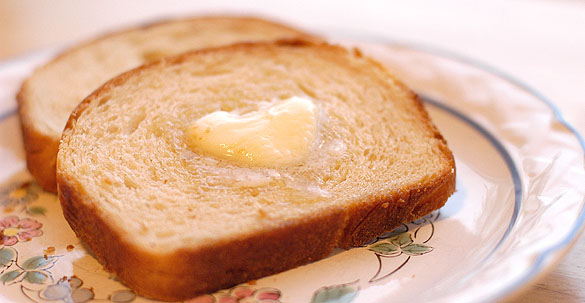 INT. MR. R.'S MANSION--KITCHEN--LATE, LATE NIGHT
The back door swings open and Mr. R. stumbles through dragging enough luggage for an entire family. Hank follows with an equal count of bags. They deposit their loads just inside the door and stretch their aching arms.
MR. R.
I just couldn't take another day in St. Barth's. I'm exhausted.
HANK
I'm starving.
Flora enters from the dining room, rubbing her eyes awake.
FLORA
You made it home safe. I wait for you.
HANK
Where's Caryn?
FLORA
She left. It's very late.
Flora straps a couple bags over her shoulder.
MR. R.
(inhaling deeply)
Is that bread I smell?
FLORA.
Yes, tomorrow's breakfast.
She drags a bag behind her out the door into the house. Hank and Mr. R. spot the warm loaf cooling on the stove at the same time.
HANK
Is it tomorrow yet?
INT. MR. R.'S MANSION--KITCHEN--LATER
The kitchen glows blue with the early morning light. Caryn comes in, wet hair pinned into a bun at her neck. She drops the newspaper on the counter next to a wooden cutting board scattered with crumbs. Her eyes narrow on the knife perched next to the tray of butter also speckled with crumbs.
CARYN
Welcome home, sir.
She tosses the cutting board and knife into the sink and opens the fridge with a knowing smirk. Hidden in the back is a loaf pan filled with soft white dough just barely rising in anticipation of an early breakfast. She spins the oven dial to 350.
Buttermilk Country Bread
The honey in this bread makes it surprisingly reminiscent of a wheat bread. Although I almost always bake the loaf in the oven, I confess that I prefer to make the dough in my bread machine, where I can just throw in all the ingredients and hit a button. The instructions below are for those who don't have a bread machine. Put the shaped loaf in the fridge overnight and finish the rising in the morning while the oven heats. Nothing like fresh bread for breakfast!
2-1/2 c. all-purpose flour
1-1/4 tsp. active dry yeast
2 TB. butter, softened
2 TB. honey
1 tsp. salt
1/4 tsp. baking soda
3/4 c. buttermilk, warm
1 TB. melted butter
1. In heavy-duty mixer, combine flour, yeast, butter, honey, salt and baking soda until mixed. With mixer running, pour in warm buttermilk. When dough begins to pull away from the sides, switch to dough hook. Knead on low speak until smooth, about 5 minutes. Let dough rest for 10 minutes and then knead for 1 minute longer.
2. Transfer the dough to a well-oiled bowl and turn once to coat. Cover and let rise in warm place until doubled in bulk, about 1 to 1-1/2 hours.
3. Lightly grease 8.5-by-4.5 loaf pan. Turn the dough onto a lightly floured board. Roll or pat into a rectangle about 1/2 inch in thickness. Beginning at narrow end, roll up the rectangle to form a loaf. Place the loaf, seam side down in the prepared pan. Cover and let rise until near top of pan, about 1 hour.
4. Preheat oven to 350 degrees. Brush top of loaf with melted butter. Bake until golden brown or the bottom sounds hollow when tapped, about 35 minutes.
5. Turn loaf onto rack and let cool completely before slicing.
Yield: 1 loaf
Posted by Caryn at 08:15 PM | This Entry Only | Recipe Only | Comments (16)
Start the Day Off Right: Blueberry Muffins!
July 25, 2005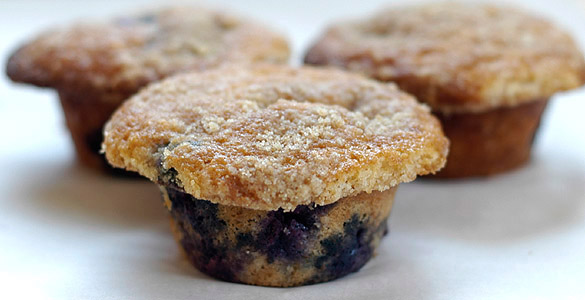 INT. HOTEL HALLWAY--DAY
Caryn sits on the floor outside the door, talking on her cell phone.
CARYN
I think we only have a few more days here and then we're off again.
INT. MATT'S HOUSE--LIVING ROOM
Matt flips through a car magazine as Punky bathes himself on the couch next to him.
MATT
You know, I've switched over to reading Chocolate and Zucchini. She updates more often.
INT. HOTEL HALLWAY
CARYN
Ha, ha. We have a day off today, so I'm working on another entry.
Loud laughs are heard from the door behind her.
CARYN (CONT'D)
I gotta go. I'm sure they'll be crying for their breakfast any minute now.
She snaps the phone closed and stands up.
INT. MR. R.'S HOTEL SUITE
Mr. R., Lauren and Miss A. are gathered in the living room of a suite that could pass for a small house. Hard to believe his room and Caryn's are even in the same hotel.
Caryn enters and heads straight for the kitchen where her streusel-topped blueberry muffins are cooling. She carefully lifts each one out of the pan and lays them in a linen-lined basket.
MISS A.
It's so nice to have a day off. These six-day weeks are too long.
LAUREN
I'd rather shoot the whole movie straight through and head back to LA as soon as possible.
Caryn places the basket of muffins on the table and pours coffee.
MR. R.
Come on, Lauren. Everyone needs time off. What should we do today?
Miss A. takes a muffin and tears it open. Hot blueberries leave deep blue stains on her fingers.
MISS A.
Maybe Caryn can pack us a lunch and we'll sight-see.
No one reacts to the suggestion, so she tries again.
MISS A. (CONT'D)
Or we could plan a little dinner party here!
Lauren casually looks up at Caryn from her caffeine fix.
LAUREN
We could do that. Some of the people on the movie. Maybe twelve?
Mr. R. opens the paper as he picks streusel off the top of his muffin.
MR. R.
Caryn, you can put that together for this evening, right?
CARYN
Sure. Whatever you want.
MR. R.
Okay then. We'll relax around here today and have a few people over tonight for an easy dinner.
Everyone seems content. Mr. R. immerses himself in the morning news, Miss A. takes another muffin and Lauren enjoys her second cup of coffee while she skims some paperwork.
Caryn heads back to the kitchen, muttering under her breath.
CARYN
Sure. Everyone needs time off...
Buttermilk Blueberry Muffins
These muffins are incredibly moist and tender. Make sure that the streusel topping is light and crumbly before sprinkling on tops, or it will sink into the batter. When working in a warm kitchen, keep the topping cool by temporarily storing it in the fridge.
2-1/2 cups flour
3/4 cup sugar
1 TB. baking powder
1 tsp. baking soda
1/2 tsp. salt
2 eggs, lightly beaten
5 TB. butter, melted and cooled
1 tsp. vanilla
1 cup buttermilk
2 cups blueberries
Streusel Topping:
3 TB. flour
2 TB. brown sugar
1 TB. sugar
2 TB. cold butter, cut into pieces
1/2 tsp. cinnamon
1. Preheat oven to 375 degrees. Generously grease 12 muffin cups.
2. To make streusel: place flour, brown sugar, sugar, butter and cinnamon in a small food processor. Pulse until coarse crumbs. Keep cool until batter is ready.
3. Mix together flour, sugar, baking powder, baking soda and salt.
4. Whisk together eggs, butter, vanilla and buttermilk. Add flour mixture to buttermilk mixture, stirring just until moistened. Batter will be lumpy. Gently fold in blueberries.
5. Fill muffin cups with batter until level with edge. Sprinkle streusel topping over batter.
6. Bake until golden and toothpick inserted in center comes out clean, about 20-25 minutes. Muffins will be very tender when warm. Carefully loosen edges with a spatula when slightly cool. It's okay to cool muffins in pan until they are stable enough to handle.
Yield: 12 muffins with over-sized tops.
Posted by Caryn at 07:05 AM | This Entry Only | Recipe Only | Comments (10) | TrackBack (0)
Bread from the Garden!
May 17, 2005
EXT. CARYN'S APARTMENT--FRONT PORCH--EARLY MORNING
The sun is just beginning to brighten the morning sky. Green herbs are spilling over the sides of little pots that line the porch. Caryn sits with her coffee and a pair of kitchen shears. She bunches together some oregano sprigs in her hand.
CARYN
If I don't clip you now, you'll take over the porch by the time I get back.
She snips the oregano and drops it in a little paper bag. Punky sits behind the screen door, meowing for his breakfast as Caryn moves on to the rosemary.
INT. MR. R.'S BEDROOM--AFTERNOON
The curtains are all pulled tight against each other, keeping out any hint of the sun. The trash can by his bed overflows with tissues and dvd's are scattered about the floor by the television.
Mr. R. is awake in bed. Caryn enters with a plate of just toasted bread, a butter pad sliding off the crust as it melts. She puts the toast on the nightstand and begins to straighten the room.
MR. R.
I can smell the herbs in it.
CARYN
That's a good sign.
Mr. R. pulls apart the toast and eats. Caryn shoves the tissues back in the trash can and picks it up to empty it.
MR. R.
I bet you never thought you'd be playing nursemaid at this job.
CARYN
No, I guess not. But I'm glad to see you're feeling better.
She opens the curtains just enough to let some light sneak in.
MR. R.
I am feeling better. In fact, I'll take more of this bread.
CARYN
Of course. Lauren will be so thrilled to hear that you're recovering.
She leaves with the trash can as Mr. R. growls and smushes the pillow up to his face.
Garden Herb Bread
This loaf is slightly dense and thus, holds up nicely to the rosemary. Substitute whatever fresh herbs are available to you. It's a great bread for sandwiches.
1 cup warm water
1 tsp. sugar
1-1/2 tsp. yeast
3 TB. olive oil
1 tsp. salt
2-3/4 cups bread flour, divided
1 TB. each: fresh oregano, parsley, rosemary (finely chopped)
1/4 tsp. black pepper
1. Dissolve yeast and sugar in water. Let stand until foamy, five minutes.
2. In heavy-duty, stand mixer, blend olive oil, salt and 1/2 cup of flour until a thick paste forms. Slowly add yeast mixture and 1 cup of flour. Mix until smooth. Add herbs and 1/2 cup of flour. Switch to dough hook and add remaining flour by spoonful until dough pulls away from sides. Knead until elastic, about 8 minutes. Resist the temptation to add more flour. The dough will be very sticky.
3. Scrape dough into a well-oiled bowl with a spatula. Turn to coat. Cover and let rise 1 hour or until doubled in bulk.
4. Turn dough onto lightly-floured surface. Let rest five minutes. Shape into a loaf and put into a lightly greased 9x5 loaf pan. Cover and let rise until dough nearly reaches top of pan, about 30 minutes.
5. Preheat oven to 350. Bake loaf until golden and the bottom sounds hollow when tapped, about 50 minutes. Remove loaf from pan and cool on wire rack.
Yield: 1 loaf.

Posted by Caryn at 11:30 AM | This Entry Only | Recipe Only | Comments (5) | TrackBack (0)
To the Point: Strawberry Scones!
April 02, 2005
INT. MR. R'S MANSION--LIBRARY--MORNING
Mr. R., Lauren, and Miss A. are meeting with a DIRECTOR, dressed casually in jeans and a baseball cap. There is no shortage of smarmy AGENTS in the circle as well.
Caryn sets down a dish of warm scones with the icing still dripping down the sides. Mr. R. immediately grabs one and returns to his slump in his chair. Miss A. wears a perpetual smile as she listens, but keeps a distrustful eye on Caryn.
LAUREN
Of course this would be a fabulous collaboration for everyone involved.
DIRECTOR
I'm glad you think so.
AGENT
Okay, let's get to the point. Let's talk numbers.
Caryn finishes setting up some coffee cups and quietly sneaks out.
INT. KITCHEN--CONTINUOUS
Caryn has barely begun to tend to the baking remnants when the door swings violently open and Mr. R. storms in with Lauren confidently on his heels.
MR. R.
I never said that I wanted to do this movie!
LAUREN
Don't worry. We haven't signed any contracts. We're just talking.
MR. R.
It doesn't matter! I don't even like the script.
Caryn inconspicuously slips to the other side of the kitchen.
LAUREN
Look, it really isn't the time to be discussing this. Do you want to blow the whole deal?
Mr. R. sighs and looks out the window.
MR. R.
I just wish I was allowed to make my own career decisions for once.
Lauren opens the door again.
LAUREN
We'll talk about it later.
Mr. R. reluctantly follows her out, leaving Caryn alone to ponder her own career decisions.
Strawberry-Yogurt Scones
2 cups flour
3 TB. sugar
2 tsp. baking powder
1/4 tsp. salt
1/4 tsp. baking soda
4 TB. butter, cold, cut into 1/2 in. cubes
3/4 cup chopped strawberries
3/4 cup plain yogurt
Frosting:
2 TB. half and half
confectioner's sugar
1. Preheat oven to 425 degrees.
2. Stir together dry ingredients. With a pastry cutter or two knives, cut in butter until mixture resembles coarse crumbs. Stir in strawberries. Stir in enough yogurt to be able to form dough into a ball (up to 3/4 cup).
3. Turn dough onto floured surface and with floured hands, knead a few times. Press dough into a rectangle, about 1 1/2 inches thick. Fold rectangle into thirds, like a letter. Press dough into 9-inch round. Cut into 8 equal triangles.
4. Place scones into scone pan or on a cookie sheet covered with parchment paper. Bake until golden, about 15 minutes. Remove to rack to cool.
5. Whisk confectioner's sugar into half and half, adding more sugar until desired consistency is reached. Frost scones while warm.
Makes 8 scones.

Posted by Caryn at 03:00 PM | This Entry Only | Recipe Only | Comments (21) | TrackBack (0)
Ford-Era Hot Cross Buns!
March 27, 2005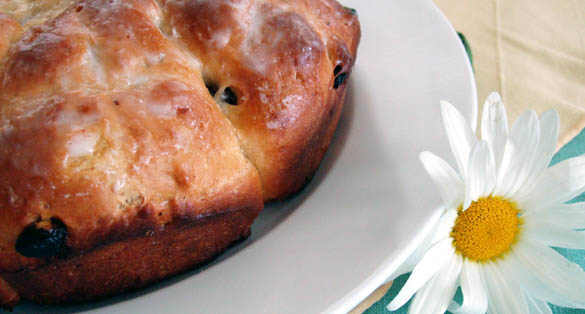 INT. CARYN'S BEDROOM--SATURDAY BEFORE EASTER--DAY
Caryn lies on her bed, perusing the Spring issues of her food magazines. Punky is curled up on his pillow next to her, sleeping peacefully. He rolls over at the sound of the phone ringing. Caryn grabs for the phone.
CARYN
Hello?
VOICE (O.S)
What're you doing?
She sinks back down. Just Mom.
CARYN
I'm trying to decide what to make for my Easter dinner.
INT. MOM'S KITCHEN--ATLANTA
MOM, dressed in a hip sweatsuit and hardly looking like she could have a daughter Caryn's age, perkily cleans the counter of her luxurious, newly-remodeled kitchen.
MOM
You don't have to work? What're you making?
CARYN (O.S)
Don't know yet.
Mom flips through the neat stack of papers at her desk off to the side of the kitchen. She pulls out an old, yellowed clipping.
MOM
I'm emailing you this recipe for hot cross buns I found in my collection.
CARYN (O.S.)
Where's it from?
MOM
I don't know. Some newspaper.
She flips it over.
MOM (CONT'D)
Oh! There's a picture of Ford on the back.
INT. CARYN'S APARTMENT
Caryn shakes her head and messes with a very annoyed Punky.
CARYN
Mother, aren't hot cross buns for Good Friday?
MOM (O.S)
That's what the article says! You must be older than this recipe!
CARYN
Thanks, Mom. I don't think I was even alive during the Ford Administration.
MOM (O.S)
Yep, you were. I gotta go. Have to pick up my ham. Call your sister tomorrow!
CARYN
Yeah, yeah.
Caryn clicks off the phone and rests her head next to Punky on the pillow.
CARYN (CONT'D)
When was Ford President?
Punky plants his back paw in the center of Caryn's nose and pushes her off his pillow.
The flavor and texture of this dough are great. Not too sweet and easy to work with. Yes, it actually is from a random newspaper clipping with a picture of Ford on the back.
Hot Cross Buns
4-5 cups flour
1/3 cup sugar
1/2 tsp. salt
1 1/4 tsp. cinnamon
1 package dry yeast
1 cup milk
1/4 cup butter or margarine
2 eggs, room temperature
3/4 cup seedless raisins
1 egg yolk
2 TBL. cold water
1. Mix thoroughly in a large bowl, 1 1/2 cups flour, the sugar, salt, cinnamon and un-dissolved yeast.
2. Combine milk and butter or margarine in saucepan. Heat until liquid is warm (fat does not need to melt). Add in dry ingredients gradually.
3. Beat 2 minutes at medium speed of an electric mixture, or by hand, scraping bowl occasionally. Add eggs and 1/2 cup of flour, or enough flour to make thick batter.
4. Beat at high speed 3 minutes, scraping bowl occasionally. Stir in enough flour to make a soft dough. Turn out onto lightly floured surface. Knead until smooth and elastic, about 8-10 minutes.
5. Place in greased bowl, turning to grease top. Cover. Let rise in warm place, free from drafts, until doubled in bulk, about 1 hour. Punch dough down. Turn out onto lightly floured surface. Knead in raisins.
6. Divide dough into 18 equal portions. Form each piece into a ball. Place balls into 2 well-greased 8-inch round cake pans.
7. Combine egg yolk and water. Brush buns with mixture. Cover. Let rise in warm place, free from drafts, until doubled in bulk, about 1 hour. Cut a cross, carefully, on the top of each bun with a sharp knife.
8. Bake in 375-degree oven, 20 to 25 minutes, or until done. Remove from pans to wire rack to cool. Frost while still warm with confectioners' sugar frosting.
Yield: 18 buns
Confectioners' Sugar Frosting
1 cup sifted confectioners' sugar
1 tsp. lemon juice
1 TBL. warm milk or fruit juice
Combine all ingredients and blend to spreading consistency, adding more liquid, if required.
Posted by Caryn at 05:00 PM | This Entry Only | Recipe Only | Comments (1) | TrackBack (0)
A Late Snack: Bierocks!
March 23, 2005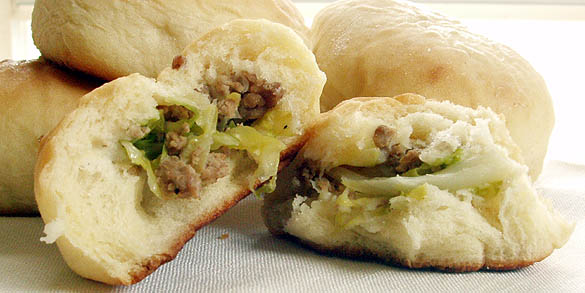 INT. MR. R'S MANSION--KITCHEN--NIGHT
Caryn takes a tray of small, pillow-shaped buns from the oven, setting them on the stove to cool. She grabs a jar of spicy, whole-grain mustard from the fridge and piles a few of the buns on a plate.
Sitting down at the little table in the corner of the huge kitchen, she breaks open a steaming bun, catching meat and cabbage as it tumbles out. She spreads mustard across the top of the bun, and is about to take a bite when she realizes that Mr. R. is watching her from the counter.
CARYN
Oh! I didn't see you.
He laughs good-naturedly and rubs a hand through his well-designed hair.
MR. R.
I snuck in. What're you eating?
Caryn puts down the bun, still steaming in her hand.
CARYN
Oh, they're bierocks. I was going to freeze them, but...
MR. R.
Can I have one?
He gets a plate and sits down. He takes off his coat, revealing a shiny, silk shirt beneath. Way over-dressed for the little table.
CARYN
I can make you something for dinner, if you want.
MR. R.
I just got back from dinner.
He copies Caryn by breaking a bierock apart and slathering it with mustard.
MR. R. (CONT'D)
It was one of those Hollywood places. All scene, food was terrible.
He pops a bite in his mouth.
MR. R. (CONT'D)
I figured you'd have something better here.
Caryn half-smiles and picks at her own bierock, hesitant to continue eating.
CARYN
Is anyone else hungry?
MR. R.
(chuckling mischievously)
No. They're quite happy where they are. I left them there.
He grabs another bierock from the plate and tears at it pensively. Caryn reluctantly steals a bite of her own.
MR. R. (CONT'D)
I don't know. Sometimes I think I'm not really cut out for this business.
He leans back in his chair and studies a button on his shirt.
MR. R. (CONT'D)
Maybe I just prefer to be at home, eating a snack in my own kitchen. You know what I mean?
Caryn pauses for a minute, a little surprised.
CARYN
Yeah, I think I do.
Bierocks
Dough:
2 1/4 tsps. dry yeast
1 cup warm milk
1/4 cup sugar
1/4 cup vegetable oil
1 tsp. salt
2 eggs, beaten
4+ cups bread flour
Filling:
1/2 medium-sized onion, chopped
1 lb. ground beef, pork, or turkey (I used turkey)
1 TB. vegetable oil
1/2 small head of cabbage, shredded
salt and pepper, to taste
1. Dissolve sugar and yeast in warm milk. Let stand until foamy, about 5 minutes. In a heavy -duty mixer, combine oil, salt and eggs; add yeast mixture. Add 1 cup of flour and beat for 1 minute. Beat in 1/2 cup of flour at a time, until dough pulls away from sides of bowl.
2. Switch to dough hook. Knead on low speed, adding remaining flour 1 TB. at a time, until smooth and elastic, about 8 minutes.
3. Place dough in a well-oiled large bowl and loosely cover. Let rise in a warm place for 1 hour, or until doubled in size.
4. To make filling, heat oil over medium-high heat. Add meat and onion and cook until meat is browned, stirring to crumble. Add cabbage and cook until wilted. Season with salt and pepper. Let cool.
5. Punch dough down and let rest 5 minutes.
6. Divide dough in half. Roll each half into a letter-sized rectangle (roughly 8 by 11) and cut each rectangle into 6 squares. Spoon 1/4 cup filling into center of each square. Bring opposite corners together at the center, pinching corners and seams to seal. Place seam side down on a large baking sheet covered with parchment paper. Repeat with remaining dough. Cover and let rise 20 minutes.
7. Preheat oven to 375 degrees.
8. Uncover and bake until lightly golden, about 15 minutes. Cool on wire racks.
Makes 12 bierocks.
Adapted from a Cooking Light recipe (January 2004), Bierocks are a great snack to freeze for quick sack lunches. I pack a couple for day-trip hikes and let them thaw in my backpack.

Posted by Caryn at 07:13 AM | This Entry Only | Recipe Only | Comments (15) | TrackBack (1)
Aroma Therapy: Focaccia!
February 24, 2005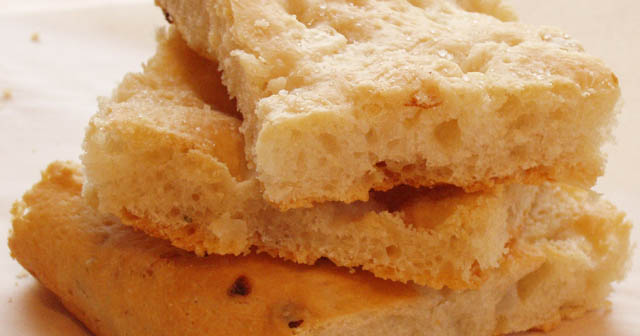 INT. HOLLYWOOD MANSION--KITCHEN--DAY
Laden with bags of groceries, Caryn stumbles across the room where she hoists the purchases onto the counter. Exhausted already, she rests against the refrigerator.
INT. DINING ROOM--MOMENTS LATER
Caryn peeks her head through the door. The room is empty.
CARYN
Hello?
The house echoes with her voice. Convinced that there is no one around, she creeps into the room to explore.
INT. LIVING ROOM
Caryn is barely noticable in the expansive room of leather and dark, polished wood. She bumps a chair on her way through the room, but is careful to return it to its exact original position.
INT. LIBRARY
The books stretch from wall to wall, floor to ceiling. Caryn takes a handsomely bound edition off the shelf and examines it. When she opens it, the binding cracks for the first time.
A thud sounds from the other end of the house. Caryn jumps and puts the book back.
INT. KITCHEN
Caryn is relieved to find FLORA, the housekeeper, putting the groceries away. She helps Flora unpack the bags.
CARYN
Oh, hey Flora.
Flora smiles warmly at Caryn and speaks with a thick Mexican accent.
FLORA
Hi. How are you?
Caryn takes a large bunch of rosemary from the bag and inhales it deeply. She runs her fingers through the needles.
CARYN
Flora, what do you say we warm up this house with some fresh bread?
Flora smiles again. Caryn grabs a pound of flour from a bag, but it slips in her hands and the soft, white flour explodes all over the counter.
Caryn and Flora burst into giggles.
Rosemary-Onion Focaccia
(for bread machine)
1 Tablespoon active dry yeast
2 Tablespoons chopped fresh rosemary
1 Tablespoon sugar
1 1/4 cups warm water (about 110 degrees)
1/2 cup olive oil, divided
1 1/2 teaspoons table salt
4 cups all-purpose flour
1/2 cup chopped sweet onion
Coarse sea salt or kosher salt
1. In a small bowl, sprinkle the yeast and a pinch of the sugar over the warm water. Let stand at room temperature until foamy.
2. Add the flour to the pan of the bread machine and make a well in the center.
3. In the well, add 1/2 cup of the olive oil, remaining sugar, table salt, and water-yeast mixture.
4. Use the dough-only cycle of the bread machine to process the dough, adding the rosemary and onion at the mix-in warning (about 5 minutes into the kneading cycle).
5. Line a large, heavy baking sheet with parchment paper and brush the paper with olive oil. Turn the dough out onto the baking sheet. With oiled fingers, pat dough into a rectangle or oval about 1 inch thick.
6. With your finger or the handle of a wooden spoon, make deep indentations in the top of the dough. Drizzle with the remaining olive oil. Cover and let rise for 20 minutes.
7. Preheat oven to 350.
8. Uncover dough and sprinkle with the coarse salt. Bake for 25 minutes or until lightly browned. Remove from pan and cool on wire rack.
Yield: 1 large focaccia
Posted by Caryn at 06:53 AM | This Entry Only | Recipe Only | Comments (0)