« Spicy Hot: Shrimp Wraps! | Main | Goodness Gracious: Gyoza! »
Takin' It Easy: Spinach Pie!
September 21, 2005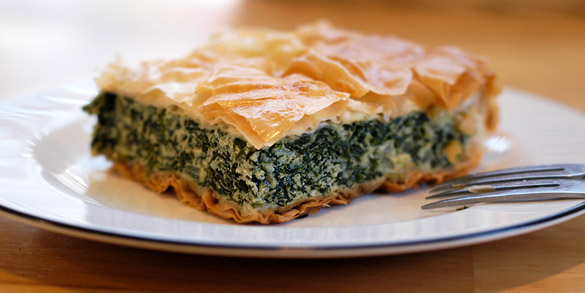 INT. MR. R.'S MANSION--KITCHEN--DAY
The afternoon light warms the kitchen to a comfortable and sleepy temperature. Caryn sits at her table trying to stay awake. A magazine slips from her grasp and hits the floor with a THUD.
Caryn bolts upright as Flora enters.
CARYN
His lunch is on the counter.
Flora looks at the carefully prepared tray: spinach pie with a delicate, flaky crust, steaming tomato soup and a chilled glass of water with a lime wedge. Even a flower in a small glass vase.
CARYN (CONT'D)
Any sign of life in there?
Flora shakes her head no and takes the tray.
FLORA
Thank you, Caryn.
CARYN
Yeah, send him my regards.
Flora exits. Without a moment's hesitation, Caryn returns to her nap.
Spinach-Ricotta Pie
Don't put yourself out. Phyllo (filo) dough is actually so easy to work with and turns out a great dish. Be sure to thaw the dough completely before unrolling it.
1 lb. bag of baby spinach (about 15 cups)
2 TB. olive oil
1 medium onion, diced
2 TB. fresh oregano, chopped
4 eggs
4 oz. low-fat ricotta cheese
2 oz. parmesan, freshly grated
1 tsp. salt, divided
1/2 tsp. black pepper
4 TB. butter, melted
12 sheets phyllo dough
1. Preheat oven to 375 degrees.
2. Bunch or roll a handful of spinach leaves together, cut into thin strips. Repeat until all spinach is chopped. Heat oil in large saucepan over medium-high heat. Add onion and saute until softened, about 5 minutes.
3. Add spinach, oregano, and 1/2 tsp. salt to the onion. Cook over high heat until nearly all the liquid has evaporated from the spinach, about five minutes. Remove from heat and cool.
4. Beat eggs in large bowl. Add ricottta, parmesan, pepper and remaining salt. Stir until smooth. Add spinach mixture.
5. Brush the bottom and sides of a 13x9 baking pan with butter. Arrange half of the phyllo sheets in the bottom of the dish to cover and extend 1 inch up the sides (trim excess if necessary). Brush with butter.
6. Spoon spinach mixture over phyllo dough. Cover with remaining dough and neatly tuck the edge under. Brush with butter and diagonally score the top with the tip of a sharp knife.
7. Bake until pastry is golden brown, about 30 minutes. Cut into 8 large squares and serve hot.
Serves 8.
Posted by Caryn at September 21, 2005 11:00 AM | Printable Version | Recipe Only
Trackback Pings
TrackBack URL for this entry:
http://www.deliciousdelicious.com/mt/dd-tb.cgi/52
Comments
Ohh, the drama continues!
As for the pie, brava as per usual. The filling sounds like a hybrid between spanakopita and a ricotta manicotti filling - all around tasty! I'll be sure to try this soon, as recommended with a hot bowl of soup!
Posted by: tara at September 21, 2005 11:50 AM
Love your website and recipes.
But I was wondering could you use frozen spinach instead of fresh?
Thanks - Rebecca
Posted by: Rebecca at September 22, 2005 10:43 AM
Rebecca, yes you can substitute frozen for fresh. My guess is that you can add about 1-1/2 to 2 cups of frozen spinach with the oregano to the sauteed onions. Saute it for a minute or so to combine the flavors.
You can always add more spinach than the recipe calls for. The result will just be a denser pie.
Posted by: caryn at September 22, 2005 01:10 PM
Oh yum, I love this kind of stuff.
Posted by: Nic at September 22, 2005 02:33 PM
All I can say is "YUMMMMMM" I'm so hungry. And what's up with Mr. R? I'm dying to find out!
Posted by: leannwoo at September 22, 2005 04:26 PM
This sounds great, I was just searching for a good spinach recipe. Think I will try it!
Posted by: Michele Young at October 28, 2005 07:56 PM
Post a comment