« Chocolate Cherry Cheer: Bread Pudding! | Main | Cupcake Mirth! (IMBB 13) »
A Late Snack: Bierocks!
March 23, 2005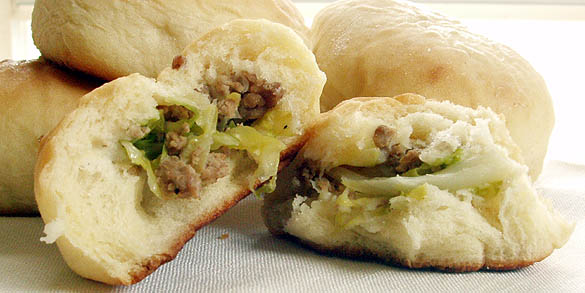 INT. MR. R'S MANSION--KITCHEN--NIGHT
Caryn takes a tray of small, pillow-shaped buns from the oven, setting them on the stove to cool. She grabs a jar of spicy, whole-grain mustard from the fridge and piles a few of the buns on a plate.
Sitting down at the little table in the corner of the huge kitchen, she breaks open a steaming bun, catching meat and cabbage as it tumbles out. She spreads mustard across the top of the bun, and is about to take a bite when she realizes that Mr. R. is watching her from the counter.
CARYN
Oh! I didn't see you.
He laughs good-naturedly and rubs a hand through his well-designed hair.
MR. R.
I snuck in. What're you eating?
Caryn puts down the bun, still steaming in her hand.
CARYN
Oh, they're bierocks. I was going to freeze them, but...
MR. R.
Can I have one?
He gets a plate and sits down. He takes off his coat, revealing a shiny, silk shirt beneath. Way over-dressed for the little table.
CARYN
I can make you something for dinner, if you want.
MR. R.
I just got back from dinner.
He copies Caryn by breaking a bierock apart and slathering it with mustard.
MR. R. (CONT'D)
It was one of those Hollywood places. All scene, food was terrible.
He pops a bite in his mouth.
MR. R. (CONT'D)
I figured you'd have something better here.
Caryn half-smiles and picks at her own bierock, hesitant to continue eating.
CARYN
Is anyone else hungry?
MR. R.
(chuckling mischievously)
No. They're quite happy where they are. I left them there.
He grabs another bierock from the plate and tears at it pensively. Caryn reluctantly steals a bite of her own.
MR. R. (CONT'D)
I don't know. Sometimes I think I'm not really cut out for this business.
He leans back in his chair and studies a button on his shirt.
MR. R. (CONT'D)
Maybe I just prefer to be at home, eating a snack in my own kitchen. You know what I mean?
Caryn pauses for a minute, a little surprised.
CARYN
Yeah, I think I do.
Bierocks
Dough:
2 1/4 tsps. dry yeast
1 cup warm milk
1/4 cup sugar
1/4 cup vegetable oil
1 tsp. salt
2 eggs, beaten
4+ cups bread flour
Filling:
1/2 medium-sized onion, chopped
1 lb. ground beef, pork, or turkey (I used turkey)
1 TB. vegetable oil
1/2 small head of cabbage, shredded
salt and pepper, to taste
1. Dissolve sugar and yeast in warm milk. Let stand until foamy, about 5 minutes. In a heavy -duty mixer, combine oil, salt and eggs; add yeast mixture. Add 1 cup of flour and beat for 1 minute. Beat in 1/2 cup of flour at a time, until dough pulls away from sides of bowl.
2. Switch to dough hook. Knead on low speed, adding remaining flour 1 TB. at a time, until smooth and elastic, about 8 minutes.
3. Place dough in a well-oiled large bowl and loosely cover. Let rise in a warm place for 1 hour, or until doubled in size.
4. To make filling, heat oil over medium-high heat. Add meat and onion and cook until meat is browned, stirring to crumble. Add cabbage and cook until wilted. Season with salt and pepper. Let cool.
5. Punch dough down and let rest 5 minutes.
6. Divide dough in half. Roll each half into a letter-sized rectangle (roughly 8 by 11) and cut each rectangle into 6 squares. Spoon 1/4 cup filling into center of each square. Bring opposite corners together at the center, pinching corners and seams to seal. Place seam side down on a large baking sheet covered with parchment paper. Repeat with remaining dough. Cover and let rise 20 minutes.
7. Preheat oven to 375 degrees.
8. Uncover and bake until lightly golden, about 15 minutes. Cool on wire racks.
Makes 12 bierocks.
Adapted from a Cooking Light recipe (January 2004), Bierocks are a great snack to freeze for quick sack lunches. I pack a couple for day-trip hikes and let them thaw in my backpack.

Posted by Caryn at March 23, 2005 07:13 AM | Printable Version | Recipe Only
Trackback Pings
TrackBack URL for this entry:
http://www.deliciousdelicious.com/mt/dd-tb.cgi/9
Listed below are links to weblogs that reference A Late Snack: Bierocks!:
» Posts of the Week from Too Many Chefs
Read for me these posts of three 'ere the other side you'll see. What is your name? What is your quest? What is the perfect recipe for Easter? The answers come this week from three diverse blogs: A. Start with breakfast and Jimmy's Shortbread Waffles ... [Read More]
Tracked on March 26, 2005 08:23 AM
Comments
I followed your link via Food Blog Central and love your site! Those bierocks look tempting and I'm bookmarking it for the next baking day in the kitchen. Also good to know that you can freeze them!
Posted by: rowena at March 23, 2005 07:23 AM
Followed a link too, and am real glad I did. Those bierocks (and the bread pudding!) look great. I love your blog, and have put a link for you on my own. :)
Posted by: Sweetnicks at March 23, 2005 07:44 AM
Hi Caryn,
What a fantastic site you have! I firmly believe that food blogs are as much about great writing as about good food and yours is a great example.
I happen to have a site with 'delicious' in the title too. (www.deliciousbiting.typepad.com) I guess great minds (it's applicable in your case)think alike?
I'm off to your archives.
- Julia
Posted by: Julia at March 23, 2005 02:52 PM
Wow! New visitors! These bierocks have rapidly become one of my favorites...I hope ya'll will try them.
Julia, I just checked out your site today and saw mine referenced there on the first page! Golly, thanks. And I love to see fellow Los Angelenos competing with the Bay Area in food blogs. ;)
Posted by: caryn at March 24, 2005 07:50 PM
Mmmmm...meat, cabbage and bread....mmmmm...nothing wrong with that combo!
Posted by: Moira at March 25, 2005 02:05 AM
Caryn,
Had some free time at work and decided to check out your site.... What a fantastic job you've done! I'm very impressed. The photography is beautiful; the recipes look great and you've shown a lot of creativity with the 'script.' It's very entertaining - love the way you described your mother as "hardly looking like she could have a daughter Caryn's age." - I'm sure she got a kick out of that and you scored some brownie points! Way to go!
Posted by: Kris at March 29, 2005 08:36 AM
I want to eat one (maybe two, or more...) of those now!
Posted by: keiko at March 31, 2005 11:27 AM
Made this (again) last night! Thanks for the recipe. Fabulous - just thought I'd share some modifications I made on the second round. I made these with an italian sausage, cranberry, caramelized sweet onion and extra cabbage stuffing. Next time I'm going to try a potato dough for the roll. And the do freeze so well - a perfect light dinner for late work days!
Posted by: robyn at April 25, 2005 12:14 PM
How creative, Robyn! I have often thought of stuffing them with a number of things, but always wimp out. Since we ate the last of them on this weekend's hike, I'll have to make a fresh batch. And I just happen to have some Italian sausage in the freezer...
Posted by: caryn at April 25, 2005 05:51 PM
OMG, I have been looking for a Bierock recipe for over 5 years. My co-workers think I'm crazy when I try and explain it! THanks!
Posted by: Leannwoo at May 31, 2005 03:08 PM
Leanwoo, I LOVE Bierocks! This recipe has been one of the more popular ones on the site. I'm glad you found it buried in the archives! :)
Posted by: caryn at June 1, 2005 06:47 PM
One word: Allspice. You've gotta put lots of allspice in the meat when you cook it or they're just not right. Bierocks are also fantastic served with an onion soup or for dipping.
Posted by: Ian at September 8, 2005 05:49 PM
I used to eat Bierocks when I was a kid and I would go out to Kansas to visit my grandparents. My grandmother would buy a huge box of fresh bierocks from a woman in town who made them in her kitchen and sold them. I have often thought about them and wished I had a recipe. I decided to look it up tonight and here's this wonderful recipe! Thanks!
Posted by: Jenny at December 8, 2005 04:49 PM
I'm making these as I type. They looked so good and we happened to have a head of cabbage and a pound of ground beef in the fridge. What a great way to use them up before we went out of town for the weekend. For the 2nd batch of 6, I started rolling them like a burrito instead. Hopefully they will turn out. I haven't done anything with a yeast dough since I was 8 helping my grandma make coffee cake. Making this recipe only made me crave a Kitchenaid mixer even more.
Posted by: Rachel at April 26, 2006 12:06 PM
I just finished baking these bierocks. They are just heavenly. YUM YUM! Even my finicky kids cant stop eating them. I cant wait till my my husband comes home so I can share with him.
Posted by: Heather at December 30, 2008 01:47 PM
Post a comment