« To Return! | Main | Warming Up: Chicken & Artichokes! »
Back to Buttermilk Country Bread!
January 26, 2006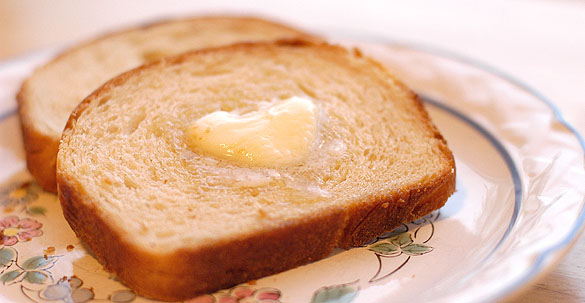 INT. MR. R.'S MANSION--KITCHEN--LATE, LATE NIGHT
The back door swings open and Mr. R. stumbles through dragging enough luggage for an entire family. Hank follows with an equal count of bags. They deposit their loads just inside the door and stretch their aching arms.
MR. R.
I just couldn't take another day in St. Barth's. I'm exhausted.
HANK
I'm starving.
Flora enters from the dining room, rubbing her eyes awake.
FLORA
You made it home safe. I wait for you.
HANK
Where's Caryn?
FLORA
She left. It's very late.
Flora straps a couple bags over her shoulder.
MR. R.
(inhaling deeply)
Is that bread I smell?
FLORA.
Yes, tomorrow's breakfast.
She drags a bag behind her out the door into the house. Hank and Mr. R. spot the warm loaf cooling on the stove at the same time.
HANK
Is it tomorrow yet?
INT. MR. R.'S MANSION--KITCHEN--LATER
The kitchen glows blue with the early morning light. Caryn comes in, wet hair pinned into a bun at her neck. She drops the newspaper on the counter next to a wooden cutting board scattered with crumbs. Her eyes narrow on the knife perched next to the tray of butter also speckled with crumbs.
CARYN
Welcome home, sir.
She tosses the cutting board and knife into the sink and opens the fridge with a knowing smirk. Hidden in the back is a loaf pan filled with soft white dough just barely rising in anticipation of an early breakfast. She spins the oven dial to 350.
Buttermilk Country Bread
The honey in this bread makes it surprisingly reminiscent of a wheat bread. Although I almost always bake the loaf in the oven, I confess that I prefer to make the dough in my bread machine, where I can just throw in all the ingredients and hit a button. The instructions below are for those who don't have a bread machine. Put the shaped loaf in the fridge overnight and finish the rising in the morning while the oven heats. Nothing like fresh bread for breakfast!
2-1/2 c. all-purpose flour
1-1/4 tsp. active dry yeast
2 TB. butter, softened
2 TB. honey
1 tsp. salt
1/4 tsp. baking soda
3/4 c. buttermilk, warm
1 TB. melted butter
1. In heavy-duty mixer, combine flour, yeast, butter, honey, salt and baking soda until mixed. With mixer running, pour in warm buttermilk. When dough begins to pull away from the sides, switch to dough hook. Knead on low speak until smooth, about 5 minutes. Let dough rest for 10 minutes and then knead for 1 minute longer.
2. Transfer the dough to a well-oiled bowl and turn once to coat. Cover and let rise in warm place until doubled in bulk, about 1 to 1-1/2 hours.
3. Lightly grease 8.5-by-4.5 loaf pan. Turn the dough onto a lightly floured board. Roll or pat into a rectangle about 1/2 inch in thickness. Beginning at narrow end, roll up the rectangle to form a loaf. Place the loaf, seam side down in the prepared pan. Cover and let rise until near top of pan, about 1 hour.
4. Preheat oven to 350 degrees. Brush top of loaf with melted butter. Bake until golden brown or the bottom sounds hollow when tapped, about 35 minutes.
5. Turn loaf onto rack and let cool completely before slicing.
Yield: 1 loaf
Posted by Caryn at January 26, 2006 08:15 PM | Printable Version | Recipe Only
Comments
Glad to have you back - Happy New Year!
Posted by: Cin at January 26, 2006 11:21 PM
Very nice looking loaf of bread! I can smell it from across my screen!
Posted by: Bea at La Tartine Gourmande at January 27, 2006 05:30 AM
Now I can maybe make this bread. I suffer from yeast-a-phobia and just the mere mention of the stuff sends me to the corner in a fetal thumb sucking position. Welcome Back!
Posted by: Regina at January 27, 2006 06:23 AM
Lovely bread. Nice to have you back.
Posted by: Gracianne at January 27, 2006 08:25 AM
Yay! Another fun installment in the life of Chef Caryn. I hope you'll be putting out a book in the future with your recipes and story installments. You're fabulous!
The bread looks yummy! Thanks for coming back.
Best,
Deb
Posted by: Deb at January 27, 2006 11:29 AM
Yeah, your back! Bread looks fabulous BTW!
Posted by: patti at January 27, 2006 04:46 PM
Looks wonderful and I love the idea of holding the unbaked load overnight in the fridge!
Posted by: Cathy at January 27, 2006 08:44 PM
Is the heart shaped pat of butter on this bread a kind of graphic foreshadowing??
Welcome back

Posted by: FJK at January 29, 2006 08:58 AM
Thanks for the warm welcome home!

Regina, this is a fairly easy recipe as far as yeast breads go. It's a smaller loaf and a little easier to work with as a result. You also don't need to proof the yeast in water...just mix and knead. Good luck!

FJK, I was wondering if anyone would notice that butter melting in a heart shape! Pure coincidence, I assure you. :)
Posted by: caryn at January 31, 2006 01:39 PM
So glad you are back and that bread looks absolutley wonderful!
Posted by: leannwoo at January 31, 2006 04:34 PM
Great picture. Nice to have you back!
Posted by: claudia at February 6, 2006 01:53 PM
Caryn, the bread is wonderful. I made it yesterday, baked it today, and haven't been interested in anything else!
Posted by: Effective Nancy at February 6, 2006 02:08 PM
I must confess I love buttermilk almost anything and your bread receipe will be a nice addition to try. However, why the honey? Why not no sugar or sweeteners? I make all my regular breads without sugar or sweetners and they work fine. Anybody else?
Posted by: Chef Herb Dreyer at January 26, 2007 04:26 PM
i have a project on bread and i would like to have some informations about types and nutritional values of bread
Posted by: hhansl at June 22, 2007 01:08 AM
Country breakfasts are a huge treat to me. I'm looking forward to trying the bread.
Posted by: Andre at September 3, 2007 03:23 AM
Your bread is beautiful. Alas, it's bedtime and now all I can think about is butter slowly oozing into hot toast :P
Posted by: Angela
at November 19, 2007 05:18 PM
Post a comment