« Near Miss: Gingered Peach Cobbler! | Main | Spicy Vegetarian Chili! »
Hot Coffee and a Turkey Baster!
June 10, 2005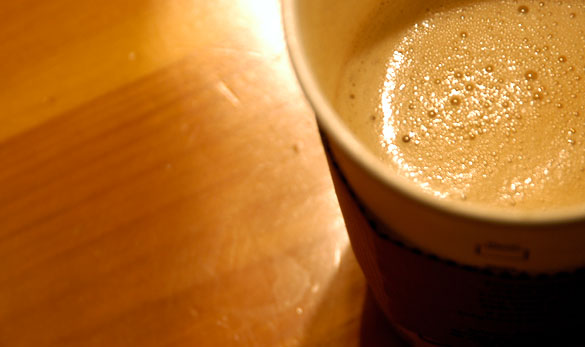 INT. TRAILER--AFTERNOON
The trailer is empty and refreshingly quiet. Caryn thumbs through a magazine with one hand and stirs the contents of a pot with another. Lazy afternoon in Mississippi.
The door swings open with no warning and in walks Lauren, wearing a thick tweed jacket over her lacy camisole. In the heat of a summer in Mississippi.
She slides a Starbucks coffee cup down the counter toward Caryn.
LAUREN
Can you reheat this?
Caryn looks at the cup.
CARYN
Reheat it?
LAUREN
Yes, microwave it or something. I made a PA look for a Starbucks on his way back from a run to Memphis.
She snaps open her cell phone like a pro and starts clicking away at the keys.
LAUREN (CONT'D)
But by the time he got back my latte was cold already. Just zap it.
She holds the phone up to her ear.
LAUREN (CONT'D)
Hello? HELLO?!
She steps outside. Caryn rolls her eyes and slips the coffee into the old and smelly microwave. She returns to the magazine. Lauren screams at someone on the phone.
After a moment, Caryn flips the magazine closed and checks the contents of her pot. Lauren returns, cell phone still in hand.
LAUREN (CONT'D)
Where's my coffee?
Coffee? Caryn whips her head to the microwave. COFFEE!! The cup is bubbling over into a frothy mess.
But Lauren's cell phone goes into a SPASM of vibrations at the same time. She steps out and resumes yelling.
Caryn yanks the microwave door open. Only about a third of the coffee is still in the cup. The rest is pooling into a sticky puddle around the floor of the microwave.
Caryn springs into action. She rips open a drawer and clangs through the utensils. Nothing. Another drawer, more clanging. Nothing. She stands up and looks toward the door. Lauren is still on the call.
One more drawer. More rifling. SUCCESS. Caryn pulls out a long, plastic turkey baster. Well, it'll have to do.
She grabs the cup and begins sucking the coffee up into the baster. Back in the cup, check the door, repeat.
OUTSIDE
An incensed Lauren fumes at whoever is on the phone. She looks to the door for her coffee.
INSIDE
The baster is working well, simulating a froth with the bubbles. In no time, most of the coffee is back in the cup. But it's still a little low.
Caryn thinks fast. Water from the sink tops it off and back into the sloppy microwave it goes. Ten seconds.
Lauren stomps back in. Caryn grabs the magazine.
LAUREN
Caryn!
Caryn looks up just as the microwave BLEEPS at the women.
CARYN
Oh! Here.
She hands the coffee cup to Lauren who wastes no time in getting her fix.
LAUREN
Ahhh. That's good coffee.
She takes another gulp on her way out the door.
LAUREN (CONT'D)
I'm gonna have to send another PA back to that same Starbucks.
Caryn wipes the sweat from her forehead.
But no time to rest. A SIZZLING sound erupts from behind her. The pot she was stirring has followed suit and bubbles over into a sticky mess on the stove.
There are actually corners of Mississippi that haven't been inhabited by the ubiquitous Starbucks. However, there is probably a location near you.
Posted by Caryn at June 10, 2005 06:30 AM | Printable Version | Recipe Only
Trackback Pings
TrackBack URL for this entry:
http://www.deliciousdelicious.com/mt/dd-tb.cgi/37
Comments
Last time I was on a road trip, I stopped at a Starbucks in the middle of nowhere. The barista said he'd brew a fresh pot for my coffee, but judging from the resulting taste, a turkey baster was probably involved. I'll stick with a latte next time.
Posted by: Nic at June 10, 2005 07:53 AM
omg - this just made me laugh! a friend of mine whose parents live in a small town in wisconsin was telling me that they basically had a HUGE celebration when the FIRST starbucks went in a few months ago. they they don't know that they haven't been missing a THING. haha!
Posted by: sarah at June 10, 2005 09:42 AM
Starbucks? Probably tasted better after mixing with who know's what from the microwave.
A bitter woman drinking a bitter cup of coffee. Sounds about right to me! :)
Posted by: leannwoo at June 10, 2005 10:22 AM
Posted by: Zarah Maria at June 10, 2005 03:28 PM
Bwaaaahaaahaaa! =) I didn't have any idea where you would be going after that title! Very funny, Miss Caryn...
Posted by: Moira at June 11, 2005 01:12 AM
I worked at a starbucks as a barista - and believe me, if you follow the standards, the coffee is fantastic - now second cup, that's the dredges. All I have to say is Ethiopian Sidamo babies, Ethiopian Sidamo.
Posted by: modern gal at June 12, 2005 08:17 AM
Posted by: VW at June 13, 2005 01:04 PM
Can you post more often? I need my DeliciousDelicious fix with MY morning coffee. :-)
Posted by: AmyBee at June 15, 2005 09:28 AM
Glad y'all enjoyed the post. I'll have to try some of that Ethiopian coffee. My bag of Christmas blend in the freezer is getting a little old. :)
Computer access has been limited lately, AmyBee, but I should be getting back on track this week. Believe me, I've been experiencing withdrawl pains too!

Posted by: caryn at June 18, 2005 07:29 AM
Hahahahahahaha
I haven't read your blog for a while now, and
just stopped in for a quick study break. That
was great!!
Posted by: JT at July 6, 2005 01:34 PM
Post a comment