« A Rocken Good Time! | Main | Cha Gio: Cha Gio! »
Stocking Up: 99 Ranch Market!
May 01, 2005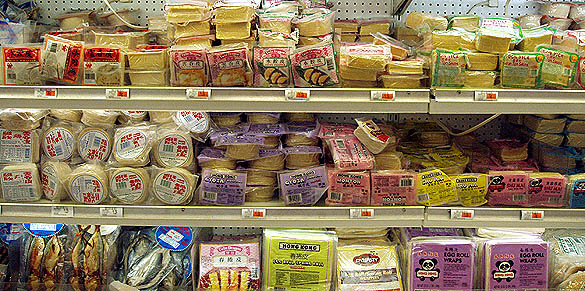 INT. GROCERY STORE--DAY
Winnie is sorting through some fresh bean sprouts. Caryn throws a box of sweet tamarind pods in the cart.
WINNIE
What are you going to do with those?
CARYN
I don't know. Thought they looked fun.
WINNIE
Just don't eat too many of them.
The girls push the cart past fresh water chestnuts, bok choy and lemongrass. They stop at the end of the produce section where an assortment of lettuces and fresh spices are piled together.
WINNIE (CONT'D)
Here we need some of this.
CARYN
Oh right, for wrapping. I can't wait!
Caryn grabs a bag of shredded carrots and tosses it in the cart.
WINNIE
The best thing about this place is pre-shredded carrots.
They continue to the seafood counter where Winnie takes a number. Caryn teases the live crabs in their open pools.
WINNIE (CONT'D)
I can't believe they haven't started shooting this movie yet.
CARYN
In a few weeks, I think.
WINNIE
Where are you going?
CARYN
Still don't know. I think they shoot half of it in the deep South.
The MAN at the seafood counter takes Winnie's number. She points to some partially cleaned shrimp that are placed dangerously close to the shrimp that have all their legs and heads.
WINNIE
Maybe you'll get to go to Atlanta!
Caryn smiles at the prospect and pushes the cart down the row to the meat counter. Winnie follows with her shrimp in hand.
CARYN
I'm gonna go stock up on gyoza wrappers. Meet me by the tofu?
Winnie nods and Caryn trots off with the cart.
INT. GROCERY STORE--CHECKOUT COUNTER--LATER
Winnie finishes unloading the cart. Caryn bags three different kinds of soy sauce with a half dozen other bottles.
CARYN
It never ceases to amaze how much stuff we make off with at this place. Everything is so cheap.
WINNIE
What time are we starting tomorrow?
CARYN
Well, I have to watch Extreme Makeover: Home Edition, so maybe five?
WINNIE
You just like saying that.
Caryn grins.
WINNIE (CONT'D)
Let's make it four. We have a lot of chopping to do.
Winnie signs the receipt. Caryn reloads the cart with the bags.
WINNIE (CONT'D)
Can I con you into a lychee boba?
CARYN
Pfff. Of course!
99 Ranch Market
You can find just about anything you would ever need for Asian cuisine here. Fresh produce, seafood and meats are all at bargain prices. And they have shelves upon shelves of gyoza and wonton wrappers.
Posted by Caryn at May 1, 2005 01:01 PM | Printable Version | Recipe Only
Trackback Pings
TrackBack URL for this entry:
http://www.deliciousdelicious.com/mt/dd-tb.cgi/23
Comments
I've been reading for a while now and I just had to pop in and say, on a day with no recipe no less, that this is the most brilliant idea for a blog ever. EVER. I have my fingers crossed that the next scene will include a recipe from today's loot...
Posted by: Tracey Marshall at May 1, 2005 04:20 PM
Thanks so much, Tracy! Your finger crossing worked...today's entry did in fact include a recipe from the loot. Just for you. ;)
Posted by: caryn at May 2, 2005 04:26 PM
Post a comment