« Chop, Chop: Chopped Salad! | Main | Stocking Up: 99 Ranch Market! »
A Rocken Good Time!
April 28, 2005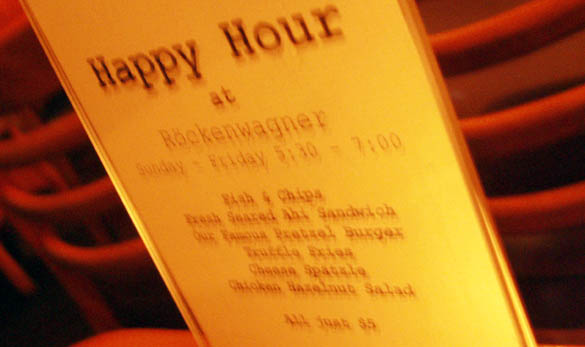 INT. ROCKENWAGNER BRASSERIE--BAR--EVENING
It is a dim and only partially-full night at the restaurant. Caryn and Matt sit at a small table in the bar area. Their glasses are empty and very little evidence of their comforting pretzel burgers can be found on their plates. They both, however, cannot refrain from snacking on the rest of the truffle fries.
CARYN
I'm stuffed.
MATT
Me too.
She pops another fry in her mouth.
CARYN
Are you gonna ask him?
MATT
I already told you no.
Matt pops two or three fries in his mouth.
CARYN
Aw, come on! I'll buy you dessert.
MATT
I hear they have a worthwhile chocolate pudding cake, but I'm really full.
The WAITER returns to take their plates. Caryn and Matt scramble for the last of the fries.
WAITER
Anything else?
Caryn scrunches her face and whispers under her breath.
CARYN
Ask him!
MATT
Just a check, thanks.
Caryn instantly switches gears and puts on her brightest smile for the waiter.
CARYN
I don't suppose you would part with the recipe for the pretzel rolls.
The waiter laughs and back-peddles.
WAITER
Uhhhhh...I don't know. Chef Hans is gone for the night.
Caryn sulks.
WAITER (CONT'D)
Maybe next time.
She nods as the waiter leaves and then she glares at Matt.
CARYN
A lot of help you were.
MATT
I'll get the tab to make it up to you. You can pay the valets.
Caryn accepts this concession for a moment. Matt hands the waiter some cash when he brings the check.
CARYN
Wait! The parking is more than my burger!
Rockenwagner Brasserie
Sit at the bar because the five-dollar Happy Hour menu is a downright steal! The pretzel burger deserves to be called famous and simply must be served with their extra crispy french fries.
2435 Main Street
Santa Monica, CA 90405
(310) 399-6504
Happy Hour:
Sunday-Friday 5:30PM-7:00PM
This entry was posted for April's Dining Out: Bar Fly theme over at The Delicious Life.
Posted by Caryn at April 28, 2005 02:41 PM | Printable Version | Recipe Only
Trackback Pings
TrackBack URL for this entry:
http://www.deliciousdelicious.com/mt/dd-tb.cgi/22
Comments
hi. you can search inside hans rockenwagner's book on amazon and the recipe is there.
Posted by: * at April 28, 2005 07:12 PM
mmm, pretzel rolls. I think these rolls were called bretzeln when I did an exchange summer in Southern Germany. You've inspired me to put a hold on Rockenwagner at my local library! Plus I've got a bierock for lunch. Your's is my new favorite recipe blog! Thanks.
Posted by: rose bengal at April 29, 2005 10:22 AM
Posted by: sarah at April 29, 2005 10:34 PM
Oh, wow!!! Thanks so much for the tip about where to find the recipe. I can't tell you how long I searched for that recipe. I guess I never thought Chef Hans might have printed it in his cookbook. Duh!! Well, this blog is worth it for that tip alone!
Rose, I've had similar rolls in Switzerland. I really love them. Glad you tried the bierocks!!
Posted by: caryn at April 30, 2005 07:52 PM
Post a comment