« Warming Up: Chicken & Artichokes! | Main
Quick Fix: Joan's on Third!
February 13, 2006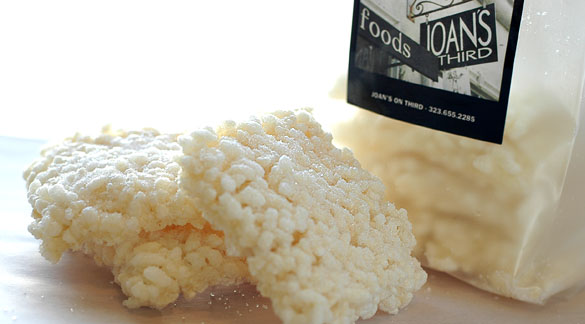 INT. CARYN'S APARTMENT--BEDROOM--MORNING
The radio BLARES at the very second that it changes to 6:30AM. A hand reaches out and smacks it so hard that it turns off.
INT. BEDROOM--LATER
Only half a face is nestled into a plush pillow. The other half is obscured by a warm quilt that happily smothers the rest of the body too.
Punky, perched upon his throne of the other pillow, wakes and stretches his front paws out onto the half face. A hand pushes down the covers, revealing a groggy Caryn underneath. She swats away the paw on her face.
Punky stands up, hunches his back and walks out the stretch. He sniffs Caryn's face before giving her nose a dry, sandpaper lick.
CARYN
Cut it out, Punky.
She squeezes her eyes tight for a second before they pop open wide. Sunlight is already bouncing on the bed.
Caryn bolts upright and spins to the clock: 10:30AM!
CARYN
Crap, crap, crap!
She jumps out of bed, sending Punky flying from the room. She SMACKS her toe into the nightstand.
CARYN
OW!
She hops into the bathroom. The dust settles in the sunlight as Punky cautiously peeks back through the bedroom door.
EXT. CITY STREETS--LATER
The Honda elicits a chorus of horns as it squeezes in and out of traffic. Caryn, with sopping wet hair, is too engrossed on her cell phone to notice.
CARYN
No, Flora, don't tell him anything! I'll be there in a twenty.
She tosses the phone on the seat and grabs her mascara from her purse as she barely misses the bumper of a pretty Ferrari she carelessly cuts off.
INT. CAFE--MOMENTS LATER
The narrow and brightly lit room is packed. Caryn takes advantage of two chatty and oblivious women to manuever herself ahead of them in line. She peers at the virtual array of sumptious fare in the shiny glass cases: a myriad of fresh salads, grilled vegetables almost too perfect to eat, macaroni and cheese cut into thick, gooey squares.
As she waits for the man ahead of her to finish placing his order, she stands on her toes to get a look at the other counters further down the line. On one end is a glass case filled with a half dozen different kinds of cupcakes and an assortment of muffins and scones. The case on the other end of the store displays desserts so decadent, it's hard to tell exactly what they are. Caryn eyes a few selections covered in rich, dark chocolate.
WAITER
Next!
Caryn gives the waiter her best Chesire-Cat grin.
CARYN
I need your help.
INT. MR. R.'S KITCHEN--LATER
Caryn dashes in with a couple shopping bags labeled "Joan's on Third." Flora takes them from her hands and immediately starts unpacking them as Caryn grabs serving trays from the cabinet.
They pop open the plastic containers and dump the contents into bowls: curried chick peas, lentil salad, crisp green beans, mushrooms and walnuts. Caryn lines the bowls up on the tray and garnishes it with fresh french bread. She rushes out with Flora following with plates and silverware.
INT. KITCHEN--MINUTES LATER
Caryn re-enters, now much calmer. She takes a deep breath and finishes unpacking the bags. She arranges a couple cupcakes and scones on another tray. Finally, she opens a slightly opaque bag of crisped rice squares. She stacks them neatly in the center of the tray and steps back to examine the arrangement.
Pleased, she crunches into a rice square of her own and takes the tray to her waiting boss.
Joan's On Third
8350 West Third
Los Angeles, CA 90048
323-655-2285 ph.
HOURS: Monday-Saturday 10AM-8PM; Sunday 11AM-6PM
I've only recently discovered this absolute gem of a restaurant and gourmet marketplace. If you're in a pinch for something good enough to serve to guests, this is the place to go! The food is outstanding and prepared with expertise and an eye towards perfection.
They also have a small selection of artisan grocery items. The puffed rice squares (pictured) are a sort of rice crispy bar for grown-ups, toasty and light.
Check out their gorgeous site for more information: Joan's on Third
Posted by Caryn at February 13, 2006 10:15 AM | Printable Version | Recipe Only
Comments
Wow, Joan's saves the day. :) Nothing like sleeping in!
I was at the bookstore yesterday and ran into a new paperback entitled "Delicious". It's a story about a restaurant owner having to hire the best chef around to turn around his restaurant. That chef being his ex wife...interesting, and made me think of you. :)
Posted by: leannwoo at February 13, 2006 11:10 AM
well, mr r was none the wiser... ;)
Posted by: Lil at February 13, 2006 11:20 AM
Oh man, I love Joan's on Third. I go there when I'm in town on business. Have you been to the cookbook store across the street?
Posted by: Janay at February 13, 2006 06:12 PM
I just discovered you! Looks like I've got some serious catching up to do...
Sweet!
Posted by: Karina at February 16, 2006 11:26 AM
Wahou, are you a photographer ? Your photos are gorgeous !
Posted by: Cindy at February 23, 2006 05:29 AM
Joan's is a great little market, and that cheese case! WHOA!
However, I was a tad bit disappointed to find a piece of wood/toothpick/debris in my fancy Joan's cupcake a few weeks back. Bummer!
Posted by: matt at February 26, 2006 08:36 AM
Dear Caryn...Why did you stop blogging again? Perhaps you don't realize that yours is THE BEST blog of them ALL, and your adoring fans are awaiting the next installment [and recipe] with bated breath...
Sincerely hope all's well...Celeste
Posted by: Celeste at March 23, 2006 05:17 AM
love your photos and your writing! i guess we are neighbors... but you know how that is around here... you might as well be living in Maine =) looking fwd to more of your creativity! Cheers!
Posted by: jojo at March 25, 2006 01:02 PM
Agreed..bated breath and all!
come back!
Posted by: pomegrante. at April 3, 2006 10:27 AM
agreed - breaths are bated! Hope all's well, and that you're able to update soon.
Posted by: alice at April 11, 2006 10:47 AM
Posted by: leannwoo at April 13, 2006 09:17 AM
you must have some serious writters block. Either that or something has happened. Which I really hope not. Don't worry us like this. Come and post something. Anything!
Posted by: leannwoo at May 5, 2006 09:12 AM
This is my first time visiting your site and I think it's great! Very fun to read and the photos are beautiful too. Thanks for introducing me to Joan's on Third - it looks amazing and I will definitely visit the next time I'm in NYC...

Posted by: Geneve at May 11, 2006 09:33 AM
I totally missed the address - it just looked very NYC! Yay, it's in LA...will now be able to check it out this weekend!
Posted by: Geneve at May 11, 2006 10:36 AM
I've only just discovered you, and have already read you top to bottom....PLEASE post soon and keep this site up! it's too good not to!
Posted by: Beth at May 15, 2006 07:40 AM
I love that you've combined your passions into this very unique food blog. Great job!
Posted by: Stefanie at May 23, 2006 12:39 PM
Ok, it's been four months to the day since we have had an update here. I'm begining to get seriously worried that something has happened.
If you no longer want to keep up this blog let us know. I am sure I am not the only one who has been worried.
Posted by: leannwoo at June 13, 2006 12:35 PM
yeah, i'm worried too leannwoo....i hope everything is alright...
Posted by: agreed at June 15, 2006 06:53 PM
Yeah, I guess it's time to delete my book mark for this site? That's a shame, I truly enjoyed it. Hope all is well, Caryn.
Posted by: Jane at July 20, 2006 10:38 AM
I hope everything is ok with you.I love this blog ,been reading it for some time now ,doing some of your recepies too,some ingridients are hard to find here in Brazil but it´s ok ...please be ok!

Posted by: Isabella at August 10, 2006 09:16 PM
I think my produce guide could improve the quality of your ingredients. FruitSeasons.com
Posted by: fruit seasons at October 21, 2006 12:28 PM
I'm so suprised I never noticed such a good blog before! I totally love the way you write, it's really interesting. N your photos are fantastic. Guess I'll be coming here often!
Posted by: Yummie dummieS at November 19, 2006 08:54 PM
same here, i have been checking from time to time but nothing updated... hope all is well!
Posted by: Lil at November 20, 2006 10:58 AM
i found this blog and i quickly went through all the archives... i really enjoyed it. even if it has been a year or so, the writing and recipes and photos are too good to not check up on once in a while.. is this blog not being updated anymore? please let your readers know if yes or no.. i hope you are doing well. :)
Posted by: ceci at February 23, 2007 08:09 PM
I am heartbroken that you haven't updated for over a year. Please come back! Your readers need you! I still check back occasionally with baited breath that there is a new post and that you returned when I wasn't looking. I guess today is not my lucky day.
Posted by: teresa at April 26, 2007 09:37 AM
Ditto comments above. Discovered you yesterday and spent much of my work time reading...and after work reading...and first thing this morning reading...so that I am all done! Need more Caryn & Mr. R!
Posted by: zhenzhu at June 3, 2007 05:27 AM
Ditto comments above. Discovered you yesterday and spent much of my work time reading...and after work reading...and first thing this morning reading...so that I am all done! Need more Caryn & Mr. R!
Posted by: zhenzhu at June 3, 2007 05:27 AM
the picture made me drool.
Posted by: Recipe Blog at October 21, 2007 10:15 PM
Cool picture and great blog also!
Posted by: PHP Encoder at October 23, 2007 12:10 AM
Did you die? If not, please let me know what happened to your blog?
Posted by: Darryl Edmunds at February 5, 2008 11:23 AM
I really need to go to LA and tries these. Love the pics the rice squares look delicious!
Posted by: Gary at March 2, 2008 05:22 PM
Hi, just discovered your blog and just fell in love with the writing and story line. The pictures and recipes have me drooling.
And now I'm depressed that it hasn't been updated in 2 years. Please come back. Old readers and new readers alike are sad and worried.
Posted by: Gretchen at March 22, 2008 12:22 PM
I love rice cakes! Those look delicious!
Posted by: Jessica at June 21, 2008 04:34 PM
Hi, Caryn. I recently discovered your blog and finished reading through the whole thing last night. When I got to the end of it, I was very sad to discover that you haven't updated in 2 years.
I agree with everyone else who's said it- Please write again soon. Even if it's just a quick note to reassure us that everything's ok and that you're doing well.
Posted by: Kim at July 6, 2008 10:15 AM
Hi there, Haalo of Cook (Almost) Anything At Least Once and I are fighting with Chef Al Rosas who stole our pictures. Haalo just told me that they also stole your Eggplant Parmesan Cheese picture.
Please check out my posts or Haalo's post and let's all expose his shameless acts.
Posted by: Rasa Malaysia at February 21, 2009 06:24 PM
*sigh* I still check back here so hopefully. Please, please, PLEASE come back! This was the best blog ever, and my very favourite. No questions asked, just write again! *falls on knees*
Posted by: Beth at July 15, 2009 04:16 PM
Post a comment