Print this Recipe
Eclectic Edibles: Blogging By Mail 2!
October 12, 2005 from Delicious! Delicious! www.deliciousdelicious.com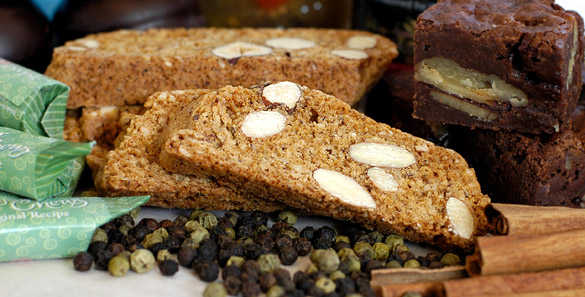 INT. CARYN'S DUPLEX APARTMENT--NIGHT
Crumpled newspaper spills from an open box on the floor. Punky dives in and out of the box, sending the newspaper flying.
Caryn lays comatose on the couch with the television remote in her hand. Matt appears outside the screen door, shirttail deliberately untucked in his stylishly rebellious way.
MATT
What happened in here?
He steps through the door and into the mess.
MATT (CONT'D)
Oo! Biscotti!
He helps himself to the crunchy cookie dotted with almonds and sorts through the rest of the loot sprawled across the coffee table: rich brownies, chewy ginger candy, green tomato chutney, exotic spices.
MATT (CONT'D)
Where'd you get all this stuff?
Caryn finally shows signs of life.
CARYN
Blogging By Mail.
Matt coughs on the crumbs still in his throat.
MATT
You got this from someone you don't even know?
CARYN
I know her. I read her blog.
Matt peers carefully at the biscotti in his hand.
MATT
Do you still have a blog?
Caryn sits up and takes another brownie.
CARYN
Tread lightly, my friend. Or I won't share the Mallomars.
MATT
Mallomars? She sent you Mallomars?
She pulls out the box from under a blanket and hands it to him.
CARYN
There's only a few left.
MATT
You ate the whole box?
Caryn nods and grimaces.
CARYN
Yeah, and now I don't feel so good.
Matt bites into the marshmallowy goodness of the rare California Mallomar.
MATT
Then I don't suppose you're up for dinner and a movie.
CARYN
Mmmmm...maybe just the movie.
She stands up, dumping crumbs and wrappers on the floor. Matt looks her up and down.
MATT
You should clean up. It may be dark outside, but I can't be seen with you like that.
Caryn begins stuffing the edibles into a bright blue tote bag. Punky scowls at the face of the dog printed on the side.
MATT (CONT'D)
Seriously, don't you want to change or something?
She snatches the Mallomars out of his hand, shoves them in the bag and straps the bag over her shoulder.
CARYN
Let's go.
Blogging By Mail
is like having a penpal who cooks! I received my package last Friday from Samantha at
The Samantha Files
. I was so excited to sample all the treats that I promptly gave myself a tummy ache. The bounty included:
-A sampling of Penzey's French style peppercorns and Indonesian cinnamon
-Homemade almond-hazelnut biscotti and pecan brownies
-A bag of Ginger Chews
-a grinder of a spice mix called Solar Power (not pictured)
-a colorful totebag from Fishs Eddy (not pictured)
-Homemade organic green tomato chutney (not pictured)
-a box of the very-difficult-to-find-on-the-West-Coast Mallomars (not pictured, not for sharing).
Thanks Samantha for brightening my day with such a versatile and delicious mix of goodies!!
If you want to participate in the next Blogging By Mail event, read about how to participate at My Little Kitchen.