« Memories of Childhood: Linguine with Clams! | Main | Spicy Hot: Shrimp Wraps! »
Laborless Lemon Shortbread!
September 05, 2005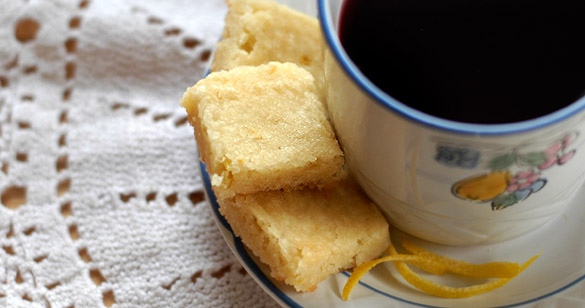 INT. CARYN'S APARTMENT--DAY
Caryn lounges on the couch, still wearing pajamas that look like they've been on her body for a few days. A cup of lemon-blueberry tea steams from the coffee table. Next to the cup is a severely depleted pile of buttery, lemon shortbread.
Mom walks in from the bedroom, fully dressed for a day on the town. She turns down the volume on the blaring television.
MOM
Is that all you're going to do all day? Lay around eating shortbread and watching weepy movies?
CARYN
I sense that you don't approve.
MOM
I'm going shopping. Want to come?
Caryn rolls over on the couch and stretches.
CARYN
Mom, it's Labor Day and I have no desire to do anything that even remotely hints at the idea of labor.
Mom hooks her little pink purse on her arm, which perfectly matches her pink capri pants.
MOM
Suit yourself, but you really can't afford to eat any more shortbread.
Mom leaves and Caryn reaches for another piece.
Lemon Shortbread
1 1/2 sticks of salted butter, at room temperature
1/2 cup confectioners' sugar
1 1/2 cups flour
1 1/2 TB. grated lemon zest
1/2 tsp. lemon extract
1. Preheat oven to 350 degrees.
2. Cream together butter and sugar until light. Sift flour into butter. Add zest and extract and blend until smooth.
3. On an ungreased cookie sheet, press dough into an 8" square with lightly floured fingers. Smooth top and score into 2" squares with the back of a knife.
4. Bake until lightly golden on edges, about 20 minutes. Cool on cookie sheet for 10 minutes. Cut into 2" pieces and continue to cool on wire rack.
Yield 16 cookies.

Posted by Caryn at September 5, 2005 08:29 PM | Printable Version | Recipe Only
Trackback Pings
TrackBack URL for this entry:
http://www.deliciousdelicious.com/mt/dd-tb.cgi/50
Comments
I can't believe that Mom said that to Caryn! Actually, I've met some moms like that.
The shorbread sounds great. I'll have to wait for my lemons to ripen to try it.
Posted by: Nic at September 5, 2005 08:59 PM
What a great shortbread variation! I've played around with using different nuts and spices, but it never occured to me to use zest- thanks for the idea :-)
Posted by: tanvi at September 5, 2005 09:49 PM
Wow. I just stumbled upon your blog tonight via food porn watch. Beautiful photos - I'll definitely be back.
Posted by: Beth at September 5, 2005 11:02 PM
Hmm, I have never heard of lemon extract... would lemon juice be ok?
Posted by: Anja at September 6, 2005 09:30 AM
What "weepy" movie is Caryn watching?
Posted by: AmyBee at September 6, 2005 04:19 PM
Did this movie happen to have a certain boss in it? Hmmmm.
Love the shortbread recipe. Sounds easy and yummy. I will have to try it.
Why is my mom at your apartment?
Posted by: leannwoo at September 7, 2005 08:27 AM
I LOVE lemon shortbread and those look so good I'm gonna zoom right out and get all the stuff I need to make up a batch.
BTW: Yours is the BEST blog of them all [no offense intended to all you other excellent foodbloggers out there]. But Delicious! Delicious! is just such a creative pairing of passions.
Posted by: Celeste at September 7, 2005 11:44 AM
That sounds like something my mom said to me last week! But I got her back--I just entered her into www.cookingdisasters.com--for the chicken soup disaster at Rosh Hashanah (4yrs ago). I'll never let her live it down!
Posted by: Alana at September 9, 2005 10:42 AM
Anja, lemon extract can be found in the spices aisle of the grocery store....well, at least here in the states. I'd substitute vanilla extract if you can't find lemon extract AND add a little lemon juice. But if you can find the extract, it's a wonderful secret addition to any sweet lemon confection. I use it in lemon meringue pie. In fact, my bottle is almost empty!
Leannwoo, you get the award for the best comment of the week! My mother says that she didn't know that she has a twin. :)
Celeste, thanks for the kind (if not slightly exaggerated) words! Your site is pretty, darn good too. I love the selection of quality movies that you highlight as well as your commitment to the menus you include. I think that's a wonderfully creative pairing as well.
Alana, the chicken soup disaster sounds like a good story! And the contest looks fun. Perhaps I shall enter my dad for the disaster of the Great Rutabaga Challenge of 2003.
Posted by: caryn at September 10, 2005 07:21 AM
Heck with Mom! Sometimes you just need a shortbread and weepy movie day. And besides, the day yielded a beautiful photograph, so it was worth it.
Posted by: shauna at September 11, 2005 10:18 AM
I have a question on the recipe.
Why salted butter?
I am more used to seeing baking recipes specify unsalted.
I plan on making this tomorrow, but I will probably try using some of my stash of lemon oil instead of the extract.
Posted by: creampuff at September 11, 2005 03:39 PM
Creampuff, I hope I'm not too late with a response! I use salted butter because I think a saltier shortbread enhances the buttery flavor, but you can use unsalted butter. I'd add 1/4 tsp. of salt even then.
Posted by: caryn at September 12, 2005 07:46 PM
Posted by: jack at September 30, 2005 07:27 AM
Caryn--I'm currently searching for different flavors of shortbread...so glad I came across these!
Posted by: LisaSD at November 1, 2005 09:56 AM
Thank you, I look forward to making these.
Posted by: Billie at December 16, 2005 12:00 AM
I was just wondering what size exactly a stick of butter is,I am in England and not sure if our block of butter is the same size as your stick of butter. do you know the weight in grams? and what size cup is used for this recipe?(If you know weight in ounzes or grams that would really help!! Thankyou
Posted by: Emma J at February 19, 2007 01:48 PM
Posted by: Passionate Baker at September 28, 2007 08:24 AM
Post a comment