« Family Recipe: Garlic & Green Beans! | Main | High Drama: Eggplant Parmesan! »
The Mothership: Zingerman's!
August 14, 2005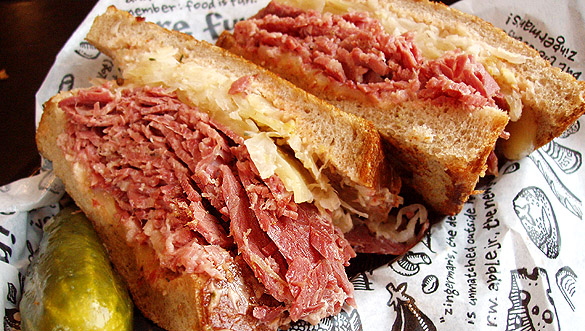 EXT. HIGHWAY 23--DAY
The music can be heard blaring from the typically white rental car as it passes mile after mile of green farmland. The car speeds past a large blue sign that reads "Welcome to Michigan."
INT. CAR
Caryn makes a valiant attempt to drown out the radio with her stellar, off-key singing. She proudly wears a faded, dark blue t-shirt with MICHIGAN printed in maize-colored letters.
Another sign approaches in the distance. Caryn leans forward to see it. As it comes into focus, she grins: "Ann Arbor, 39 miles."
INT. SMALL GROCERY--ANN ARBOR, MI--DAY
Caryn enters the traditional, Mid-Western house that has been transformed into a haven for any discerning cook. It is a small space, but the shelves are lined to the ceiling with delectable goodies.
Caryn picks up a basket as she is greeted from behind the bread counter by a COLLEGE WOMAN with pigtails and a wealth of earrings.
COLLEGE WOMAN
Can I help you?
CARYN
Yes, just one sec.
She scans the rows and rows of hearty, golden breads stuffed with everything from olives to chocolate and cherries.
COLLEGE WOMAN
Have you been to Zingerman's before?
Caryn looks up and smiles.
CARYN
Yes, many times.
And indeed she has. Caryn fills her basket with unusual expertise, knowing exactly what she wants from the enormous selection of fine cheeses, imported dried pastas and rare teas. She doesn't miss the meat counter or the array of chocolate. When one basket is filled, she grabs another.
INT. ZINGERMAN'S NEXT DOOR--LATER
The coffee house is filled with dining tables where the delicatessen patrons enjoy their prized sandwiches. Caryn sits at a table, patiently reading a catalogue. Several large bags brimming with her loot fill the other chairs at the table.
A WAITER sets a basket in front of her. Tangy sauerkraut topples out of the side of the reuben sandwich and into the basket. Caryn picks the kraut up with her fingers and tastes it. It is good, but it is not why she is here.
She gently scoops the sandwich into her hands and sinks her teeth through the crispy rye bread and into the tenderest corned beef known to man. She has travelled across the country for this moment and it is worth every mile.
INT. SMALL GROCERY--LATER
Caryn lugs her bags through the store on her way to the car when she is stopped by the pigtailed woman from before, now behind the deli counter.
COLLEGE WOMAN
How was everything?
CARYN
Oh, it was perfect, thank you.
Caryn turns toward the door, but hesitates a moment before turning back.
CARYN (CONT'D)
Actually, I'll take another one of those reuben sandwiches to go.
Zingerman's Delicatessen
Zingerman's Reuben Sandwich is not only an example of the best of its kind, but for this University of Michigan alumna, it is a true taste of home.
422 Detroit St.
Ann Arbor, MI 48104
734-663-DELI ph.
Open 7AM-10PM daily.
When you can't make it to Ann Arbor, Zingerman's has a wonderful online catalogue that will keep you satisfied until your next trip. It includes a reuben kit.
Posted by Caryn at August 14, 2005 10:00 AM | Printable Version | Recipe Only
Trackback Pings
TrackBack URL for this entry:
http://www.deliciousdelicious.com/mt/dd-tb.cgi/45
Comments
I know your writing is wonderful but your photography simply blows me away! Your images are crystal clear, incredibly vivid & tantalizing and impeccably lighted. Any hints for the rest of us?
Posted by: Rainey at August 14, 2005 12:22 PM
I love Zingermans too, though I have only ordered through the mail. I must make a trip there someday!
Posted by: Samantha at August 15, 2005 07:33 AM
I shouldn't be hungry this early in the morning, but dang that sandwich looks good. Gonna have to look into that "kit". I'm in the mood for a great Reuben. :)
Posted by: leannwoo at August 15, 2005 10:19 AM
Oh my goodness. Reuben's are my all time favourite sandwich and this one makes my mouth water in ways that are illegal in 47 states. Not too mention Zingerman's website. Ann Arbor is only about 3 1/2 hours from my house. I guess I know where one of my road trips will end up this fall. =)
Posted by: Sarah at August 15, 2005 01:24 PM
I've never been to the store, but the Zingerman's book, Guide to Good Eating is terrific. I highly recommend it. Kind of like a culinary buyers guide with some recipes and tips thrown in for good measure.
Posted by: Amy at August 15, 2005 08:37 PM
Rainey, I must say that I have learned a lot about photography since I started this blog. Each entry means a little more practice under the belt. I'm glad you enjoy it! As far as hints go, the only hard and fast rule by which I abide is never use a flash! I can't stand the washed out look of the flash. Only one picture on the whole blog used a flash (and I had no control over that decision). Beyond that, it gets more complicated...exposures, lenses, etc. If you want to know more, I'm happy to send an email your way, but I think I shall bore everyone here if I go into much more detail. :)
Posted by: caryn at August 15, 2005 08:52 PM
If you do purchase the reuben kit, check out Zingerman's preparation on the Food Network site:
Zingerman's Reuben Sandwich. It's very important to steam the corned beef or it will dry out.
Amy, I have the Guide to Good Eating too! I love to see the research that goes into all the products that they sell. Amazing read!
Posted by: caryn at August 15, 2005 08:59 PM
They ship internationally - yay! Admittedly, I'm just over the border in Canada, but I'm still wondering if the quality would be compromised. Has anyone ordered from them before?
Posted by: tara at August 16, 2005 12:08 PM
Tara, I have ordered from them many times and the fresh kits are usually pretty good. Do follow the directions to which I provided a link above if you order the reuben kit. I have had someone prepare the ingredients for the sandwich ALL WRONG and the corned beef was dry and not good. But when done right, mmmmmmm!
Zingerman's is also great about customer service. I once received a gift that I wasn't expecting and UPS didn't follow the directions on the box to leave it without signature. When I finally received the package a few days later, the ingredients were spoiled. Zingerman's sent me a new one immediately at no charge. THEN I sent them a thank-you email, which they responded to with the nicest emails. They are just the friendliest people who have built their company on kind customer service. So all that is to say, that if you are unhappy with their products, they work to rectify the situation as best as they can.
Whew! Is that enough of a review?
Posted by: caryn at August 16, 2005 04:34 PM
i went to grad school in ann arbor and lived just down the street from zingerman's. loved their baked goods, their sandwiches. i thought everything was a little overpriced (the farmers market across the way was a bit less pricey and just as good), but since i wasn't from the midwest, i chalked it up to being in ann arbor.
a month ago, on the way back to chicago from canada, we stopped in ann arbor for lunch at zingerman's. still great sandwiches and chocolate in ann arbor.
(and love the blog)
Posted by: ding at August 16, 2005 10:12 PM
Not only did they build their compoany on Customer Service they now teach it to others. They offer extensive seminars and classes on Customer Service that are highly regarded.
I visited a friend in Detroit last summer and one thing I insisted on doing was making a trek to Zingerman's for a Reuben. Man, we were reading and re-reading that menu the whole way there, trying to decide what to get. Pastrami? Corned Beef? Brisket? It was the best sandwich ever.
Posted by: Jane at August 17, 2005 02:26 PM
Caryn- I would VERY much like those photo tips. I sent an e-mail saying so but my e-mail ID is the unfortunate "Daffy Duck" so you may have deleted it without a second thought.
Posted by: Rainey at August 19, 2005 09:16 AM
Zingermans has great sandwiches. Whenever Im in AA Im sure to stop by for lunch.
Posted by: Randi at September 11, 2005 08:06 PM
Whoa, momma. I've been making iced tea from the Zingerman's Universe o' Tea that our resident personal chef gave me as a gift a while back. It's delicious and packs quite a caffeinated punch!
Posted by: matt at February 8, 2006 02:12 PM
Post a comment