« Cause for Celebration: Roulades! | Main | Sweet Tamara and Her Lemon Tamale! »
Movie Night: Java Brownies!
April 07, 2005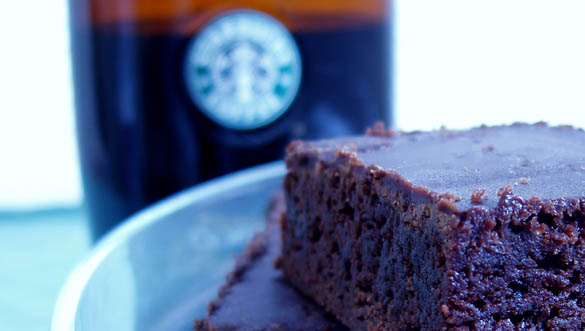 INT. CARYN'S APARTMENT--LIVING ROOM--NIGHT
Caryn, in cozy pajamas, lies on the opposite end of the couch as Matt, dressed like an Abercrombie model. Love Actually plays on the television and a plate of half-eaten brownies is placed conveniently in front of them.
MATT
Do you think he's attractive in person?
Caryn studies Andrew Lincoln's face.
CARYN
Oh, yeah, I'm sure he is. But I haven't met him.
MATT
Not him. Your boss.
She pulls at a chewy brownie.
CARYN
I guess.
MATT
You guess? That means yes.
Matt steals another brownie himself.
CARYN
Whatever. I doubt he'll be my boss much longer. He's about to shoot another movie.
MATT
No retainer while he's away?
Caryn laughs. Matt licks chocolate off his fingers.
MATT (CONT'D)
Oh well. You make a mean brownie, but you weren't really qualified for the job in the first place.
Caryn scowls at Matt.
CARYN
You know, I sometimes wonder why a guy like you has such a penchant for romantic comedies. Aren't you late for another date?
MATT
Shh! Here's my favorite part.
If refrigerated, these brownies are quite a chew. Room temperature keeps them right at the brink of melting.
Java Brownies
3/4 cup sugar
1/2 cup butter
8 oz. good, bittersweet chocolate, chopped
2 eggs
1/4 cup Starbucks Coffee Liqueur
1 cup flour
1/4 tsp. baking soda
1/4 tsp. salt
1. Preheat oven to 350 degrees.
2. In large saucepan, melt butter and sugar. Remove from heat and add chocolate, stirring until melted. Whisk in eggs until combined. Stir in liqueur. Add flour, baking soda, and salt. Pour batter into greased 13x9-inch pan.
3. Bake until toothpick inserted in center is sticky (not clean), 15-20 minutes. Cool in pan on rack. Pour ganache over brownies when cool.
Ganache
1/2 cup heavy cream
6 oz. bittersweet chocolate, chopped
1/4 cup sugar
1/4 cup Starbucks Coffee Liqueur
1. Heat heavy cream in saucepan just until boiling. Remove from heat and add sugar and chocolate, stirring constantly until smooth. Stir in liqueur. Set aside to cool to room temperature.
Posted by Caryn at April 7, 2005 03:18 PM | Printable Version | Recipe Only
Trackback Pings
TrackBack URL for this entry:
http://www.deliciousdelicious.com/mt/dd-tb.cgi/15
Comments
Ooo. I've been looking for an excuse to try that Starbucks liquor. Thanks Caryn. I'm assuming that I could substitute some other liquor if I wanted to mix up the flavors a bit?
Posted by: Nic at April 7, 2005 05:50 PM
Wow! What great photos...and Java Brownies! I'll have to make them tommorrow night! I'll check in and read more of your blog too!

Posted by: charlotte at April 7, 2005 08:16 PM
Hey Caryn!
those brownies look mighty good- too bad i dont have access to the liquer. do you think the brownies would suffer if i replaced the liquer with brewed espresso?
Posted by: tanvi at April 8, 2005 09:38 AM
Nic, I think you can substitute other liqueurs...I was thinking about a little Grand Marnier myself.
Tanvi, I would brew the espresso very strong and maybe sneak in a tsp. of vanilla extract.
I guess you can substitute anything. Brownies are kind of hard to screw up. :)
Posted by: caryn at April 8, 2005 12:33 PM
Yum!
Your Grand Marnier idea sounds quite good too!
Heck, if the Mr. hadn't consumed all of our cream sherry while making our paper chef entry (seriously!), I'd try a cream sherry version. (Or better yet, the Java version with cream sherry gastrique on top!)

Posted by: mrs D at April 8, 2005 02:57 PM
Mrs. D, all of them sound good! This recipe is definitely open to substitution. There's more liquid in them than a cake-y brownie, which of course makes them more chewy...but leaves the recipe open to swapping liquids for different variations. Let me know if you make any of them!
Posted by: caryn at April 11, 2005 08:25 AM
i couldn't wait to try this recipe. but perhaps you baked yours in an 8x8 or 9x9 pan instead of the specified 13x9. i baked this recipe as stated this afternoonn and i have the thinnest brownies i've ever seen - and i'm a pretty good baker. did you use a different size pan or double the recipe? your brownies are THICK.
tks.
Posted by: ko at April 30, 2005 06:04 PM
Ko, yes, they are sort of thin brownies. Because I like them chewy, I don't want them to be too thick. I'm afraid the picture might be a little misleading. ...because I'm so close, they look a little bigger than I cut them. And the ganache adds a little height. You could bake them in a smaller pan if you want. I do hope you like them though. I just made them again yesterday.
Posted by: caryn at April 30, 2005 07:48 PM
Post a comment