« Oh, Baby: Baby Artichokes! | Main | Chicken Piccata! »
Susina!
February 05, 2005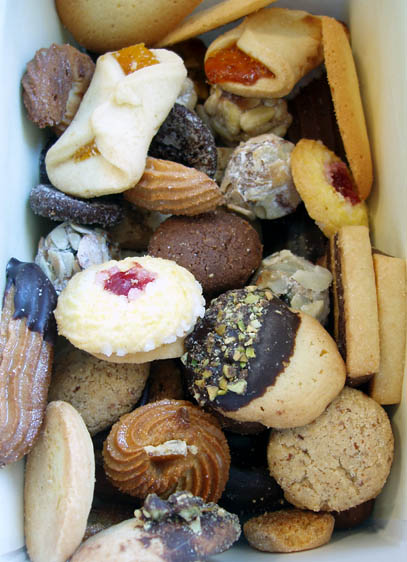 INT. CARYN'S APARTMENT--BATHROOM--DAY
Water from the faucet splashes into the soap bubbles, washing them away. Caryn, dressed in cleaning day sweats, is bent over the claw-foot tub, scrubbing the sides with vengeance.
From the other room, there is a loud knock. Caryn sits up and listens, unsure if it is the stereo that of course is blaring loudly too. She shakes it off and resumes her work.
INT. CARYN'S APARTMENT--LIVING ROOM--MOMENTS LATER
Caryn dries her hands as she surveys the freshly cleaned apartment. She stops and looks at the door, still wondering about the knock. When she opens the door, she discovers a small white box wrapped neatly in brown and white ribbon waiting at her feet.
The note inside the box reads: "Congratulations on the new job! See you tomorrow. Love, Winnie and Vic."
She plops down on the couch and Punky immediately appears out of nowhere to check out the sweet scents. Caryn focuses her attention on a tantalizing confection smothered in chocolate and pistachios. The perfect selection to help forget about the aforementioned new job...
Susina Bakery
7122 Beverly Blvd. Los Angeles, CA 90036 (323) 934-7900
Hours:
Mon-Thu 7am-7pm
Fri 7am-10pm
Sat 8am-10pm
Sun 8am-9pm

A marvelous European patisserie, owned by former Spago pastry chef Anna Delorefice and partner Jenna Turner. Apparently they deliver.
Posted by Caryn at February 5, 2005 08:37 AM | Printable Version | Recipe Only
Comments
your exclamation points are *killing* me! they're tellin' a story all on their own....
have you been to delice on pico? same cookies, a third of the price. nowhere near as pretty packaging, but eh.
Posted by: santos at March 2, 2005 04:13 AM
Golly, Santos, didn't mean to *kill* you. At least I'm consistent, right?
No, I haven't been to Delice, but thanks for the tip. I will definitely stop by.
I do love Susina. I love just walking in and browsing the beautiful concoctions. Jenna's enthusiasm for her wares makes me happy just to chat with her. Maybe if I plug Susina enough, she'll offer me a job washing dishes.
Posted by: caryn at March 2, 2005 06:26 AM
please don't get me wrong, i love the exclamation points. they don't actually tell a different story, but sort of succinctly summarize your posts. say, fr'instance, chicken piccata!
vic: chicken piccata! what is she thinking?
you: chicken piccata! you gonna do something about it?
i know, i'm reading too much into it.
Posted by: santos at March 2, 2005 08:26 AM
You're not reading too much into it. You've pretty much summarized my entire relationship with Vic in two lines of dialogue. Intuitive, I'd say.
Thanks. :)
Posted by: caryn at March 2, 2005 11:10 AM
Susina is now open late until 11pm everynight. Yay!
And they just put up their drool worthy website:
www.susinabakery.com
Posted by: Food Good at July 2, 2005 03:37 PM
Post a comment